News from Around the Globe - March 2014
Examination Dates for 2015
The examination tour dates for examinations in 2015 are now available and online – please see the list of tours planned for your country within the 'International Examinations', click here.
---
International Courses
Information on International Courses is available here in the section 'Courses & Training' where you will be able to search all courses by trimesters, Dance Style and Country. If you need to contact us to ask any questions on courses please email intcourses@istd.org.
---
Credit Notes
As teachers know, if a candidate cannot take their examination and can provide a medical note to explain the absence, the teacher is entitled to a 50% refund of the examination fee in the form of a credit note. Credit notes are now sent by email whenever possible so look out for yours being returned via this method. All teachers should check the expiry date on their credit notes and ensure that the credit note is used before this date. There is an area on the Theatre Examination & Private Coaching Payments document for you to include the credit note reference number. There is no need to return the sales credit document – just provide us with the reference number.
---
Spotlight on South Africa
Reports from Examiners, Gaynor Owen and Karen Collings
Examining Modern Theatre, Tap and Imperial Ballet throughout South Africa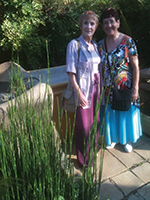 A momentous and very enjoyable examining tour began in Johannesburg where I was greeted by examiner Trish McKenna's partner, Barry Clamp. On the drive to the hotel, I was enchanted with the blossom of the jacaranda trees which made many lilac archways in the roads.
After overcoming the inevitable jet lag, I was ready for examining. The teachers all showed a very sincere and careful approach to their work and the children all had an innate charm. Trish McKenna's influence was apparent in this area as she is an experienced Tap and Modern teacher and examiner. She is dedicated to her work and her enthusiasm is infectious. We travelled to Pretoria together where I saw some excellent dancing.
I then took a flight to Durban where I was met and taken by car to Pietermaritzburg. This is the town where Sally Benyon, the original South Africa organiser for the ISTD, lived. I was amazed at how it had grown in size without losing its original charm; retaining its many old colonial buildings with the wrought iron terraces and balconies. Teacher Lisa Jennings' husband very kindly drove me back to Durban where I settled into the SunSquare Suncoast hotel on the beach.
The huge waves rolling in from the Atlantic Ocean makes it perfect for surfing and all the local youth can be seen early in the morning riding the waves with breathtaking balance and control!
Another examiner lives and teaches here: Minette de Klerk, who showed her natural charm when taking all the young Class Standard children through their exam work. The monkeys in the trees and on the studio roof were very entertaining!
Next came a flight to Cape Town with some new teachers and it was wonderful to see Delia Sainsbury again. She is responsible for keeping the ISTD afloat in South Africa during the time when the value of the Rand depleted. Her wonderful training college is renowned for producing many graduating teachers and performers. I was welcomed by Delia and her secretary, Mary, with warm smiles. There were many high level entries and all the students and staff had an infectious energy which showed their passion for dance.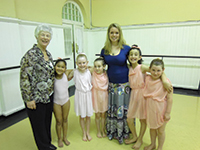 I saw a Noël Coward play, which was presented by the Drama Department and was directed by Delia herself. This was performed in her on site newly refurbished Drama Theatre converted in memory of her late husband, Keith Galloway. Delia also took me to a nearby theatre to see one of her first graduating students performing the lead part in Sunset Boulevard, which was excellent.
On my day off, I visited Table Mountain and the penguins near the Cape. Also 'the Waterfront' with all its good shopping! The sun shone nearly every day (only two days of rain in all).
I loved every minute of this very well organised tour of South Africa, thanks to the International Department at the ISTD.
Gaynor Owen
Classical Greek Dance in South Africa
I recently took a trip to the Southern Hemisphere, which for me personally turned out to be a very special tour. My dance teacher, Pamela de Waal, was born and raised in South Africa. She came to the UK to study at the Arts Educational Schools and finally settled and taught in the UK for over 60 years. She sadly passed away in 2011 but my love of Greek Dance certainly came from Pam, and to be able to examine the genre in South Africa was very humbling for me.
I was impressed by not only the beauty of the country, and the wonderful people, but the standard and love of dance, particularly the Classical Greek, Modern and Tap work of our Society. It is an obvious hardship for any person overseas to stay in contact and up to date with a job that has its base thousands of miles away. Dance teaching is probably the most difficult, as we have a very much visual way of learning. Notes and DVDs, however helpful, are not the same as physically putting it into 'movement memory' or 'on the body'. I really do commend the overseas teachers' enthusiasm, and the respect they have for each other, working together to produce the best training they can for their pupils.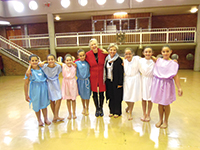 My first stop was Johannesburg, where many dance studios are on the teachers' own land, often in their back gardens, behind security gates. Everyone is safety conscious and I was always escorted by kind teachers' husbands, sons or assistants on every journey so I felt very safe.
My final day in Johannesburg was a visit to Saheti School, which is an English, medium independent school catering for children from play-school to matric (the equivalent of UK sixth-form), and most are of Greek origin. Thus, they not only cover the history and culture of Greece, celebrate festivals and learn the language as part of their studies, but Classical Greek Dance is part of the curriculum in the junior school.
Their teacher, Patricia Clancy-Kuhlmann, studied Classical Greek in England and after settling in South Africa has worked at Saheti School for many years. In that time she has influenced and produced some beautiful dancers, full of emotion and real understanding of the aims and ideals of Classical Greek Dance. I was fortunate to examine Patricia's children and students, and to see the syllabus work taught, not only educationally, but with imagination and a real feeling for the use of freedom and relaxation. Musicality was also high on the list of fulfilments, even the younger children were aware of instruments, drums and traditional African sounds. They incorporated it all, and their enthusiasm to tell me their stories and Greek myths, even some that I had not heard before, was fascinating.
I next moved on to Cape Town where the real beauty of South Africa worked its magic. Sitting in an examination studio in early summer, gazing out of the wide open French doors with roses and campanula blooming, Table Mountain in the distance, looming with sunlight and a cotton wool covering of cloud was just like a holiday brochure. Moving from the city to the coast was just like in the UK – far more relaxed. However, the work was not; the children were immaculate in both knowledge and conduct. They longed to please and kept thanking me for coming and telling me how wonderful it was to have someone from England.
While in Cape Town I had the opportunity to examine children and students taught by one of our Classical Greek examiners based in South Africa. June Gruneberg has some technically beautiful dancers who really showed the work off to it's highest level. The Grade 1s were delightful, but seemed more excited to have their photograph taken than to take their exam! Again, musicality, creativity and a clear and detailed knowledge of Classical Greek Dance made the day a joy.
"Musicality, creativity and a clear and detailed knowledge of Classical Greek Dance made the day a joy"
The Classical Greek Association Faculty is so lucky to have these wonderful examiners and teachers spreading our work throughout South Africa. As we continue to bring our work into the 21st Century, I hope their young teachers and assistants will realise how valuable the work is and continue to spread their love of Classical Greek Dance.
Finally, my tour would not have been a success without good organisation, for which I would like to thank Examinations Officer, Mara Sandres, in the ISTD International Examinations Department. A huge thank you also to Delia Sainsbury in Cape Town, and all the teachers and their families for hospitality and 'chauffeur' services!
Karen Collings
---
Tap in Malaysia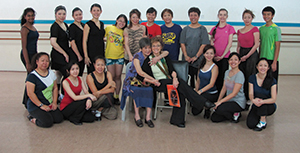 The Teachers' Course for Grade 6 Tap was held at Federal Academy in Kuala Lumpur. It was extremely successful with teachers from Malaysia, Penang, Singapore and a very special welcome visit from Li Li Lan, Principal of Federal Academy and former ISTD examiner.
Two very successful workshops, at Junior and Senior level, were arranged by Adrienne Li at the Jean Gan Academy.

Heather Rees
---
National Dance in Canada
It is always a pleasure to make a return visit to the National Ballet School of Canada and to have the joy of examining the candidates of the Teacher Training Course for Vocational and Associate Examinations. It is such a fascinating and colourful subject, especially when the students (and the examiner) have the advantage of seeing Anuschka Roes' wonderful collection of artefacts – shoes, dolls, embroideries, etc – to illustrate the background of this very valuable genre.
Heather Rees
---
Examining in Canada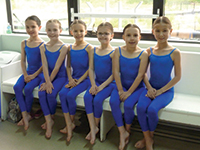 Arriving at the examination venue after a long journey, it was such an unexpected surprise to walk into the waiting room of the Mi-Cher Dance Academy and find the morning candidates so beautifully poised, waiting for the day to start.
Heather Rees