News from Around the Globe - October 2013
Barbados, a New Beginning
Always on the lookout for unusual stories in my travels, I came across a unique beginning and development of ISTD Theatre Faculties in Barbados. This newest addition to the Caribbean family has been well established in Latin American and Modern Ballroom examinations since 2000, when the first group of teachers, trained by Mrs Dorothy Barlow, was certified with the ISTD and the medal testing system was put into place. Since then, examinations have been held twice a year, resulting in more qualified teachers and hundreds more medal examinations. Ann Lingard was their first international examiner. She gave much appreciated encouragement to the first members as Richard Hunt continues to do.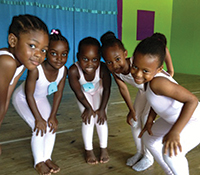 This beginning was due to the foresight of the Barbados Dance Teachers Association, formed in 1995 to provide interested people with the opportunity to become qualified as teachers of dance and to raise the quality of teaching offered on the island in Latin and Ballroom dance.
President of the Association, Livy Alleyne and his wife Betty, have been the driving force behind the consequent development. At one of the BDTA meetings, two young Ballroom dancers, Takiya Browne and Tanisha Nedd, from the Livy and Betty Alleyne Dance Centre, expressed a desire to teach other dance forms. A spark to light the fire! The BDTA, encouraged by Livy, decided that this was the way forward and Betty got to work, through sheer determination, persistence and many phone calls to get this process moving. In her words: "I wanted to help the young dancers with the best and most efficient route. I knew they should teach with structure and be affiliated with an international body. The Barbados Dance Teachers Association working with the ISTD was the only way to go. From my experience as an ISTD trained teacher and working with a great group of Barbadian teachers and ISTD examiners throughout the years I knew that working together towards exams is important for many reasons, that all levels have to be understood, and that teaching is the best method of understanding a syllabus and why it works."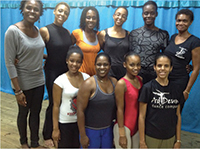 So, acting on the advice given by the International Department to first study the syllabus, Betty bought all the syllabus notes and VHS tapes, which she transferred to DVD, for both Imperial Classical Ballet and Modern Theatre Dance Faculties. These she gave to Takiya and Tanisha to start their studies. "With only DVDs and technique books they started to prepare themselves and their students. They trusted me to play my part and I trusted them to do theirs," said Betty.
Last year, the first examinations for Modern and Imperial Ballet were held. Shirley Agate Proust was the first examiner and afterwards she held a workshop to further help the teachers with the process.
"It was truly an inspirational exchange helping them to understand the depth, quality and logical development of our syllabus and the process of examinations and qualifications"
This year the examinations had grown to three full days and included Praise Academy of Dance, Principal Marcia Weeks, with tutors Shama Harding and Jerilee Evanson-Kellman, and Pearls Dance Academy with Takiya and Tanisha. These remarkable teaches are learning, growing and developing our work from the ground up with no practical guidance but with incredible enthusiasm and belief in our work. It is a co-operative effort under the umbrella of The Barbados Dance Teachers Association.
After exams I gave a workshop to a group of wonderful, young teachers with their varied backgrounds and dance experience ranging from Ballroom and Latin through Contemporary Dance at the highest level, Classical Ballet, Afro Jazz and Devotional Dance. It was truly an inspirational exchange helping them to understand the depth, quality and logical development of our syllabus and the process of examinations and qualifications.
Heartfelt thanks to the Latin American and Modern Ballroom Faculties and to Betty and Livy Alleyne for leading the way to a new country and exciting possibilities for the Theatre Faculties.
Pamela Eddleston
---
---
Bernadette Langshaw-Clark, ISTD Liaison Officer in Australia

We are delighted to welcome Bernadette Langshaw-Clark as a new ISTD Liaison Officer for Australia. While the planning of examinations sessions in Australia will still be carried out by the Examinations Officers at ISTD HQ, the Liaison Officer role will compliment the work of the International Department, offering a local point of contact for teachers in the local area.
Bernadette was trained in Sydney, Australia by the Ransley sisters in RAD Ballet, BBO Tap, Jazz and Irish dance. During her early professional career in Australia, Bernadette worked as Dance Captain for Shaw Savill Lines, cruising extensively around New Zealand, the Pacific Islands and Asia as well as performing in venues throughout the country.
Moving to the UK in 1972 she worked professionally in shows including The Bachelors Show, as a Tiller Girl at the London Palladium and The Ronnie Corbett Show. During this time Bernadette also competed at the World Irish Dance Championships, gaining a silver medal. Having already opened her own dance school in 1967, Bernadette returned to Australia in 1974 to further her career in teaching as Principal of the Langshaw School of Dance.
"Bernadette currently holds two Fellowships in Modern Theatre and Tap and has been an ISTD examiner since 1999"
Bernadette was introduced to the ISTD by Pam Eddleston in 1990, when both were teaching at the McDonald Vocational College in Sydney. Progressing through all examinations as a mature student, Bernadette currently holds two Fellowships in Modern Theatre and Tap and has been an ISTD examiner since 1999. She is also a registered Teacher and Adjudicator of Irish dance with An Coimisiun le Rinci Gaelacha, Dublin and a registered RAD teacher as well as a tutor for the RAD CBTS Teaching programme. She was awarded the RAD President's Award in 2006 for 30 years of dedicated service to the NSW Regional Advisory Panel.
In keeping with her wealth of teaching and choreographing experience, Bernadette has adjudicated many championships, eisteddfods and festivals in all dance styles over the past 25 years. Past graduates of Langshaw Dancity – formerly the Langshaw School of Dance – are now teachers, examiners, adjudicators, choreographers and professional dancers all around the world.
Bernadette is currently working towards a Diploma in Musical Theatre and Diploma of Dance Teaching and Management.
---
---
Feedback from teachers following Examination Sessions in Malta With Lisa Christian
"As a teacher I always feel a bit apprehensive before an examination session, even though I know that the students have worked very hard. However, Ms Christian made me feel very much at ease with her contagious smile. The girls felt really welcome in her presence and they all came out saying how much they enjoyed it. Ms Christian was also very understanding when I mentioned that one of my Grade 6 students sustained a knee injury on the eve of her exam. She suggested for the girl to take her examination later on during the day, thus giving her the time to have a physiotherapy session before her exam. At the end of the session, I also had the opportunity to have a little chat with Ms Christian, where I got to know her slightly better. She even encouraged me to further my studies and pursue my dancing career. Ms Christian has definitely made it a positive experience for me and my students alike. She brought with her a radiance of energy, which was transmitted through her lovely smile!"
Nicola Zammit
"Ms Christian was wonderful to work with. She made teachers, pianists and students all feel at ease during exam sessions so things could run efficiently and smoothly. She had an amazing, warm smile and actually had quite a few laughs when some of our children caught a glimpse of her and commented that this is the real Ms Christian ... after months of preparation she was here in flesh! Thank you, Ms Christian, for a great time and for loving Malta and the Maltese!"
Rowena Grech
"She made teachers, pianists and students all feel at ease during exam sessions so things could run efficiently and smoothly"
Ms Christian fitted in as though she has been doing this for a long time. She made the students feel at ease, which can only help encourage them to perform their best and it was a stress-free session for me and my team of teachers!"
Anne Gatt
---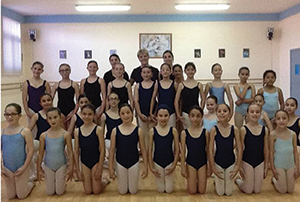 ---
Tap Examinations in Portugal
Miss Paddy Hurlings examined pupils of the Escola de Danca Ana Mangericao in Parede near Lisbon, Portugal in July. This year pupils from Grade 1 through to Advanced 2 took their examinations and are present here with Miss Hurlings, Principal, Ana Mangericao and Tap teacher, Carole Moseley.
When Paddy asked Carole if she would be interested in teaching the Tap work for Ana back in 2005, she started with just two pupils studying Grade 4. Now there are approximately 100 pupils in all grades from Primary through to Advanced 2.
---
National Dance Spring Examinations with Heather Rees, in Toronto, Canada
On 22nd May, my students from the Pia Bouman School for Ballet and Creative Movement took their National Dance exam at Canada's National Ballet School. Three students took the Bronze Medal Exam. They presented the Swedish Maypole Dance, complete with a beautifully decorated basket, and a Russian dance, performed with matryoshka dolls. Six students danced three Portuguese dances. They all researched and prepared their projects with costumes, musical instruments, Portuguese food, Swedish buns, Swedish St Lucia crowns and information on the Swedish runic alphabet, Futhark. They enjoyed their experience and it was a pleasure to meet ISTD examiner Ms Heather Rees. Congratulations to all my students!
Nagisa Inoue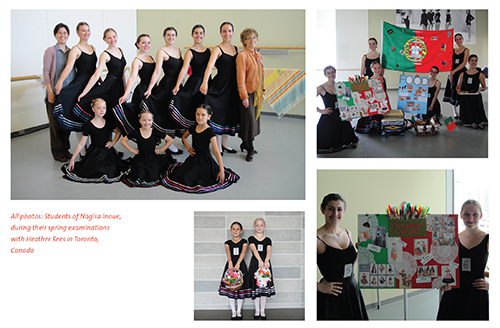 ---
Trip to Taiwan
My first visit to Taiwan was short but busy and my sincere thanks go to Miss Lai, the area organiser, without whom I would have been lost (literally!), and to the teachers Miss Wang, Miss Lee, Miss Hseuh and Miss Lin for their work and hospitality. Also thanks to the pianists Miss Wu and Mr Lui who translated so wonderfully for me during the exams.
Celia Johnson