News from Around the Globe - September 2012
Intent to Enter
I would like to draw teachers' attention, once again, to the new process that is now in effect for all examinations that have taken place after 1st August 2012. It is called the 'Intent to Enter' process and it is a compulsory process that all non-UK teachers will need to comply with if they wish to have examinations.
The 'Intent to Enter' form is available on the ISTD website. It can be found within the International Examinations pages so please go to www.istd.org/examinations/international-examinations. All teachers will need to download this form, complete and forward to their Examinations Officer by email or fax, no later than the 'Intent to Enter' deadline which is stated alongside the examination dates for all countries.
You will receive an email from your Examinations Officer to acknowledge that your 'Intent to Enter' form has been received. Consequently, only teachers who have submitted their 'Intent to Enter' form will be sent the examination pack by their Examinations Officer which needs to be completed and returned by the closing date, as per current procedures.
It is very important for teachers to submit their 'Intent to Enter' form by the deadline. If teachers do not submit their form, they will be prevented from participating in the examination session taking place later in the year. Don't miss out – download and complete your form!
Click here to download the Intent to Enter Form (Word doc)
Click here to download the Intent to Enter Form (PDF doc)
---
Examination Dates for 2013
The dates for examination sessions in 2013 are now available on the ISTD website. Please go to www.istd.org/examinations/international-examinations to see when the next examination tour will be in your country. Next to each examination session you will find two closing dates: the closing date to submit the 'Intent to Enter' form and the closing date to submit the final paperwork and payment. We would like to remind all our international teachers that only by submitting the 'Intent to Enter' form they will be able to participate in the examination session taking place later in the year.
Imperial Ballet Graded Revisions
Imperial Ballet revised graded syllabi is now compulsory (from September 2012). Teachers are reminded that the old graded syllabi can no longer be examined under any circumstances.
Cecchetti Ballet Advanced 2 syllabus
The Cecchetti Ballet revised Advanced 2 syllabus is now compulsory (from September 2012). Teachers are reminded that the old Advanced 2 syllabus can no longer be examined under any circumstances.
National Dance syllabi for Vocational levels
National Dance revised syllabi for Vocational levels is now compulsory (from September 2012). Teachers are reminded that the old syllabi can no longer be examined under any circumstances.
Tap Dance Grade 4 syllabus
The Tap Dance revised Grade 4 syllabus will be compulsory from September 2013. Teachers entering TAP/G4 candidates for exams before September 2013 are kindly reminded to specify whether candidates will present the old or the revised syllabus.
---
Lorraine Blake explains the delights of examining in Greece
After a five hour flight to Toronto, a three hour layover and a ten hour flight to Athens, I was ready to land and put my feet on Grecian soil! The glorious upper 30 degree weather and friendly faces made the arrival even more welcome. Although not my first trip to Athens, I am always amazed how the sight of the Acropolis remains awe-inspiring. One cannot take in enough times the beauty, sheer size and wonder of this historic sight!
Moving on to the real reason to be in Greece – besides the weather, the history or even the shopping – was for the dance! The standard of work was excellent throughout, the teachers most welcoming and the ISTD Modern work truly well represented in this busy and vibrant city. I was delighted to be able to have the honour of examining so many Advanced 2 students, who clearly had prepared the work with care. The last two days of my tour involved a short car ride to the coastal town of Nea Makri. Coming from British Columbia, Canada, where great distances are commonplace, I was amused to hear how the Athenians enjoy a holiday weekend in Nea Makri (a mere 35kms from Athens)! However, upon arrival, I can understand why they would make the trek to such a beautiful spot. And yet again, I was met by enthusiastic teachers and students.
I thank all those involved in the preparation of my tour to Greece and look forward to a return trip in the not too distant future.
Lorraine Blake, FISTD
---
A Bombay Dream - Lyn Richardson's August tour of India
When asked if I could examine in Mumbai – home to the Bollywood movies – I didn't hesitate to say 'yes please'. India is a country I have always wanted to visit and to be given the opportunity to represent the ISTD was a great honour.
The children were a delight – so beautiful and elegant at every level, imagine how divine the Primary class test looks on these beautifully trained children. Mary Archbutt and Alison Willett would be so proud and thrilled to know that their legacy continues worldwide.
Their teacher, Khushcheher Dallas, was trained by her mother, Tushna and attended the RAD where she gained her teaching diploma. Christina Ballard taught Khushcheher for Associate Modern and remembers her beauty and grace and sense of humour. Tushna was an ex-London College trained student in the 1950s. They have an excellent school and teach with great care and attention to technical detail, quality and style, but above all, love for the art of dance and love for the children.
Their very dear family friend, Pashang, met me at my hotel on the first day of exams and accompanied me to the studio. Pashang, is a true gentleman of the old school, rare these days, and at 84 years 'young', he has so much knowledge about western culture and Indian history. I had the pleasure of being taken shopping, with Pashang as my guide on an afternoon off, and we had afternoon tea at the Taj Mahal Hotel which overlooks the sea. Pashang has had the very important role of looking after all examiners now for over 20 years. It is very much appreciated and enlightening to meet such a gentleman with whom one could spend hours and hours talking. We shared much laughter and I learnt so much from him.
I will never forget the kindness and concern for my welfare from Khushcheher, her lovely parents and Pashang. I will always remember the quality of the work. Mrs Ashcroft, your Modern Theatre work is in very safe hands here in India. Thank you so much to Khushcheher and her wonderful team who all help her, for a truly inspiring experience.
Lyn Richardson
| | |
| --- | --- |
| | |
---
Gwenda Britten witnesses the first ISTD exams in Taiwan
What a delight it was to return to Taiwan after seven years. I was met at Taipei airport by the effervescent Miss Lai who has been the Theatre Faculties representative in Taiwan since 1990, and how lovely to be reunited with this wonderful lady.
Miss Lai originally owned a Ballet studio in Kaohsiung Hsien (now renamed Kaohsiung City) and was a teacher of the ISTD work in many different universities, primary schools, junior high schools and colleges throughout Taiwan. She is presently a teacher for the Taiwanese government and responsible for staging traditional Chinese dance performances in over 25 countries throughout the world. Over the years she has worked tirelessly, encouraging students and teachers to follow the ISTD method in which she so strongly believes and full credit must be given to her for her ongoing loyalty and enthusiasm towards the Society.
She holds fond memories of the three wonderful ladies who pioneered all the work abroad: Miss Crail, Miss Rycroft and Miss Sargent, who all spent many weeks teaching, examining and developing the work in the early years in Taiwan, originally named Formosa. Examinations were conducted in Taipei, Kaohsiung, Tainan, Changhua, Ilan and Pintong, firstly in the Imperial Ballet work, with the Modern and Tap Faculties following later.
I examined some beautifully prepared children in Taipei and New Taipei City (formerly known as Taipei Hsien), who were a real credit to their teachers and who thrived on the careful preparation they had been given. One must not forget the pianists who accompanied the Ballet work and played beautifully in assisting the children's musicality. The teachers were delightful, all working long hours perfecting students and trying to raise standards. It was so lovely to meet up with some of the original members who had attended my courses many years ago and whose babies had all grown up.
I boarded the beautifully groomed train for Kaohsiung where I was to examine and teach. On arrival in Kaohsiung, I was delighted to recognise several familiar faces of teachers who are still teaching our syllabi. It was also a treat to see some of the lovely, talented children who worked so hard in the open classes and then re-appeared to watch through glass doors at the teachers' courses.
Later, many of the older students arrived with their clipboards to take down notes in Mandarin and to remember their corrections, displaying a very impressive attitude towards learning. It was great to see just how focused they all were, taking full advantage of what was on offer, soaking up new work, absorbing and performing with a very willing attitude.
All too soon, my work was complete and it was time to say farewell to Taiwan again. Thank you to all the teachers for looking after me so well in your studios. My heartfelt thanks to Miss Lai for all her kindness throughout my entire tour plus interpreting at all the teachers' courses: "You are a real gem".
I have no doubt that Miss Lai's dream for the future will be fulfilled soon, that the Taiwanese dancers through careful ISTD training, will take their place on the world stage. I look forward to returning again at some time to see the beautiful children grow and develop in the different genres that the ISTD has to offer.
Gwenda Britten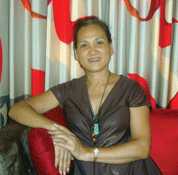 回顧台灣之行
久違了七年再度回到台灣,這一趟台灣之行令我感到無比的欣喜。
當我抵達台灣機場時,從1990至今擔任台灣ISTD的舞蹈劇場代表賴女士熱烈地前來迎接我,再度與這位了不起的賴女士重逢令我十分開心!
賴女士原本在高雄縣(現在已經改名為大高雄市)開了一所舞蹈社,她曾在許多大學、中學和小學等用
ISTD系統來教學。現在賴女士更是代表台灣政府外派海外的民族舞蹈老師,前後到過了至少25個國家以上教民族舞蹈。 在過去的日子裡,賴女士不厭其煩地在台灣舞蹈界裡推廣ISTD的教學系統,並且鼓勵許多老師和學生們追隨ISTD的學習方式,這一路以來她對於ISTD 協會的貢獻和忠誠,我們協會應給予賴女士有所表揚。
對於早期到台灣教學的三位先鋒老師們,賴女士對她們有很美好的回憶。Miss Crail女士、
Miss Rycroft女士以及Miss Sargent,她們三位前輩都前後花了許多個禮拜在台灣奠定協會的發展,並巡迴教學和監考。考試的地方也分佈廣泛在許多不同的城市;有台北、彰化、台南、高雄、屏東和宜蘭。最早開始只有芭蕾和現代舞系統,但之後陸續加入了踢踏舞的類型。ISTD在台灣能有今天,我們將永遠記得和感恩這三位女士的付出和貢獻。
抵達首都台北,一個充滿著活力和熱鬧的城市,看那霓虹燈閃爍、摩托車穿梭大街小巷,數不完的小吃和麵攤,到處都瀰漫著美食香味、來往的人群忙碌地用手機大聲的說著中文等等,這些日不休夜不眠的情景正是亞洲獨有的特色。
這次在大台北市(曾稱台北縣)監考時,我遇到許多很棒的孩子,看得出這些出色的孩子們由於老師的盡心教學而能夠充分的準備考試,還有芭蕾的鋼琴伴奏也彈奏的非常優美,讓一切呈現的如此完美。
所有的老師們都花了很多時間和功夫來訓練他們的學生, 並盡力在提升這些孩子們的水平,我覺得每一位老師都指導的很棒很專業。 除此之外我也很開心能再看見一些幾年前曾來上過我的課的學生們,尤其又看見他們的小孩都已長大了。
這次我利用快速又舒適的高鐵來回台北和高雄監考和教學,台灣的高鐵在五年前開始啟動,從台灣北部到南部只需花一個小時又二十分鐘。 就像日本的新幹線列車一樣。抵達高雄後,我很歡喜能看見了許多孰悉的臉孔,這些老師們依舊使用我們協會的教學系統。
對我來說,我遇見了很多聰明又有天分的孩子們來上我的課,還有些小孩透過玻璃窗入神地看著我在教學,這些情景都令我覺得不虛此行。 雖然英文是他們的第二語言,但是這些孩子們都十分聰明而且學習的非常快速。比起七年前,這趟到台灣我覺得到處都可見英文標誌,像是地鐵或是火車站都有清晰的英文指標。 看見更大一點的孩子們上課時都隨時記錄筆記,他們能一下子吸收、消化並展現出新學到的東西,他們的學習態度和驚人的專注力實在令人讚嘆。
很快地時間一轉眼間就過去了,我又要跟台灣說再見了。 我想謝謝所有招待和照顧我的舞蹈社老師們,很抱歉雖然我不會說中文,但是我能感受和明白他們的肢體語言! 我更由衷感謝賴女士從頭到尾幫我翻譯並陪伴著我,我想在此對她說你真的棒極了・!
毫無疑問的,我深信賴女士對ISTD未來夢想很快將會實現, 台灣的舞者們在ISTD的訓練下將會繼續走向世界的舞台。最後我很期待能再次回到台灣,再去看那些美麗的孩子們成長和進步,並期待看見他們將來發展出更多
ISTD系統的舞蹈類別