News from Around the Globe - July 2012
Intent to Enter
I would like to draw teachers' attention, once again, to the new process that is now in effect for all examinations that will take place after 1st August 2012. It is called the 'Intent to Enter' process and it is a compulsory process that all non-UK teachers will need to comply with if they wish to have examinations.
The 'Intent to Enter' form is available on the ISTD website. It can be found within the International Examinations pages so please go to www.istd.org/examinations/international-examinations. All teachers will need to download this form, complete and forward to their Examinations Officer by email or fax no later than the 'Intent to Enter' deadline which is stated alongside the examination dates for all countries.
You will receive an email from your Examinations Officer to acknowledge that your 'Intent to Enter' form has been received. Consequently, only teachers who have submitted their 'Intent to Enter' form will be sent the examination pack by their Examinations Officer which needs to be completed and returned by the closing date, as per current procedures.
It is very important for teachers to submit their 'Intent to Enter' form by the deadline. If teachers do not submit their form, they will be prevented from participating in the examination session taking place later in the year. Don't miss out – download and complete your form!
Click here to download the Intent to Enter Form (Word doc)
Click here to download the Intent to Enter Form (PDF doc)
---
Examination Dates for 2013
The tour dates for examinations in 2013 will be available on the ISTD website shortly. Please go to www.istd.org/examinations/international-examinations to see when the next examination tour will be in your country. Once there, you will notice the closing date for the session, which is when the final paperwork and payment is required. Also, alongside, is the 'Intent to Enter' date.
2013 examination dates will be coming soon
---
Seychelles
The examination session in the Seychelles made the local news. An article on 24th April 2012 in the Seychelles Nation featured the students who participated in the examination session in February. It is wonderful for the school and the students to receive this accolade.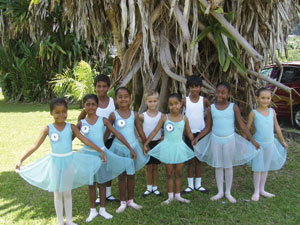 ---
A Number of 'Firsts' in Japan
This was my first visit to Japan and it was also a 'first' for National Dance examinations in Japan. It was a joy to be welcomed at Lisa Maria Johannsen-Sawamura's beautiful studios and to examine her very first entry of National Dance candidates. This is the second year of her ISTD examinations, having started with Ballet, Modern and Tap Dance last year. She has now introduced a fourth genre with a dedicated set of children, immaculately prepared for the National Dance Grade Examinations. They danced with style and enthusiasm, their demonstration capturing the essence of working with each other in group dances and partner dances.
Each candidate produced a project relating to the country in question. In addition, in the Danish section, some children had sourced such things as a Japanese translation of a Hans Christian Andersen story and others presented the most delicious Danish pastries. Each child had learned to recite a little of the background theory in English – no mean feat in a country where the English language is not generally used.
Another 'first' for me was the school's entry of ISTD 2012 Awards. I had not had an opportunity to examine these on a previous occasion and was delighted to see the lovely solo performances. The newly acquired knowledge of National Dance was also presented by some of the candidates.
I had the opportunity of working with some of these children in the classes that followed the examination and was particularly impressed with their disciplined approach to learning and the speed with which they assimilated the various steps.
Many thanks to Lisa Maria and her husband Rui for looking after me – for making a three hour long journey to and from the airport to collect me, and for taking the time to show me a little of their beautiful country.
Heather Rees
ISTD 2012 Awards in Malaysia
In Malaysia I had a second opportunity to examine the ISTD 2012 Award. At the studio of Serena Tan I saw some exquisite dances in a variety of genres – National Dance being one of the main genres performed.
Heather Rees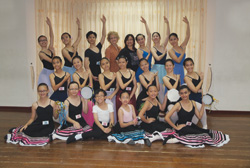 ---
Delia Sainsbury, ISTD Liaison Officer in South Africa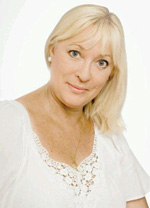 Delia Sainsbury was trained at Bush-Davies in Romford, and is eternally grateful for turning her into the 'triple threat' demanded by the industry, even though Bush-Davies was way ahead of its time and the phrase hadn't even been coined yet! This resulted in a 10 year career in the West End, television, cabaret and films in the UK, before immigrating to South Africa in 1976. Delia met her husband Keith Galloway (trained by the late Mary Archbutt) in the dressing room at Drury Lane Theatre in the production of The Four Musketeers, and they married two years later. They accepted an invitation to tour in the South African production of West Side Story, with a fully international cast, and toured South Africa for a year. Delia and Keith fell in love with the country and were determined to further dance training for South Africans of all ethnic backgrounds. From the beginning, they held fully integrated classes (under the radar and they were thrown out of their studios three times!) and although not South African citizens, their activities were largely overlooked by the authorities at the time. In Johannesburg they experienced bombs going off outside their studios and soldiers sealing off the perimeters, but Delia remembers they never cancelled a class.
Delia also managed to continue with a professional career as a television presenter (having an unbroken record with SABC for 23 years), choreographer and heading a dance company. Delia and Keith then established a full-time college in Johannesburg and Delia introduced the ISTD method for the first time. She will always be eternally grateful to Pat Crail, Betty Laine and Mrs Ashcroft for their unwavering support of the ISTD in South Africa in those early Apartheid years, when the Foreign Office forbade examiners to go to South Africa because of the dangerous political situation and the ensuing violence. Still the examiners came and gave further courses and examination sessions!
Delia moved the college to Cape Town in 1992 as the violence in South Africa, particularly Johannesburg, had escalated prior to the 1994 elections and the unbanning of the ANC. They relocated to the Waterfront, one of SA's top tourist destinations, and were fortunate enough to obtain the beautiful Mission to Seamen building overlooking the Waterfront, which houses nine studios, three costume stores, a workshop and a residence for 21 students and has a resident staff of 15 teachers.
Delia became an examiner for the ISTD in 1984 and the organiser in 1994, posts she held until 2006 when sadly she had to resign due to Keith's ill health. The ISTD has grown so much in South Africa that there are now examination sessions in Gauteng, Kwa-Zulu Natal and the Cape. Delia has qualified over 300 Associates in Ballet, Modern and Tap over the years, and ISTD trained dancers are now dominating every aspect of the industry in South Africa. The graduates of the college progress to films, television, choreography, dance companies, musicals and, of course, teaching. Delia encourages the South African teachers to advance their training to the higher professional levels, ensuring that the ISTD will remain alive and well in South Africa.
She is delighted to be reinstating her position as Liaison Officer in 2012 and will do all in her power to bring the regions together and make teachers and students feel part of this amazing organisation. The regions are so widespread that communication is often very difficult, and Delia can see a fair amount of travelling ahead. Delia looks forward to a time of consolidation and expansion in the years to come, putting South Africa even more firmly on the map for the ISTD, bringing together all the dance genres currently being taught, including the Greek and National Dance Faculties. Delia envisages South Africa as a flagship for international standards, maintaining the integrity and intention of the work, and is looking forward to this renewed opportunity.
---
ISTD Exams Establish New Benchmark for Kathak in Dubai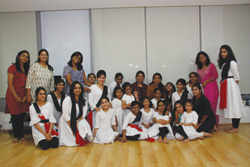 ISTD Kathak examinations took place in April in Dubai, UAE for the first time, at Gurukul, a dance school offering training programmes in classical and contemporary Kathak under the tutelage of renowned Kathak artist and Artistic Director, Pali Chandra.
Gurukul is a pioneer academy in the region to offer teaching based on the ISTD syllabus and now enjoys the status of being the first to have conducted ISTD exams for its students. It was a privilege for the academy to have Sujata Banerjee, Chair of the ISTD South Asian Dance Faculty, as the examiner for this inaugural exam period.
Dance education at Gurukul is offered to students of all ages and abilities and a diverse group appeared for the exam. The youngest Gurukulite was only five years of age and among those with different abilities was a student with partial cerebral palsy. "Kathak is like water that takes the form of the vessel it is poured into. It was important for me that all my students, regardless of their age and ability, appear for the exams and earn the ISTD recognition for their understanding and performance of the art form," said Pali Chandra.
An internationally accredited exam like the ISTD can revolutionise student attitudes towards dance training. Some students have been learning Kathak to pursue dance as a profession. However, for many others, Kathak training has been an extra-curricular class or an alternative workout and therapy session. For this majority, their attitude underwent a massive transformation once the ISTD exams were announced.
Preparing for the exam involved learning about and understanding the history of Kathak. Students started paying closer attention to the nuances and wanted to know more about technicalities like taal, tukra, hasthak and kavit.
The dancers started observing the art closer and appreciating their rigorous training more in the months leading up to the exam. There was both anxiety and excitement about the exams; along with a sense of responsibility instilled in the students as they prepared to be recognised with an international certification.
The examination was followed by an engaging and educational safe dancing workshop, conducted by Ms Banerjee at the Gurukul studio where students and parents were able to learn and appreciate the techniques. Gurukul has been successful in setting a new trend in the region for learning Kathak aligned with the ISTD and is committed to mould dancers who can proudly take their dance as a profession or passion to any corner of the world.