Imperial Classical Ballet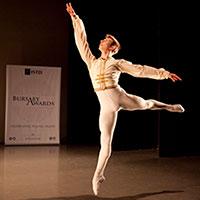 The roots of Imperial Classical Ballet stem from the early days of the ISTD and the first written syllabus in 1913 which was based on the teaching of the French School from the Paris Opéra. The syllabus has now evolved to promote the English classical style and address the changing needs of Ballet dancers today.
Bursary Awards
Bursary Awards competitors are drawn from the winners of the Imperial Classical Ballet Senior Awards upon recommendation from the Imperial Classical Ballet Faculty.
Imperial Ballet in the ISTD shop
The following new DVD and CD's are available from shop.istd.org from January 2020: Imperial Ballet Advanced 1 and 2 DVDs; Class Examinations Pre-Primary, Primary and 1; Class Examinations 2, 3 and 4 CDs. Please visit the ISTD shop.
Download a history of the Imperial Classical Ballet Faculty. If you would like to find out more about ISTD history you can order your copy of 100 Years of Dance from our online shop.
Intermediate Syllabus Updates
We have collated updates surrounding Intermediate into one document. Download it here.




Changes to Licentiate and Fellowship Entry and Requirements (effective since January 2016)

Please note the following amendments to examinations worldwide (since September 2015)

Fellowship Examination
The examiners are no longer specifying the vocabulary to be coached in Part 1, the candidate's class. Candidates will teach a free class, coaching and teaching elements of their choice at Advanced 2 level.

Faculty Newsletter
The Faculty Newsletter now includes information and events for both the Imperial Ballet and National Dance Faculties. This publication can be sent on request to any teacher via email in March and August each year and there is now no charge for this service.

Download the Imperial Classical Ballet syllabus outline from the theatre dance syllabus page.
News
10 Jul

Performing Arts guidance published by Downing Street.

24 Jun

We are working in partnership with CDMT, Sports and Recreation Alliance and One ...
Events
Mon

Tue

Wed

Thu

Fri

Sat

Sun

1
2
3
4
5
6
7
8
9
10
11
12
13
14
15
16

17

18

19

20

21

22

23

24

25

26

27

28

29

30

31

August 2020