Imperial Classical Ballet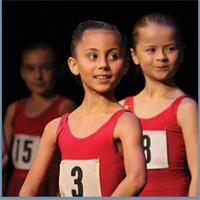 The roots of Imperial Classical Ballet stem from the early days of the ISTD and the first written syllabus in 1913 which was based on the teaching of the French School from the Paris Opéra. The syllabus has now evolved to promote the English classical style and address the changing needs of Ballet dancers today.
Click here to download our Imperial Classical Ballet syllabus outline.
---
DVD of the Set Dances and Variations
The new DVD of the Imperial Classical Ballet Syllabus Dances and Variations is now available from the Sales Department at ISTD HQ, priced £30. Please visit www.istd.org/shop.
---
Faculty Newsletter
A Faculty newsletter, 'Imperial Ballet Info', is published twice a year in February and August, to keep teachers up-to-date iwth courses, facutly events, syllabus matters and general information. This is available to teachers by email or post for the small fee of £5 annually. If you are interested in receiving this publication, please contact the Faculty Secretary.
---
The ISTD celebrated its 110th anniversary in 2014

Please
click here
to download a fascinating new history of the Imperial Classical Ballet Faculty, written to mark the occasion.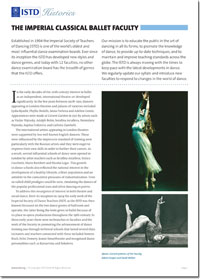 If you would like to find out more about ISTD history please click here to order your copy of 100 Years of Dance.
News
20 May

Dance Proms returns to the Royal Albert Hall for it's fifth year, Sunday 15 Nove...

13 May

The Imperial Classical Ballet Awards were held at the Hawth Theatre, Crawley, We...
Events
Mon

Tue

Wed

Thu

Fri

Sat

Sun

1
2
3
4
5
6
7
8
9
10
11
12
13
14
15
16
17
18
19
20
21
22
23
24
25
26
27
28
29
30

April 2015
Thursday 06 August

Wednesday 19 August