How members can use the ISTD logo
Who can use the logo?

ISTD members, ISTD faculties and all ISTD departments.
When can the logo be used?
For publishing (print or web), promotional material, programmes, events or advertising. ISTD members may use the ISTD logo for the following:
Headed paper

Business cards

Complimentary slips

Pull-up or display banners

Window stickers or displays

School signage such as posters

Advertisements (in print or online)

School or personal business website

Email newsletter
Please note that only current ISTD members may use the ISTD logo, so please bear this in mind when printing items which may be used for more than one year, such as external signage or banners for your school.
The ISTD logo is intended to help members promote their association with the Society and may be used on promotional items such as those listed. It is NOT intended for use on official school or personal administrative documents, such as invoices.
If you are unsure about whether the ISTD logo is appropriate for use on a certain item or to check that the logo you have is the most current version, please contact us to check.
Please click here to download the ISTD Brand Guidelines.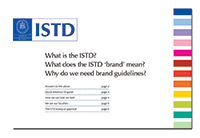 Contact us
If you have an questions about the logo, how or when you should use it, please contact our in-house design team:
Tamsin Moore (Monday to Wednesday)
Design & Publications Manager
tmoore@istd.org