Modern Ballroom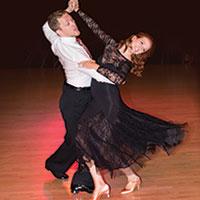 This dance style includes several techniques such as the Waltz, Foxtrot, Quickstep and Ballroom Tango.
These are all social dances which were seen throughout Western Society from around the beginning of the twentieth century.
These dance techniques vary in style but are all partner dances; today they are most commonly seen at competitions, at social gatherings or on stage.
Download a history of the Modern Ballroom Faculty. If you would like to find out more about ISTD history you can order your copy of 100 Years of Dance from our online shop.
DVDs of the 2017 Dancesport Congress are available from the ISTD shop here.
NEW - Box Dance.

Lock down has been incredibly challenging for Dancesport teachers but in these trying times innovation and dynamic working processes are a must for teachers to sustain their businesses. Introducing Box Dance - a new campaign that will make sure you and your students can keep dancing in a socially distanced world. Learn more.

-

The Modern Ballroom and Latin American committees have decided that the compulsory syllabus figures are no longer required to be shown in the examinations at the Gold Star and above levels. This took effect on 1st January 2016 for both Modern Ballroom and Latin American examinations. Read more.

Click here to download the American Smooth syllabus outline

Click here to download the Modern Ballroom syllabus outline
News
10 Jul

Performing Arts guidance published by Downing Street.

02 Jul

Think inside the box...
Events
Mon

Tue

Wed

Thu

Fri

Sat

Sun

1
2
3
4
5
6
7
8
9
10
11
12
13
14
15
16

17

18

19

20

21

22

23

24

25

26

27

28

29

30

31

August 2020