Modern Ballroom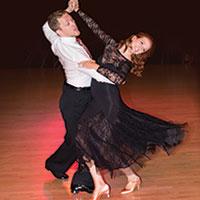 This dance style includes several techniques such as the Waltz, Foxtrot, Quickstep and Ballroom Tango.
These are all social dances which were seen throughout Western Society from around the beginning of the twentieth century.
These dance techniques vary in style but are all partner dances; today they are most commonly seen at competitions, at social gatherings or on stage.
Download a history of the Modern Ballroom Faculty. If you would like to find out more about ISTD history you can order your copy of 100 Years of Dance from our online shop.
DVDs of the 2016 Dancesport Congress are still available. Download an order form and send it back to guarantee your copy. For further details please contact the Education & Training Department on +44 (0)20 7377 1577 or coursebookings@istd.org.
Ballroom Faculty Committee Elections
Election for the Ballroom Faculty Committee opens this year. If you would like to be nominated or know of someone who should be nominated, please contact the ISTD Senior Administration Officer, Georgia Hussey (ext. 806), email: pa@istd.org. Those with Licentiate or Fellowship status only may apply. The deadline for applications is 1st May 2018.
News
23 Mar

Malcolm Hill caught up with Claire Thompson after another successful year at her...

08 Mar

A letter to members from Ginny Brown
Events
Mon

Tue

Wed

Thu

Fri

Sat

Sun

1

2

3

4

5

6

7

8

9

10

11

12

13

14

15

16

17

18

19

20

21

22

23

24

25

26

27

28

29

30

31

May 2018