Modern Theatre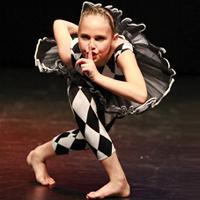 Modern Theatre dance is a rhythmic dance style which originated in America before travelling to the rest of the world. It is often seen on the stages of musical productions and is known for its theatrical qualities. The style uses travelling steps, high kicks, leaps and turns which all need strength and flexibility. This is a highly energetic dance style.
Click here to download Modern Theatre syllabus outlines.
Click here to download Modern Theatre syllabus revisions.
---
For an update on the Intermediate Modern Examination please click here
Please note: The Modern Theatre Faculty Committee is up for re-election this year. Anyone wishing to be nominated should contact Dawn James.
---
COMBINATION STEPS Modern Grades 2, 3 and 4
Teachers please note:
Candidates will not be asked by examiners which two combination steps they are demonstrating. They will be asked about which music option they are using.

Grade 2 is a choice of tempo A, B or C
Grade 3 is a choice of tempo A or B
Grade 4 is a choice of the set music or suitable music of the teacher's choosing.
Candidates should be confident enough to state which of the above they are using when asked this information in their exams.

All combination steps need only be prepared to be shown from one side only and performed as a solo.
---
New Revised Advanced 1 Modern Important Reminder
The revised syllabus will become compulsory throughout the UK, Europe and worldwide from January 2015. This will also involve the syllabus being included in Part 2 of the Licentiate Modern Examination both for vocational and graded specialisation from January 2015.
---
Calling all Janet Cram Past Award Winners!
We want to hear from you! We would like to invite as many Janet Cram Award winners to join us for our 50th year celebrations as possible!
There will be an evening reception as well as the infamous Janet Cram celebratory 'walk around'...to point the feet or not, that has always been the question! Contact: info@jackiebarnes.co.uk
---
ISTD uniforms for the Classical Greek, Modern Theatre, National Dance, and Tap Dance Faculties are now available for dance teachers and schools to purchase through International Dance Supplies. To open an account, or shop now if you already have an IDS account, call +44 (0)1626 36 3232 or visit www.ids.co.uk.
Parents and students can purchase the ISTD Uniform directly through www.danceandshop.com.
---
The ISTD celebrated its 110th anniversary in 2014
Please click here to download a fascinating new history of the Modern Theatre Dance Faculty, written to mark the occasion.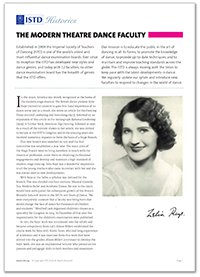 If you would like to find out more about ISTD history please click here to order your copy of 100 Years of Dance.
News
20 May

Dance Proms returns to the Royal Albert Hall for it's fifth year, Sunday 15 Nove...

17 Dec

Virginia Wilkinson shares a historic lesson transcript by Shelagh Elliott-Clarke
Events
Mon

Tue

Wed

Thu

Fri

Sat

Sun

1
2
3
4
5
6
7
8
9
10
11
12
13
14
15
16
17
18
19
20
21
22
23
24
25
26
27
28
29

30

31

May 2015
Sunday 07 June

Sunday 05 July