Modern Theatre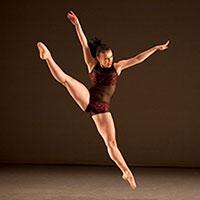 Modern Theatre dance is a rhythmic dance style which originated in America before travelling to the rest of the world. It is often seen on the stages of musical productions and is known for its theatrical qualities. The style uses travelling steps, high kicks, leaps, and turns which all need strength and flexibility. This is a highly energetic dance style.
Bursary Awards
The Bursary Awards competitors are drawn from the winners of the Janet Cram Awards upon recommendation from the Modern Theatre faculty.
Download a history of the Modern Theatre Faculty, written to mark the occasion. If you would like to find out more about ISTD history you can order your copy of 100 Years of Dance from our online shop.
Janet Cram Awards 2020 - Applications now open!

Changes to Licentiate and Fellowship Entry and Requirements (January 2016)

COMBINATION STEPS Modern Grades 2, 3 and 4
Teachers, please note: Candidates will not be asked by examiners which two combination steps they are demonstrating. They will be asked about which music option they are using.

Grade 2 is a choice of tempo A, B or C
Grade 3 is a choice of tempo A or B
Grade 4 is a choice of the set music or suitable music of the teacher's choosing.

Candidates should be confident enough to state which of the above they are using when asked for this information in their exams. All combination steps need only be prepared to be shown from one side only and performed as a solo.

For further clarification for a range of technical details of the various Modern syllabi, go to the faculty's Teachers Corner.

Modern Theatre Advanced 1 DVD


The DVD is available to buy via the Shop.

Syllabus outlines for download

ISTD dancewear for the Modern Theatre Faculty is available for dance teachers and schools to purchase through International Dance Supplies.

To open an account, or shop now if you already have an IDS account, call +44 (0)1626 36 3232 or visit www.ids.co.uk.
News
24 Jun

We are working in partnership with CDMT, Sports and Recreation Alliance and One ...

01 May

Feedback from our inaugural online member meeting and details on our second sess...
Events
Mon

Tue

Wed

Thu

Fri

Sat

Sun

1

2

3

4

5

6

7

8

9

10

11

12

13

14

15

16

17

18

19

20

21

22

23

24

25

26

27

28

29

30

September 2020