A Life in Salsa

22 March 2013
Susana Montero describes how Salsa competitions have developed over the past 20 years
I clearly remember when I did my first local competition in London back in 1997. It was during a Latin Live concert at the Brixton Recreation Centre. I enjoyed it very much, especially as I won, but it was not the kind of competition I was used to participating in. Coming from a Ballet and Contemporary background I was used to certain rules and structure. I remember at that first Salsa competition they didn't have enough couples to go ahead and so they were looking for volunteers. I was with a friend who happened to be at the concert with me and he seemed to be very keen on it so, although I was a bit scared, I said yes.
I was not afraid of competing, I was scared of not being prepared for it. In my world you must train for years or at least months (depending on the competition) to even consider taking part in one. All that was going through my head was: "Please don't look like an idiot, don't ruin a career that you have just started." When I moved to London after leaving the Spanish National Ballet, I fell in love with Salsa and I promised to dedicate the rest of my life to doing something about it. I didn't leave the ballet company because I wanted to; I did it because I didn't have a choice due to serious injuries and because of personal circumstances. I thought my life as a dancer was over until I discovered Salsa. It was something that I could do, that my body could definitely handle and something that I actually loved.
When I first got involved in Salsa what I found was a 'bit' different to what I was expecting. There was no structure, no technique, lessons were given in clubs and not in a studio environment, and there were no organisations or associations to control it. I wasn't sure where to turn. It was around that time that I entered that first competition. Winning it made me realise that it was time to learn. If I could win a competition without preparation, imagine what I could do if I was prepared. This is how my travelling around the world to learn commenced...but that's another story.
The purpose of this article is to show you how much Salsa has changed in the last 20 years through the world of competitions. In 1998 came the Tropicana Salsa Competition to the UK organised by Emiliano Zapata, a teacher and promoter in the UK at the time. We had judges from the UK and it was also televised by Channel 5 in a show called Club Culture. The cameras followed us for weeks to get the best picks for the film. It felt real to me or at least a big improvement from the previous one. Winning that first British competition gave me the confidence to fully pursue a career in Salsa.
While all this was happening in the UK, things were moving a lot faster in the USA. Probably the oldest Salsa competition in the world is The Mayan World Championships hosted by Club Mayan in Los Angeles, California. For many years Johnny Vazquez dominated this competition before relocating to teach throughout Europe. He was and still is one of the best dancers in the world and a true representative of the original LA style. One of the judges for the last five years of this competition was Albert Torres, a man who nowadays produces 42 Salsa congresses a year, a man who in 2005 created the World Salsa Championships, now called The World Latin Dance Cup. He is a man who has done and still does a lot for Salsa.
Meanwhile in 1999 in the UK, the UKA organised a competition in London which I believe was very successful. Why? Because it was very professionally organised. The only thing missing in my opinion was that there were not many Salsa professionals involved with it.
In 2000 we had the biggest Salsa competition that Britain had ever seen; The Bacardi Salsa Competition organized by Joseph David, one of our successful UK promoters. Leon Rose, my dance partner at the time, and I prepared for months and we were really excited about it. In Puerto Rico an association was created, called The Bacardi All Start which represented certain dancers all around the world and after winning this championship we were asked to be part of it. Our debut was in the biggest Salsa congress in the world: The Bacardi Salsa Congress in San Juan, Puerto Rico. It was the first congress in the world and the biggest; an event I will never forget. The judges of that competition were people like Eddie Torres, Salsa Brava, Nelson Flores, Tito Ortos and Tamara Livolsi. They were the most respected dancers and teachers in the world; the very same professionals I have been taking advice from for the ISTD Salsa examinations.
I don't think we ever had another competition quite like that. I even organised the British Salsa Competition a few years after, which was a success, but I decided to wait to hold it again until the standard in the UK was raised to the international level. It is a task that is taking me and other professionals quite a bit of time.
"The purpose of this article is to show you how much Salsa has changed in the last 20 years through the world of competitions"
Salsa has grown enormously in the last 20 years. We have passed from dancing with live music only to studios, clubs, schools, congresses, festivals...and the list goes on. We have to thank all the promoters, DJs, teachers and dancers who have participated in developing Latin music and dance in the UK. There is, I'm afraid, a downside to this popularity: many people saw a business opportunity in Salsa – nothing wrong with that – but not all of them prepared themselves for the job.
In Britain, there are a lot of teachers now who are not properly trained and have no real interest in the culture, language or music, but just want to make a quick buck, and this has brought down standards and devalued Salsa on every level: the dance, the music and the culture in general. I believe that Salsa deserves the full respect of the person who teaches it, not because I'm Latin but because I have spent the last 20 years trying to get Salsa to the same professional level of any other dance discipline. Having judged competitions for the last 10 years, I can't wait for the day that I bring back the British Salsa Competition.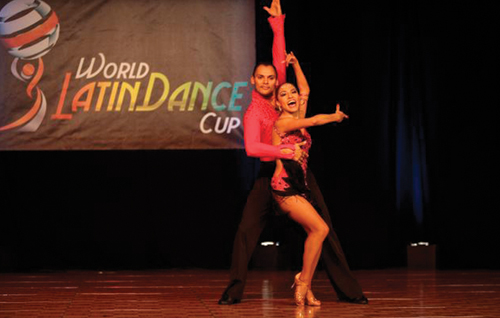 At an international level, thanks to Albert Torres, we now have the biggest and most prestigious Salsa championships in the world. During each year from January to November, he produces at least 42 qualifiers for the World Latin Dance Cup that is held during the second week of December. The first year it was held in San Diego, the second year in Las Vegas and this past year in Miami. They have just signed a contract for two more years in Miami. This competition covers Salsa on1, Salsa on2, Cabaret Style, Salsa Teams, Cha Cha, Bachata and Cumbia. All of these divisions have different categories: children, juniors, amateurs, professionals and the over 65s. You could not get a bigger competition than this.
We used to have all styles, ages and levels mixed in the same competition so it is amazing to see now how well represented the different styles are and give them the fair and just competition, showing the respect that each one of them deserves. Every country has its own competitions now. The standard of Salsa has increased enormously, not only in the complexity of the moves, but also how fast and developed the technique has become. I believe teachers need to be better prepared now than they have ever been.
Albert Torres has been involved with judging and producing competitions for over 15 years. I don't know anybody else with more experience. I have never seen anybody working so hard. He told me that the only reason he produces this event is so that dancers from all over the world can get together and have an honest competition that now has a reach of 2.3 million online and is seen live in HD. It has opened the door for so many that only had dreams, which are now a reality in their lives.
The World Latin Dance Cup will be held in Miami from 10th to 14th December 2013 with dancers aged from 5 to 75 years old and from more than 40 countries. More information about the event can be found at www.worldlatindancecup.com.
I believe that Salsa has come a long way and thanks to the hard work and passion of many people, Salsa is reaching the standard it deserves. I'm just happy to be part of its growth, especially here in the UK. I hope my work with the ISTD will help to fulfil a dream. I would like to thank not only the ISTD again for their trust in me but every single member of the Club Dance Faculty, for their hard work and dedication over the last few years. We have created what I believe to be a complete, fair and honest Salsa examination which we hope will improve and/or strengthen the standard of our teachers. I'm proud of our work, which is finally finished.
Susana Montero