Arlene Phillips

27 March 2012
Interviewed by Lucinda Hennessy
World-renowned choreographer, West End director and TV judge, Arlene Phillips is no longer a personality known solely within the industry, but is now a household name synonymous with dance. Starting from her beginnings with dance troupe Hot Gossip, through to her involvement with Big Dance 2012, Arlene has become a passionate dance ambassador who provides great inspiration to all dancers.
"By the age of eight, that was it, I knew I wanted to dance and nothing was going to stop me"
We caught up with Arlene the day after she welcomed the new cast of The Wizard of Oz to the London Palladium, a "really emotional performance" she recalls. Having more recently branched out into the worlds of publishing and fashion, is there no end to her talents?
What memories do you have of your first dance class or first dance teacher?
My very first dance class was when I was three years old at a local dance school. I was desperate to dance. My overriding memory is of the teacher teaching us 'step together step hop' and shouting at me because I couldn't do it, and then not wanting to go back again because I wanted to dance without being shouted at. And so I stopped dancing when I was very small, but by the age of eight, that was it, I knew I wanted to dance and nothing was going to stop me, and from that moment on I was quite serious about going to study dance. I then went on to a local dance school in a big church hall but I used to come home saying it wasn't proper ballet and that I wanted to go to a proper ballet school, because I was an avid reader of ballet books. I then found the place that was to become my second home – the Muriel Tweedy School of Dance in Manchester, and that's where I stayed and studied and learnt everything about dance.
What made you decide you wanted to devote your life to dance?
I love the whole world of dance; I studied everything when I was at Miss Tweedy's. When I went to London and started at the Covent Garden Dance Centre, it was the first time I'd seen someone teaching Modern American Jazz, by a teacher called Molly Molloy. I can just remember falling in love with the style as I watched her teaching. I was living in Manchester at the time and thought there was no way that I could live in London but as soon as I saw her class, I knew that I was going to stay and live in London and study all over again. I was 23 at the time and had been teaching dance in Manchester both at the school where I trained and schools all around Manchester. I never went home again after I saw that class. I stayed in London with just the clothes that I had with me and nowhere to live, but I knew that that was the kind of dance I wanted to study. It was all based on the style of an American teacher called Luigi, but she reinvented the style and developed it. She teaches in New York now but her method is still taught at Pineapple in London.
| | |
| --- | --- |
| | |
Who were your inspirations as a young dancer?
From seeing West Side Story when it came to Manchester, to when I first saw Alvin Ailey's company at Sadler's Wells, I started developing and wanting to learn different styles so it was then I went to New York to study at the Alvin Ailey Dance School. I remember first seeing Twyla Tharp and just being completely riveted by each dance creator, so for me, creating more ways to move and dance became a life-long obsession.
What advice would you give to young dancers just starting out in the dance industry, whether as a performer, choreographer or teacher?
I think for anyone who wants to dance and make it a profession in whichever style they want to dance, whichever role they want to take in dance, they have to love dance with a passion. Dance is a very cruel master. You have to be the best at what you have decided to do and you have to study hard and train hard. If you're studying Latin, many professional dancers will spend four hours perfecting one move of a Rumba for example, and those four hours have to be something that you passionately want to do and understand. For anyone who wants to do Classical Ballet, there are hours of pain and suffering, but Ballet is a strong basic, it gives you strength and a poise. As a dancer who wants to become a classical dancer, so much is about the way that your body is made, so much has to do with not just desire, but physical ability and that doesn't come easily to everyone. There are so many different forms of dance you can do out there, there is a dance for everyone. I always say to anybody if they want to go into Musical Theatre they not only have to know many different styles of dance, and have the ability and strength to learn, desire and study them, but they have to be able to sing and act, a knowledge that you have to have both in mind and body. You have to know that you have the strength to master so many different genres of dance, and you have to want it and you have to work at it, because it's not a profession for someone who is half-hearted. My eldest daughter was in musical theatre but is now a make-up artist and my younger daughter danced early on but didn't want to become a dancer so went on to train to be a florist.
"There are so many different forms of dance you can do out there, there is a dance for everyone"
Is there a difference between working with American or British dancers?
The one thing that I love about working in America is that dancers see themselves as a business, as the person they have to invest in. And everything they do, all the finances that they earn, is devoted to putting back into study, and more and more I'm hoping that that is what is taken on here. Dancers need to think, I am my investment; I have to be the best; when a choreographer is thinking about using someone I have to be the person that jumps into their mind. I do notice a big difference between American and British dancers but I wouldn't say it's in the talent, but rather in the work ethic. And of course there's a difference when you go to an audition where there are maybe 500 dancers in the UK, but when you go to an audition in the US and there are 5,000 to compete against, that's a big difference. With 500 you think I could get there, with 5,000 you think I have to get there.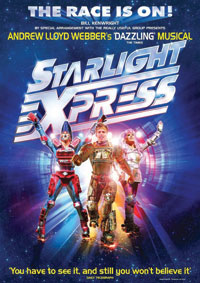 How does choreographing for TV differ from that for the stage, and which do you prefer? And which has been your favourite show to work on (whether for TV or stage)?
When you're choreographing for television, you are the master of what you create. You are given three minutes to put the dancers into something, either backing dancers or creating a small piece as entertainment, and you can say these are the costumes, the music and the style that I want, so there's a sense of freedom. Whereas for musical theatre on the stage, you are working with a director who may say this piece has to carry the story forward, so they want storytelling. The director will say this is the song and there are 16 bars of music, no more, no less, and he will tell you what he wants to happen, so it's a much more collaborative work. Sometimes you are restricted either by what the composer, director or writer wants; there isn't that enormous sense of freedom and in a lot of musicals with storytelling the dance for dance's sake often gets diminished because of the story you have to tell. You really have to make the dance work in a much bigger piece but I love choreographing for stage musicals, and I love being part of the collaborative and the creative process, but then also in television I love the freedom. When I was working with Hot Gossip many years ago, everything I did was my choice – the music, the costumes, the dance – it was a completely creative process for me and me alone. I think the challenges that both bring are exciting. I've been so lucky and loved all the shows I've worked on. My very first musical, Starlight Express, was an enormous challenge. Not only did I have to create the choreography for my first musical but it was on roller skates – there's nothing like being thrown in the deep end! But working on Starlight Express with Andrew Lloyd Webber, John Napier and Trevor Nunn was a new experience; there's nothing like a first. Starlight is actually coming back this summer to tour the UK, opening in Wimbledon on 10th May, which is very exciting.
You have had several books published – what made you want to write them?
I was an avid reader of children's dance books when I was young and a regular at the library. But the only books I could find were about Ballet. A couple of years ago I went to buy my great-nieces some dance books and having looked around the only ones I could find again were about Ballet. But every child I know who is dancing is learning all different genres of dance, from Hip Hop to Bollywood to Musical Theatre, so I thought that's it, I'm going to write a book about a little girl who loves to dance, a kind of magic faraway tree adventure where she would go to the country where that particular dance came from and of course, get back home safely, and it just grew from there, once I started I couldn't stop. I'm actually working on another book at the moment, a novel about dance, having brought out my Dance to the Musicals book late last year, so watch this space.
What do we have in store for us during Big Dance 2012 and how can people get involved?
Big Dance really means Big Dance. Anybody that dances can register to become part of Big Dance. You can even hold your own danceathon with friends and neighbours in your own home. We're expecting five million people to be dancing. When you look at people here in England they are very much about the dance that they are involved in whether it's Street Dance or Classical Ballet, but I don't think people realise just how many different styles there are. It's actually in all of our psyches; even people walking with their iPods glued to their ears in many ways are dancing, because they are moving, they are walking to the rhythm of the dance. I think there are more people dancing than going to football matches, which is quite remarkable. There is all kinds of fitness dance now too, dancing at home on the Wii, dance DVDs, it's like the UK is dancing.
As an avid Twitter user, what tips would you give to dancers and teachers wanting to promote themselves through social media?
Twitter can become an obsession. It can drive your business, it can drive people, but you never quite realise how and when. It's like an octopus with millions of tentacles reaching out and hooking people in. For example my Twitter name is @arlenephillips. Dance teachers should be promoting their classes, announcing 'all are welcome', for people to come along and join in. People don't often realise that maybe at the end of their road, maybe in their village, they can go along and join in a dance class. Social media is definitely a way to connect people; I think it's really important. Teachers need to let people know when and where there are classes and how they can join in. I think the dance world is very disconnected because each style of dance is protecting its own style and people are wary of not connecting with other styles, but actually it's the combination that will give dance its power. Huge numbers think that Rumba doesn't connect with Ballroom, which then doesn't connect with Contemporary dance. We need to open out and make people realise the number of people who are dancing. When I was growing up everyone had to pay by the term for classes but, with the economy the way it is, there are times when people can afford to take a class and times when people can't. The more that people realise that very close to them there is a place where they can join and pay for the class on that day then the access to dance will become better.
Would you ever consider going back to judge on Strictly Come Dancing or another dance show?
Do I love the show? Of course I love the show! I think it's brilliant. It's brought dance to so many people's lives and I love it just for that.
Lucinda Hennessy