BBC Young Dancer 2019

20 September 2019
We catch up with South Asian Dance category winner Shree Savani
This year BBC Young Dancer returned for a third series showcasing young dance talent in the UK. The competition was open to 16–21 year olds across four categories: South Asian, Contemporary, Ballet and Street Dance.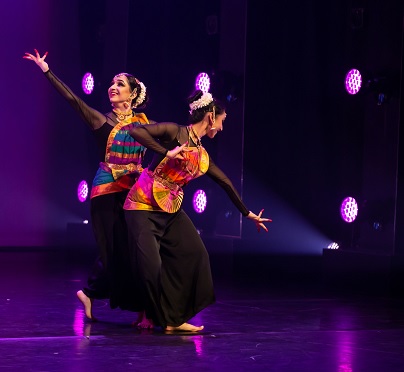 Presented by Anita Rani and Ore Oduba, the South Asian Final held at The Lowry featured two of the most popular Classical Indian dance styles – Kathak and Bharatanatyam. The finalists were judged by a panel of experts: Bharatanatyam dancer, choreographer and film-maker Seeta Patel, leading Kathak artist Gauri Sharma Tripathi, and adjudicator across all the categories, dancer, spoken word artist and director Jonzi D.
The category was won by 20 year-old Shree Savani from Nupur Arts, who went on to dance a new piece commissioned by the BBC and created especially for her by leading choreographer Mayuri Boonham on stage at The Birmingham Hippodrome in the BBC Young Dancer grand final, which was won by 20 year-old Max Revell for his Street Dance piece.
"I truly have rediscovered why I dance, why I love to dance and the impact it can have on an audience."
We caught up with Shree to find out more about what the experience was like for her.
What it was like competing in BBC Young Dancer
Looking back on the experience, I can wholeheartedly say it has been the steepest learning curve and most life-changing experience in so many ways. I learnt so much about myself and how I cope in situations, about my family and friends being such pillars of support, and also dance.
I truly have rediscovered why I dance, why I love to dance and the impact it can have on an audience. By no means has it been stress-free or easy, quite the opposite. It definitely has been more of an emotional rollercoaster than I ever expected, with the highest highs and the lowest lows, but I would without a doubt do it all again – each high was amplified and I don't think any other experience could have or will recreate those feelings or the things I've learnt.
How it felt to win the South Asian Category Final
It was honestly the biggest shock. I think I'd just completely shut out and forgotten the fact that it was a competition, which I think is why I just went out on stage and danced my heart out and genuinely enjoyed every minute.
The fact I was able to share the stage and experience with such talented young dancers, who share the same passion as I do, was so incredible. Sharing pieces that I'd worked so hard on really meant a lot to me and to an audience who were so warm fills any performer with so much love, so to win was just a massive bonus and obviously a huge honour.
I also think it's a massive confidence boost to know that my pieces are connecting and achieving their purpose to not only the audience, but also artists on the judging panel, whom I've looked up to and been inspired by for many years. The thought of then going on to the Grand Final and representing not only South Asian dance, but the first person to take Bharatanatyam to the Grand Final, filled me with so much excitement and gratitude.
How ISTD training at Nupur Arts has helped
I have trained with Nupur Arts since the age of six in various dance styles. I took ISTD Bharatanatyam exams up to Grade 5 and at some point, would really like to finish all of the exams in Bharatanatyam.
Preparing for an exam can definitely feel tedious (I've been there many times). However, I do feel that dance exams are so helpful, not only for learning and developing as a dancer in physical form, but also the whole process of preparing pieces, theory, creative exercises and other background knowledge. The process of preparing and delivering the exam almost reflects how a dancer works towards a performance and delivers it to an audience, just an exam being much more intimate. Following a specific national standard syllabus that is designed to develop a dancer's understanding and skills of the form is really helpful.
Special teachers
I have learnt from various award-winning experts like Aakash Odedra, Seeta Patel, Arunima Kumar, Pushkala Gopal and many more. I can honestly say that each artist I've had the pleasure of learning from has inspired me in their own way, and I can take away so many nuggets of knowledge and advice from each of them.
Smita Vadnerkar at Nupur Arts Dance Academy has always been the biggest support and seeing how she spreads her passion for dance to so many people is truly incredible. Bhagya Lakshmi, my Bharatanatyam Guru is also such an inspiration to me in so many ways and definitely pushes me to always reach for the stars and beyond.
Dimple Chauhan and Urvashi Patel Bhatt have nurtured and fuelled my love for dance for many years and believed in me, especially at times when I didn't. I can see now looking back at my dance journey how much each dancer or artist has influenced my style, technique and passion for dance, most of them without even realising the impact they have had.
Future hopes and ambitions
I want to fill my life with as much dance as I can. Through taking part in BBC Young Dancer, I've been pushed and challenged as a dancer. I really want to carry on pushing myself out of my comfort zone, as I think that's how you can truly figure out what kind of artist you are or want to become. Working with established artists is always so inspiring and I gain so much, so I would love to continue to learn and be inspired by more accomplished dancers.
I'm studying Physiotherapy at the University of Birmingham, so I'm excited to carry on learning about the body, how it moves and being able to link this to my passion of dance. The experience of going through the whole creative process myself; coming up with a concept and story, choosing music, costumes and lighting, then choreographing dance for my duet piece, Maa, was so meaningful, exciting and eye-opening. I would love to carry on performing and develop ideas and concepts into pieces of work that will trigger reactions or spark thoughts and emotions from an audience.