Cecchetti Choreographic Competition 2019

10 September 2019
A review by student choreographers Martha Richardson and Hebe Salmon

The competition, which took place on 10th March, was a remarkable presentation of young choreographers' work and gave them the opportunity to explore their imaginations and express themselves through dance, as well as developing problem-solving and creative thinking skills that can be used later in life.
The morning was filled with happiness as nerves turned into excitement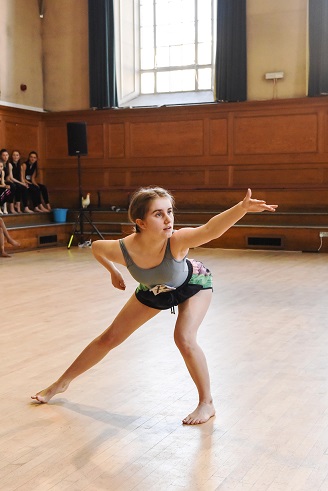 In the Junior section children were dressed as chefs, bumble bees, mermaids and pirates to aid their storytelling and communicate their joy of dancing. The morning was filled with happiness as nerves turned into excitement when dancing in front of the adjudicators Kasper Cornish (Choreography) and Andy Higgs (Musicality). Having experienced this ourselves, it is wonderful to see the bravery and confidence of all the participants, as well as how kind and supportive they were to each other throughout the day.
In the afternoon, the students in the Middle and Senior sections explored more mature starting points and had a combination of both abstract and narrative subject matters. Some choreographers managed to capture the hearts of the judges and audience, including humour in their dances. The chickens in Down on the Farm instantly evoked an atmosphere of the light-hearted nature of the dance.
For us it was good to see how ideas we have previously approached as choreographers can be developed in new and entirely different ways, with utter originality and an awareness of current and personal stimuli. The duet Perfect stemming from issues such as homelessness, the solo Deaf, which is clearly a significant topic to the choreographer, and the duet Escaping the Screen in which the dancers confronted the audience with the side effects of the growing addiction to mobile phones. All showed the sensitivity with which these young people approach their choreography.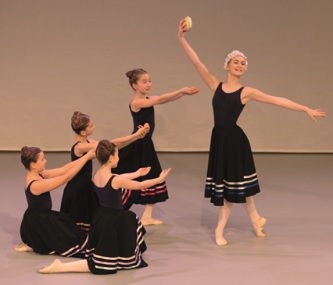 The day showed a wonderful array of energy and lust for life, and all participants should feel immense pride in the quality of their creations, with the support of family and friends. It is evident that everyone had worked extremely hard and it makes us hopeful for the continued success of the Choreographic Competition, as it has provided so much happiness for us in the past years.
Martha Richardson and Hebe Salmon
PHOTOS
Top right: Chris Boyce
Bottom left: Elaine Mayson