Cecchetti Summer Schools 2018 and 2019

18 February 2019
Paris Brownlie Notley, Darcey Shaw and Holy Unnuk report
Cecchetti Summer School for Teachers 2018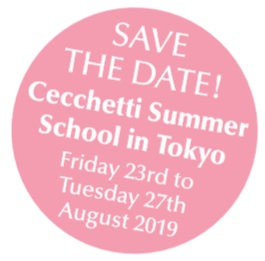 The Cecchetti Teachers' Summer School is always a highlight of my summer break, and this year was no exception. Linda Isaacs and Christine Axon hosted a brilliant week of teaching and learning at Elmhurst Ballet School in Birmingham.
I joined a group of teachers from all over the world in order to immerse ourselves in the Cecchetti technique for six wonderful days. We enjoyed such a range of lessons from esteemed faculty members (too many to list) and I'm sure I can speak for all delegates when I say I left feeling so inspired. Some personal highlights were: an imaginative and original lecture/demonstration from Rachel Gordon teaching Pre School Dance; an insight into the upcoming ISTD Contemporary Dance Syllabus from Helen Cox, beautifully demonstrated by Emily Yong and members of the Students' Course, and A Tribute to Nora Roche film and lecture from Richard Glasstone.
For anyone considering attending the course next year – go for it! It is an invaluable week, making new Cecchetti friends, sharing ideas and concerns, and learning from each other. This year the course saw such a range of teachers, from those just starting out on their DDE to some about to take a Fellowship exam, and I can't wait to meet even more like-minded teachers next year.
Holly Unnuk
Cecchetti Summer School for Students 2018
I was very excited to hear I was accepted to go to Cecchetti Summer School at Elmhurst Ballet School this year. I'd never been before but heard a lot about this course. The entrance to Elmhurst is so spacious with inspiring art on the walls. It was very daunting being the youngest, but the staff and other students were very welcoming and supportive, especially with any concerns. Whilst there, it felt as if I was at vocational school, making me realise that ballet is the career I'd still like to pursue. I also liked that after an intense ballet class we were then let loose with an energetic jazz class. We also had the opportunity to study pas de deux, repertoire and contemporary dance. I've come away feeling a lot more determined thanks to the highly regarded guest teachers who motivated me to enjoy the challenges which will lead to results.
I recommend this course as it offers a varied range of dance style classes which we performed to our families at the end of the week and there was enjoyment found in every class.
Darcey Shaw, Student Course Member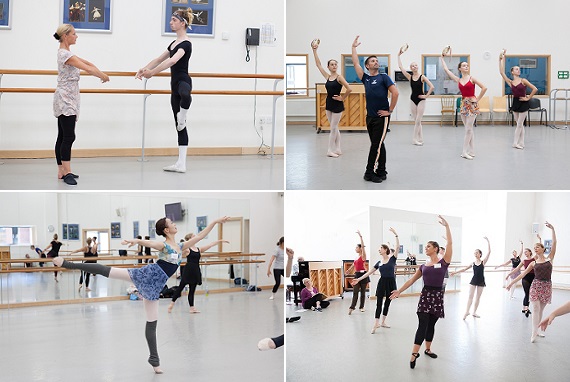 Top left: Lynsey Kidd teaching students - top right: Simon Kidd teaching students
Bottom: Teachers' course delegates working in class - above and below
Cecchetti Summer School for Young Dancers 2018
The 2018 Cecchetti Summer School for Young Dancers was held, once again, at Tring Park School for the Performing Arts in Hertfordshire from 28th July to 3rd August and this was the 13th year that I have been the Organiser of the Summer School.
Seventy-six students aged from nine and a half to eighteen years from schools in the UK, Malta, Spain and Germany attended and were welcomed and looked after throughout the week by a tremendous pastoral team.
The students enjoyed classes from outstanding and inspirational teachers: Gillian Toogood – Ballet; Sarah Bradshaw – Ballet and Creative Dance; Kasper Cornish – Ballet; Desiré Samaai – Ballet and Repertoire; Gillian Robinson – Repertoire; Alison Jenner – Character; Conchita del Campo – Pilates; Lucy Pohl and Emma-Jane Padfield – Classical Greek, who also hosted our themed evening 'Safari at Tring Park'; David Beer – Contemporary Dance, Contemporary Ballet and a Choreographic Workshop; Geneviève Nicole and Ben Harris – Jazz; Carrie Willis – Lyrical Jazz; Hugh Rathbone – Cossack Dance; and lastly Classical Ballet Workout classes with 'Miss Paris'.
One of the best things about Summer School is that so many of the classes are accompanied by experienced pianists who really understand the teachers' and the dancers' needs. This year our gifted pianists were Evie Preston, Gabija Butkute, Lee Shiel and Bill Readdy, who gave me his impression of the week: "Having played for this course in previous years, I knew what a good time was going to be had by all, including us pianists. Two things that impressed me the most were the fantastic organisation of the entire course and the very professional teaching standards. All the classes provided high standards of tuition with emphasis on technique and quality of dance. It was interesting (and pleasing) from a pianist's viewpoint to notice how the students quickly learned how to listen and react to the live music and allow it to creatively influence their dancing. For my last day of the course I had the pleasure of playing for Miss Paris for four classical ballet workout classes. I was able to accompany them using different styles of music which I find can be inspirational for the dancers, and I raised a smile when I played I Love Paris for one of her barre exercises." These kind words made me reflect that I Love Cecchetti Young Dancers' Summer School – long may it continue!
Paris Brownlie Notley