Classical Greek Day of Dance

19 December 2013
Sunday 29th September 2013 saw ISTD2 Dance Studios come alive with Classical Greek Dance
Our Day of Dance was full of fun and friendship as dancers were given a taste of all aspects of the genre. The enthusiasm of the teachers, Sarah-Jayne and Paul Blackwell, Sally Brenner, Penny Childs, Carol Vasko and Amanda Wilkins, was clearly transmitted to those taking part. The day ended with an informal performance for parents showing how so much could be achieved in just one day.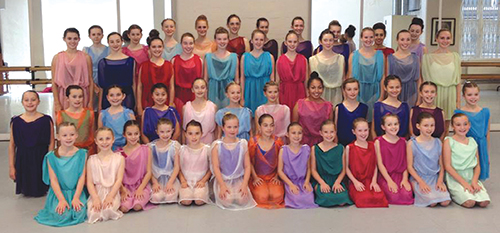 Students Report from the Day
I had a great day in London at the Classical Greek Day of Dance. It started off with a lively train journey, full of hair styling and chatting; we even got to travel first class because our dance group was so big.
The day was full of really enjoyable classes. We started with a warm-up and it was great to meet and dance with other students from different dance schools. Then we continued with a Bacchic style workshop, which I found to be the most enjoyable session as it was completely different from our usual Greek lessons; we had to pretend to be ugly and heavy footed! The drama workshop was very unusual and at times a little tricky. We had to put actions to an emotional poem in quite a short period of time. I felt I have learnt new skills that will prepare me for the more advanced grades.
At the end of the day we performed our own group choreography using scarves. I really enjoyed this piece and I think the audience enjoyed it too. It was great to dance at ISTD2 Dance Studios with other students and learn new Classical Greek steps and techniques from different teachers.
Ella Beardsley
---
This inspirational day gave us a good insight into the various styles of classical Greek Dance. Tailored to suit any ability, the day was split into four different classes: Bacchic, Ritual, Lyrical and Drama.
Each class was taken by a different teacher and it was great to experience Classical Greek Dance taught in different ways. It was a relaxed and enjoyable atmosphere, and I felt I gained so much in a short period of time.
Firstly, we took part in a Lyrical class, where we did various exercises, ball work and learnt a short dance to perform at the end of the day. Then in Bacchic, we danced a sequence using props, facial expressions and our bodies to create the character we were portraying. This was the first time I had been introduced to Bacchic and, not only did I find it enjoyable but I would love to do it again. The Drama class was next, which I particularly enjoyed, as this combined poetical interpretation with Greek Dance, and we were able to express the given text in our own personal way. Finally, in the Ritual class, we used scarves to portray offerings to the Gods and worked in groups to create our own short pieces.
All in all, being one of the youngest in the senior age group, I found it interesting to work with older students and have tasters of a variety of new styles that I will be studying in the future. I think everyone had an amazing day, and although there was so much to be learnt in a limited time, there was no pressure to be the best and the emphasis was on the enjoyment! There are so many things that I can take away from the event and use to improve the way I dance. I would love to take part in this day in the forthcoming years.
Madeline De Marchis
---
A few girls from Kilburn School went to London for a Classical Greek Day of Dance. We learnt four routines. Starting with a warm-up. Next we learned a musicality dance, which was a really good, relaxing start to the day. Afterwards we did a Drama class, which was extremely fun with some funny teachers who made us laugh a lot. Then we had lunch with a really nice examiner (who wasn't examining us!). After lunch we did athletic dance, which was strong and sharp. The last dance class we had was a ball routine. I think it was the hardest thing we learned the whole day because you had to throw the ball in the air and catch it, but all of us dropped the ball in the practices. We also had to dance Greek steps, like triple runs and another step while the ball was in the air. Finally it came to showing everything we had learned that day to all the parents and teachers, which was, I think, the best part of the day. It was a great experience and it is a fabulous memory!
Mya Kelly