Classical Indian Dance Shines at BBC Young Dancer 2017

4 July 2017
Shivaangee Agrawal reports
This Spring saw the return of BBC Young Dancer, the national televised dance competition aiming to showcase the best of young British talent across the categories of Ballet, Contemporary, South Asian and Street Dance. The ISTD had a particularly prominent role in the exciting South Asian category, where three of the five finalists, two of the judges and the category winner are all ISTD!
The ISTD had a particularly prominent role in the exciting South Asian category
The Classical Indian Dance Faculty (CIDF) of the ISTD was founded in 1999 with the purpose of establishing the South Asian dance forms in the UK industry, so it is particularly exciting to see a widely broadcast national television programme feature these dance forms as a mainstream category. I spoke to ISTD examiner Kajal Sharma, one of the South Asian Category Final judges, who along with co-judge and ISTD member Chitra Sundaram, was delighted to be part of this competition.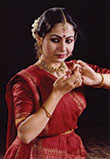 KAJAL SHARMA – Category Final Judge
With a lifetime's experience of professional dance, that incidentally began with youth dance competitions in her own hometown, Kajal was impressed with the calibre of the category finalists. In describing her greatest joy, she said, "the highlight of my happiness is seeing these dancers bring Classical Indian dance into the mainstream dance world!" However, she also warned that the journey is not yet complete. "The problem is the status that dance still holds as a hobby activity for South Asians. That attitude has got to change." It is wonderful then, that the three ISTD category finalists are all determined to establish themselves as professional dancers and encourage others to do the same. I asked these future stars about their experience of BBC Young Dancer and their journey so far, as emerging professionals.
ANAYA BOLAR – Bharatanatyam Dancer


Anaya has been dancing Bharatanatyam since she was five years old, and now continues to dance, teach and perform while studying Sports Therapy at Coventry University. Anaya explains that BBC Young Dancer has been extremely motivational for her, as it has pushed her out of her comfort zone, revealed her areas for improvement and also reassured her that she can achieve what she wants to with more hard work. Being a category finalist gave Anaya the valuable opportunity to have personal feedback and training from an industry professional and she says that she learned how to put aspects of her personality into her dancing, enabling her to become whoever she wants to be on stage. Although she admits that emerging as a dance professional is sometimes an uncertain journey, the uncertainty itself is exciting and drives her to work even harder.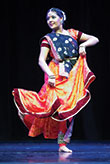 JAINA MODASIA – Kathak Dancer
Jaina has been dancing Kathak since the age of four and recently graduated with a degree in Sport and Exercise Science, which has furthered her understanding of movement and safe training. She also highlighted the uncertainty that characterises the path of professional Indian classical dancers. Without the usual employment opportunities available through dance companies and choreographers to contemporary dancers, it is no wonder that Jaina's aspiration for the future is to have a stable platform for performance. However, she is optimistic; opportunities such as BBC Young Dancer have shown her that scope does exist for dancers like herself. When asked what advice she would give to younger dancers, she said she would encourage them to give their dancing the same attention that they would give their academic studies, as Classical Indian dance is a whole and vast form of education in itself.
SHYAM DATTANI – BBC Young Dancer Finalist (Kathak)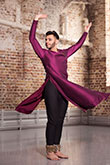 Shyam, the eventual winner of the South Asian Category finals, did just that! He took a brave leap of faith when he left his dentistry studies at university to focus on Kathak professionally; no small feat when his love of dance had initially faced negativity from all circles of his life, he reports. His hard work and determination speak for themselves through his magical performances on stage and his winner's trophy. He is grateful to have experienced the competition, and to his parents for their full backing of his career choice. He looks forward to sharing his art through teaching and his strong belief in the importance of developing creativity, not just technique, signals a bright and artistic future ahead.
Three of the five finalists, two of the judges and the category winner are all ISTD!
BBC Young Dancer seems to have given all three students from the ISTD invaluable skills, experience and motivation. We are excited to follow these young stars, no doubt inspiring the next generation of dancers. Their success is a testament to the high quality of teaching and support that their teachers have provided; indeed all applicants called out the excellence of their teachers as fundamental to them. Congratulations are in order for Gurus Sujata Banerjee, Chitralekha Bolar and Urja Desai Thakore, all faculty members of the ISTD CIDF!