CoLab at Trinity Laban

21 June 2014
Ruth Seager reports on a successful collaboration between music, dance and musical theatre students at the Conservatoire
I am currently in my second year studying Musical Theatre at Trinity Laban Conservatoire of Music and Dance. Since I was awarded 1st place in the choreography section at the classical Greek dance Festival 2013, I have continued to choreograph and spread-the-word of Classical Greek Dance. I am currently working with the National Youth Music Theatre (NYMT) as Assistant Choreographer for their performance of The Ragged Child, which is an exciting opportunity. In terms of Greek choreography I have created a new piece with an original narrative written by writer and actor Benjamin Seager. This opportunity came about when, as part of an annual event at Trinity Laban, I collaborated with music, dance and musical theatre students to create a classical Greek dance piece. This unique event is known as CoLab and is exclusive to Trinity Laban Conservatoire of Music and Dance.
This year I entered a project proposal which was to choreograph a 15-minute classical Greek dance piece with live, original music. I approached Karl Westwood, who is a second year classical pianist at Trinity Laban. He was extremely interested in the project and agreed to take on the role of Musical Director, together with Giles Rozier (second year saxophonist from Trinity Laban). We met to discuss the role of the music in this piece and more importantly, how we would tell the story. We decided that each section would have a different feel to it. Karl and Giles spent a great deal of time composing the music and I planned the rehearsal schedule, which lasted one week. We were assigned two mentors, Oliver Payne and Ollie Newman who were there to guide us through the process. Oliver Payne attended our first rehearsal and encouraged us to storyboard the piece in order to clearly demonstrate each section. This was extremely helpful during the collaborative process and was a fantastic reference point; enabling us to ensure that each section had been covered.
"A particular strength of classical Greek dance is its diversity and ability to convey a story"
As the Laban dancers involved in this project had no classical Greek dance experience, and there was just one week to complete the piece, it was important that the students were taught the basic technique. Using the rehearsal schedule, I was able to create a routine for the dancers and musicians. By structuring the days in this way, those involved had an opportunity to sample the various aspects of classical Greek dance, including athletic (swords and shields) lyrical and tragic movements.
| | |
| --- | --- |
| | |
This schedule included a daily one-hour warm-up, classical Greek technique class, discussions regarding the relevant Greek myths, acting workshops and sword and shield sessions. This plan was extremely helpful in keeping the process moving at a steady pace. As the compositions were still in progress, it was necessary to choreograph the piece during the allocated rehearsal time. I thoroughly enjoyed creating the dance to live music, my role as choreographer and director provided me the freedom to experiment with the music and request cuts and extensions in specific places.
The orchestra comprised one violinist, one cellist, a saxophonist (who instead introduced a techno sound) a classical pianist (Musical Director/composer) and three singers. We included drums to introduce a tribal essence to the piece and the techno sound gave the narrative a cinematic feel. The dancers agreed that when moving to this music, they were inspired and motivated to convey truthful and driven characters.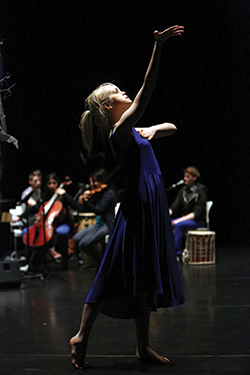 Having spoken to all of the dancers, it became clear that, prior to this project, none of them had been aware of classical Greek dance. As I am passionate about this style of dance and its origins, I am always very keen to pass on my knowledge to others. A particular strength of classical Greek dance is its diversity and ability to convey a story. My particular choreography incorporated aspects of tragic, athletic, lyrical and bacchic dance. The choreography tells the story of a young woman and her baby's escape from a war zone and the obstacles she encounters and has to overcome.
CoLab has provided me with an invaluable experience to collaborate with musicians who were responsible for the original composition. When working in the studio, it was refreshing to have the freedom of adjusting aspects of the music to complement the dance. An essential part of the CoLab process is to work holistically and I believe that the enthusiasm of all who participated contributed to a successful outcome. Our efforts were duly rewarded when we were invited to perform the 15-minute piece in the Laban Bonnie Bird Theatre. The audience for this performance consisted of fellow students, teachers and professionals. I spoke to Karl Westwood, the Musical Director who commented: "I found it great that musicians could work with Greek dancers. It was musically stimulating to bounce ideas off each other and I'd love to do it again".
CoLab has been a rewarding, challenging and exciting experience and it is encouraging that Karl is keen to explore future projects. I am currently in the early stages of working towards my classical Greek dance teaching qualification. In the meantime however, my aim is to continue to share my passion for classical Greek dance in the hope that more people will engage with, and enjoy, this unique dance style.
I would like to thank all those who were involved. It was truly an incredible and unforgettable experience. My thanks go to Karl Westwood, Giles Rozier, Asal Razzaghof, Josh Gordon, Bryony Perdue, Cristina Cooper, Haydon Cox, Charlie Dunne, Andrea Cresswell, Kerry Holland, Sophie Holland, Reettaleena Rauhala, Megan Griffiths, Oliver Payne and Ollie Newman.
To find out more information about CoLab visit the following link: www.trinitylaban.ac.uk/study/colab.
Ruth Seager