Dance Exchange 2018

16 February 2019
Reports from a successful event on 18th September at the Elgiva Theatre, Chesham
Morning Report by Katie Gooch
What a privilege and how lucky we are to be surrounded by likeminded dance-passionate individuals. In what other job can you get such a fun and yet still challenging CPD session? In a room full of dance professionals it was clear that everyone was proud to be ISTD.
The day was kicked off with Georgia Hussey leading a well-structured energetic warm up. It was clear that the routine had been well planned with movements suitable for all ages.
Feeling suitably prepared the day continued with a Rock n Roll technical workshop carried out by Maria Howse and assisted by Jonathon Reed. This lecture was jam packed with technical knowledge as well as tips to get the very best from your pupils. From leading to following to shaping and connections, Maria made the ISTD rock n roll expectations clear. The focus of TLC: Timing, Leg line and Connection, gave everyone food of thought to take back to their classes.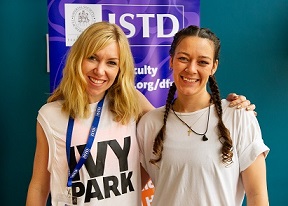 Sam Vale then led a Street Dance workshop. As always, Sam delivered the funk! With an assistant that may have been the coolest individual ever born, they demonstrated how to deliver funk but not to force your own style onto your pupils. They gave us two pieces of upbeat and current choreography, that whilst challenging was also relevant for the ages and grades that many of us teach. From this workshop we were taught the basics of popping and even a touch of Bboy. I'm sure with GFD looming and a new street solo event, we all appreciated this lecture.
Amy Lewis conducted a lecture on creating a connection. She had two dances prepared from this lecture; one was a slow tempo and one faster. Both routines were in pairs. Amy discussed the importance of connecting with the music, connecting with the choreography and creating a connection with your partner. This echoed something Maria Howse had touched on also earlier in the day.
Past Chair, Yvonne Taylor-Hill, introduced again the importance of the Disco Freestyle grades. The grades help to monitor and assess progression. They have a particular standard that must be met. In particular Yvonne focused on posture, alignment and placement, explaining that a secure dance technique needs to be taught from the early years of a student's dance career. Yvonne introduced us to her idea of HAT; Hips, Ankles and Toes; three particular areas of alignment to focus on.
Laura Rampton's Gold star disco workshop was everything I expected; fast and full of challenging arm sequences. Working our brains to the max as lunchtime approached, Laura reminded us of what standard we should be expecting to see from our higher levels pupils. Laura put the teachers through their paces. The morning was concluded with a lecture by Michelle Arnell with party dances through the ages. We were reminded of routines we can use for fun, as final mobilisers, as warm-ups, as party dances or in our tots classes; a fun and lively way to end the morning. Not many people ate lunch without Baby Shark do do do do in their heads. Thank you to the DFR committee for arranging another wonderfully successful Dance Exchange.
Katie Roberta Gooch
Afternoon Report by Jill Bush
After a short and well-deserved break for lunch, we continued with the first lecture of the afternoon. With little more than a moment's notice, James Scanlan replaced the advertised lecturer to share his business ideas. He stressed the importance of time management and to keep a balance between the inevitable paperwork and still having time to do what we love best – being creative teachers. James also suggested ways to increase our income with minor revisions to pricing structures and highlighted the benefits of networking with other ISTD teachers; a most useful lecture particularly for the younger and newer teachers in the audience.
Isla Selley's directive was Easy Street and, ably assisted by her young and very talented student, she soon had everyone enthralled with her House and B-boying routines. Interesting and well-choreographed work, which I am sure will prove popular with both teachers and students alike, with the inclusion of the Helicopter in the second routine, providing a good introduction to a characteristic power move.
Needing no introduction, the guest lecturer of the day was the one and only Richard Marcel. Warming up his class in true Marcel style, Richard then taught a challenging Urban style routine. Assisted by his superb demonstrators Yonlmy and Lizzie, Richard broke-down and taught the intricate floor moves and then explained the importance of using speed to create the necessary impact. Finishing with a winding down Reggaeton routine, Richard gave Yonlmy (aka rubber hips) the lead, bringing this first-class lecture to a most enjoyable close.
When Katie Welch lectures she never disappoints and always adheres 100% to her mandate; her task, a 16-bar slow tempo routine suitable for the Gold level. Katie taught her skilful choreography with clarity and, together with Georgia Hussey, they both demonstrated the routine with grace and ease. Leaving a few minutes at the end of her lecture, Katie then went on to suggest one or two small changes to advance her work to Gold Star level – thus proving a welcome and unexpected bonus.
Returning to the lecturer that started the day, we were treated to some more of Georgia Hussey's magic: Bringing the participation lectures to a close, Georgia led a comprehensive cool down routine. Tired as the class may have been, they were soon under Georgia's spell, as she gradually lowered heart rates and stretched out those aching muscles.
What better way to end this special 30th Anniversary Dance Exchange day than a short presentation from the new DFR Chair, Paul Streatfield. Offering a collection of do's and don'ts, Paul clarified several points to be aware of, when entering pupils for ISTD examinations and competitions. He then went on to thank his Committee for their hard work in helping to organise today's event and followed this by making a special presentation to his Faculty Co-ordinator Penny Childs. Not only has Penny been deeply involved with today's arrangements but, amongst other things, she has also recently taken on even more DFR duties.
All in all it was a great day – one that even the DFR faculty will find hard to surpass in the future.
Jill Bush