DANCE Magazine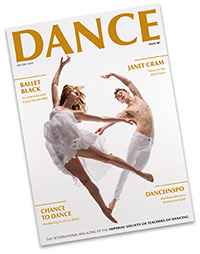 The latest issue of DANCE magazine
In issue 487...
When asked what piece of advice she would give to a young dancer, Cassa Pancho MBE, founder of Ballet Black, replied: "Take what you're doing seriously, but not yourself". Surely this is inspirational advice for all of us, no matter what our age or experience. Read our interview with Cassa to find out more.
There is further #danceinspo where we talk to four young ISTD trained dancers about being selected to perform in Matthew Bourne's new Romeo and Juliet. Why not write to us with your own stories, photos and inspiration?
A year ago we announced that the ISTD had been invited to partner in the Chance to Dance programme, run by the Royal Opera House and The Royal Ballet in partnership with The Royal Ballet School. Read interviews with five ISTD teachers involved in delivering the newly designed and highly successful programme.
"Every teacher out there is probably doing a lot more to be inclusive than they realise" says Amy Bastin, one of the three ISTD teachers who report on their individual experiences of teaching inclusive dance as part of the ISTD's Accessing Pathways to Training for Young Disabled Dancers research project.
Issue 487 is packed with stunning photo-spreads from recent events, Society news and important diary dates and updates from HQ, including profiles of five new members of the leadership team, and a big thank-you to our Faculty Chairs. We wish you happy reading.
Buy your copy from the ISTD Shop
Want to recieve DANCE all year round? Download and complete the DANCE subscription form
If you have questions about the magazine or photos and news you'd like to share with us for future issues, please email
marketing@istd.org
.
The previous issue of DANCE (issue 486) can be viewed by
clicking on this link
. Please note that you can buy individual copies of current or past issues of the magazine from the
online shop
.

About DANCE magazine
Subscribing to DANCE magazine is a great way to receive superb news and features from the ISTD. Members receive the magazine as part of their subscription, but anyone can sign up to receive DANCE three times a year.
First published over 110 years ago in 1907, DANCE is the main publication of the ISTD and is sent out to all ISTD members around the world.
DANCE magazine is a unique, informative and essential read. Each issue is packed with news, features, interviews, reviews and advice, as well as ISTD events, courses, qualifications and examinations information.

Become a Friend of the ISTD
If you are planning to subscribe to DANCE magazine for a full year, you may also like to consider becoming a Friend of the ISTD for the same cost, which not only includes three issues of DANCE each year, but you will also receive our email newsletters and a 5% discount on purchases in the ISTD Shop.
Download and complete the DANCE subscription form here.

Advertising in DANCE
With a readership of approx 20,000 all over the world, DANCE is the perfect vehicle to advertise your school, services, or business. With special positions and various sizes available, advertising has never been easier. We also have a classified advertising section if you're looking for a new dance teacher or would like to sell your school.
Find out more about advertising with the ISTD here.

Buy DANCE magazine
You can buy individual copies of current or past issues of the magazine from the online shop.

Would you like to contribute to DANCE magazine?
Whether you have an inspirational dance story to share or a question to ask, we always love to hear from you. All articles and photographs are welcomed, however, we cannot guarantee insertion into the magazine and reserve the right to edit articles for length and clarity.

For all DANCE questions/contributions please contact:
Marketing & Communications Department
ISTD Dance Examinations Board
Imperial House
22/26 Paul Street
London EC2A 4QE
Tel: +44 (0)20 7377 1577
Email: marketing@istd.org