Dancesport Worthing Congress 2013

30 September 2013
Craig Bedwel, Andrew Carruthers and Malcolm Hill report
The Ballroom Lectures
Congress commenced on Saturday 20th July with a Latin Workshop, followed by the Ballroom Workshop, conducted by Richard Still and Morgan Hemphill, a dynamic couple who had been given the task of using the Fallaway as a theme. Richard explained that Alex Moore first used the Fallaway in 1960. After a demonstration and breakdown of the variations, everyone took to the floor. Various key points were taught and explained in detail in order to improve their execution. This excellent workshop ended all too soon but I am sure that this talented couple will be invited back to lecture at Worthing again.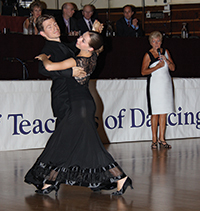 On Sunday morning with the hall full of teachers, Mr John Taylor, Vice Chairman of the Modern Ballroom Faculty, introduced Miss Paula Goodyear, who gave the first Ballroom lecture of the day – Current Trends Made Simple in Foxtrot and Quickstep – assisted by James and Joanna Whitehead.
Both variations, were delivered with simplicity and purpose and taught with ease and demonstrated clearly by James and Joanna. Paula explained that each variation could be tailored to suit studios of any size, giving a few examples to try.
The next lecturer was Heidi Cruwys, lecturing on Common Faults and Their Correction, ably assisted by Winston James. During this lecture Heidi introduced many props and gadgets, showing how she uses them to overcome many of the problems that she encounters within her school. Mr Taylor rightly introduced this lecture as a "must watch". Winston, under Heidi's guidance, demonstrated the use of floor exercises to improve core muscles and foot and arm strength. Many of the teachers present, I am sure, will be taking some if not all of Heidi's ideas back to their schools.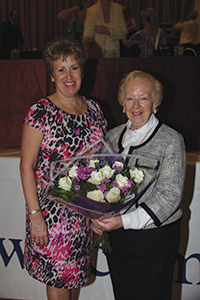 After lunch our next Ballroom lecture was given by Mr Christopher Hawkins, who I am sure needed no introduction to anyone in the ballroom, since he has won numerous world championships. This was a very humorous lecture entitled My Favourite Subject. Christopher explained some of his background and his development from medallist to open competitor. When he turned to the professional scene, a technique book gave him further insight into the development of Ballroom dancing and the dancer. Each subject was demonstrated by Christopher to emphasise the points being discussed: structure, frame, foot pressure, control and speed, weight down, and poise up (each partner to contribute). This technical lecture was enjoyed by all.
James Whitehead then returned to the floor to give a lecture entitled Current Trends Made Simple, assisted by Joanna Whitehead. This time the variations were in Waltz and Tango. Each variation was demonstrated and explained, then everyone who joined James and Joanna was taught the work very clearly. This was another very good lecture with great content to take back to schools for inclusion in the new season.
"The concentration of the spectators and participants was fantastic, and the class danced with rhythmic energy and style"
The third and final day, Monday 22nd July, started at 9.30am promptly. Up first to take us through our paces with his lecture entitled Improving Your Juveniles, was John Foskett, assisted by Michael and Nika. John started by talking about the limited attention span juveniles have and the need to make classes and lessons fun. The use of images to create an impression to hold their attention is a must when working on posture and poise. Movement and musicality, good connection and use of the floor, good line and flow with good use of slows and quicks, as well as good use of basic figures are of the utmost importance. A good lecture crammed full of content and ideas.
At midday, David Mallabone, the 2012 Phyllis Haylor Scholarship winner's, subject was Teaching Tips and Getting the Best from Your Pupils, assisted by Joe and Eva. David concentrated on the 'T' in ISTD emphasising that we are teachers first and foremost, teaching the pupils to dance and not just dance a sequence. David explained that pupils who are complimented on their work, but also told that they can make it better, work harder to achieve their goal. David also spoke about the following learning skills: visual, auditory and kinetic. He also explained ways in which pupils can improve, as follows: repeat, review (encouragement is a must) and make the links. He recommended that you know your pupils, and let them know you. David gave a very informative lecture, which was well thought out and delivered.
The final session of the Congress commenced with two mini lectures. The first was entitled Waltz for Your Social Class, delivered by Katy Armstrong, the 2013 Phyllis Haylor Scholarship winner. Katy taught an interesting variation that would appeal not only to the social dancer but also to the more experienced dancer. Ryan Lamb delivered the second 'mini'. This time it was Tango for Your Social Class, again an interesting variation that everyone on the floor enjoyed. A well-delivered lecture with good projection.
It was now time for the last Ballroom lecture of the 2013 Congress. This was given by Stefano Soldati and Natasha and was entitled Dynamics in Basics; a very intense lecture with a numerous ideas on this vast subject. How many times have we heard during this Congress, "stay through the centre?" Work on the structure and when switching position, body position should always be the same. Exercising in promenade position is a must with both arms outstretched and most importantly go out and practice and find out how you feel. An excellent 30 minutes with lots to think about and work on.
Summing up, there was no doubt that, again, teachers were leaving with a thick folder of work to last until next Congress!
Andrew Carruthers
---
The Latin Lectures
Saturday 20th July
Latin American workshop by Djordje & Emma Tanasijevic
Back by popular requests, Djordje and Emma began our weekend of workshops and lectures in style with a wonderful workshop on Cha Cha Cha. They based their work largely on New Yorks and Rondes, incorporating various timings and spins, then playing with rhythms of Open Basic Movement and a whole lot more. The concentration of the spectators and participants was fantastic, and the class danced with rhythmic energy and style.
Sunday 21st July
Simple Choreography in Rumba and Samba by Greg Gillespie
The first full day of lectures began with two attractive and useable variations. Greg showed his wealth of experience and creativity by giving us work that can be taken back to our studios. Both the Rumba and the Samba had firm roots in syllabus content, with easy and simple developments. The Rumba began with a play on the Hockey Stick incorporating swivels, giving a lovely introduction to this action for new Gold Star candidates. The Samba had more syllabus content here, but greater emphasis was placed on the numerous rhythms and rhythm changes within the routine.
My Favourite Cha Cha Cha Variation by Nicholas Jury
The next Latin American lecture of the day was with two first-time lecturers. First onto the floor was Nicholas Jury. He demonstrated his favourite variation with style and confidence, developing the Natural Top and then having fun with Fan Position.
My Favourite Rumba Variation by Michelle Postlethwaite
The next of the new lecturers was Michelle Postlethwaite. Michelle presented this challenging Rumba work beautifully. She explained the work clearly and had great vocal command as she broke down and taught the variation. Once again everyone was able to join in and take something away from this lecture.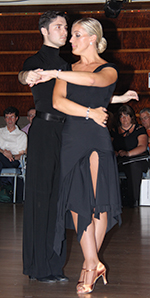 Simple and Sensible Choreography in Jive and Samba by Carlos and Elena Custodio
The Portuguese Latin American Champions gave us something special after lunch, demonstrating both of their groups with superb musicality and style. The Samba had lots of syllabus work, which was developed and linked together. Carlos and Elena's clarity continued with a fun and easy Jive variation, ideal for introducing Flicks to social classes. Once again the group was explained in a way in which showed their understanding of the basic principals and character of each dance.
How Things Have Changed by Paula Goodyear
The final lecture of the day took us back to a time where dinner jackets and hundreds of underskirts were considered the normal attire for Latin American dancing; needless to say we had gone back to the 1970s! Paula, assisted by James and Joanna Whitehead, produced the stand-out lecture of the day. She took everyone back and showed them how things used to be. The Rumba, Samba and Cha Cha Cha were covered. For each dance James and Joanna showed two pieces of choreography, one from 'then' and one from 'now'. Paula explained trends in style and choreography and how they differed from todays dance scene. As we were all invited onto the floor to attempt some of the old moves the floor soon became full again, with lots of laughter. The Horse and Cart in Rumba was the first on the hit list followed by something that I don't think I will ever be able to remove from my mind, the Flying Angel in the Samba. What a wonderful way to finish this day of lectures.
Monday 22nd July
Simple & Sensible Choreography for All-Girl Partnerships by Crystal Main
What a lively and bubbly start to the day! Crystal explained her thoughts and ideas about all-girl partnerships and showing appropriate and attractive work. Crystal showed groups with a lot of mirror work and created attractive lines for the couples. Her final comment of the day was that the choreography should be about the quality of the dancing and her approach was, "no gimmicks, no tricks, keep it simple and sensible", which she did.
Simple & Sensible Choreography for Paso Doble by Alejandro Fernandez and Kerry-Anne Donaldson
Alejandro and Kerry-Anne, British Team Members, presented two stylish and characteristic variations. The quality and fluidity of movement through their demonstrations was excellent. Both groups showed their passion for the Paso Doble and they explained how they incorporate flamenco styles into their own choreography, which was evident here. The detail in their descriptions went down to the fingertips, where they spent time discussing hand and finger movements.
How I Achieve My Action by Lorraine Kuznik
A familiar face to conclude a wonderful weekend. Lorraine, ably assisted by one of her students, began by stating that beautiful posture, excellent timing and excellent feet are the three things that help her achieve her action. Lorraine focused on the Samba and approached Volta Movements and Cruzados Actions. She went through each in detail explaining how all three elements link together to create the final product. As always her wealth of knowledge and passion for dance shone through. It was the perfect ending to the day and this year's Worthing Congress.
Malcolm Hill
---
The Sequence and Club Dance Lectures
Jill Bush, Chair of the Sequence Faculty, introduced the first Sequence-based lecture of the weekend, which was expertly taken by Julie Earnshaw, who had the unenviable task of creating a 'private lesson' scenario with a couple she had not met before. The chosen dance was the Premier Two Step and Julie covered the necessary introductions with her couple, to ascertain their grades and level of dance. Ensuring the all-important foundations were in place, Julie also covered the body alignments and how this affects the arm positioning to great effect. A first class lecture with clear directions for correcting common faults, plus additional tips in helping to achieve further progress.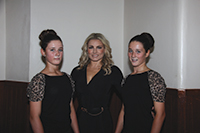 During the hot and sunny interval all the new members of the ISTD and all overseas members were invited to join the members of the committee for a get-together reception. It is lovely to see how one common interest in dance can bring strangers from different countries together, to meet and form new friendships, which I am sure will continue.
Charles Richmond, Chairman of the Club Dance Faculty, welcomed Suzanne Hammond, assisted by the talented Ian Postle, onto the floor for their lecture, Salsa – the Cuban Way. Assisted by four other couples, the lecture started in typical explosive Salsa style with Suzanne and Ian highlighting the interaction between the couples. Casino de la Rueda is a Cuban Salsa style, danced in a circular pattern. Ian and Suzanne quickly invited everyone onto the floor where Ian explained that the caller tells the follower when to move to the next partner. Both Ian and Suzanne showed clear instructions and tips, which were a testament to their teaching abilities.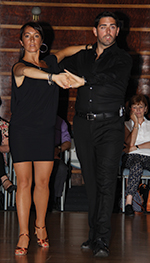 The DFR Faculty continued the action-packed afternoon, when Maria Howse, partnered by Paul Streatfield, demonstrated a compact and tricky looking Rock 'n' Roll routine. This had plenty of intricate movements to keep even the advanced dancer thinking. Maria showed that it was easier for the novice dancer to pick up than first perceived. This made it an ideal routine for teachers to take back and use in their classes for all levels. A great Sunday afternoon feel-good lecture from the Club Dance Faculty.
The second Sequence lecture carried on with the 'private lesson' theme. This time the lesson was given by Janet Clark, who had the task of teaching her young Juvenile couple the Social Samba. After watching the girls dance the routine, Janet then broke the dance down to start with the first eight beats. The young girls hung on Janet's every word and watched carefully every time she demonstrated the various movements for them to copy. This 'lesson' was much more than just teaching a Sequence Samba, but was an insight into how to tackle certain aspects of Latin American dance in general.
The last Sequence lecture of the weekend concluded the 'fly on the wall' scenario, as Jill Bush introduced Monica Needham to give an expert view on a Modern Sequence Tango. Straight away Monica homed in on the man's body towards the lady and how essential it is to dance with a flexed knee and maintain the correct poise/feel in the body. This provided a base for the remainder of the dance and lesson. As always Monica delivered a top lecture giving every dancer important tips to take away and use. The Sequence Faculty would like to thank the Hove Dance Centre who allowed three of their couples to help assist and demonstrate at the Sequence lectures over the weekend.
Craig Bedwel