DFR Faculty Congress 25th Anniversary Year

20 December 2013
Vernon Kemp and Amy Lewis report on a special celebratory event
Kicking off the lunchtime celebrations to mark 25 years of excellence in Disco/Freestyle/Rock 'n' Roll dance we watched and listened to a message from Peggy Spencer MBE, President of the ISTD. This was followed by a glass of fizz for toasts and special 25-year cupcakes for everyone.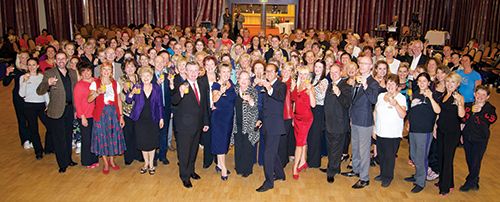 Yvonne Taylor-Hill, DFR Faculty Chairman, then gave us a short history of the Faculty. It was in 1988 that the new DFR Committee with Peggy Spencer, Anne Lingard, and Sydney Francis as joint-chairs was formed. Much work had already been done with ISTD amateur Disco medal tests launched in 1979 and the famous Teachers' Workshops being held for a number of years at the Hammersmith Palais. Yvonne read her reports of the two medal tests she had entered as a student, being already qualified in Ballroom and Latin. Presentations were then made by Paul Streatfield, Vice-Chairman, to Anne Lingard, (collected by Nicky Miles), Jean Cantell, Margaret Connon (received by Jill Bush), Janet Clark, and Derek Green. A special presentation was also made to hardworking DFR secretary, Patsy Graham.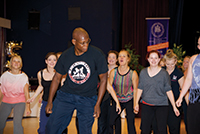 The DFR Faculty Committee (aka 'Crew of the Titanic'), then presented a floral tribute and a special pen in a commemorative box to Yvonne Taylor-Hill, 'Captain', and a similar pen to the 'Chief Engineer', Paul Streatfield.
The first lecturer of the afternoon was the ever-popular Nicky Miles who traced the history and development of Disco/Freestyle in his lecture, Genesis. Getting people up on the floor in 70s style accessories to relive memories of Disco Inferno, You Should Be Dancing and Saturday Night Fever, this lecture was loved by all... a great success.
Nicky was a hard act to follow, but it was admirably done by Paul Streatfield who gave us two Pairs routines. Paul's emphasis was on how to relate to your partner; so important and often overlooked by competitors. Amy Lewis and Oliver Lashbrook demonstrated confidently, clearly highlighting the various teaching points made by Paul. He showed the adaptability of his choreography by explaining how you could dance one routine as a Solo and the other as a Slow routine.
Joanna Bevan then gave us routines specifically for smaller studios, that are particularly suitable for Silver/Gold medal examinations. With many teaching points and excellent explanations Jo endeared herself to the audience. Well presented and well performed, an excellent lecture.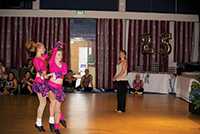 The next lecturer, all the way from Scotland, was one of our most regular attendees at DFR Faculty Congress: Lisa Ambrose. Using Retro as her theme Lisa taught with her usual energy and enthusiasm; another well organised session with lots of ideas for all the teachers present.
Our old friend Richard Marcel returned after a long absence. He showed some choreography that he had put together for the recently released movie Kickass 2, to a song now re-named Cherry Drop. The track was written and performed by Lemon and we were honoured to have Lemon herself dancing the moves, which gave us a wonderful insight into the style used in today's commercial scene.
After Lisa's cool down, Richard Hunt, Chairman of Dancesport Faculties' Board, summed up everyone's feelings by saying, "What a fabulous day!" And, we still had even more treats to come.
Richard Marcel and Paul Streatfield produced and presented a stupendous showcase using Paul's pupils and students from Tiffany Theatre School. What an exhilarating way to end a terrific day of celebrations!
With so many happy teachers and examiners, many congratulations are due to Yvonne, Paul and the whole DFR Faculty Committee on such a resounding success.
Vernon Kemp
---
Every year I look forward to DFR Faculty Congress, not only for the great line up of lectures but also the chance to be among like-minded teachers who feel as honoured as I do to be part of such a great day in the DFR Faculty calendar. This year was no exception, as we were not only presenting a full day of exciting work but we were also celebrating 25 years with the ISTD, a day not to be missed.
Everyone took their seats in the main room and we were welcomed with a surprise video message from Peggy Spencer MBE. She wished everyone a very enjoyable day and signed off with a few words of wisdom, "Keep your eyes and ears open, and listen to our young students as they are the future"; a very inspiring message and a lovely introduction to the day.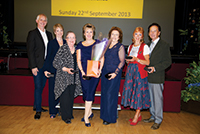 Yvonne Taylor-Hill, DFR Faculty Chairman, then welcomed everyone to Congress and introduced first time guest lecturer, David Wood. David took us through a high energy warm-up using a great variety of pop music for us to sing along to. The Warm-Up routine included a lovely contrast of repeatable sequences while combining all the essential components of a warm-up.
David Wood continued with a lecture entitled Jazz It Up With Three Cs, which focused on centre, core and connection. The routine had a contemporary style which David had choreographed to a beautiful medium tempo track and encouraged us to embrace the "Three Cs" throughout. David completed his lecture by demonstrating the routine with ease and emotion.
Next to take to the stage to lecture on Baby Hip Hop was someone who is no stranger to DFR Faculty Congress, Samantha Vale. Sam's assistants wonderfully demonstrated two versions of the routine, which displayed clean lines, holds and plenty of style. The second version of the routine was danced using a cap, which Sam rightly said added an element of attitude. Everyone eagerly took to the floor to learn both versions of the routine, which were danced to a variety of tracks. Sam explained how she uses a variation of music styles in order to encourage her students to have a dynamic interest as well as boost funk, style and fun. As always, a very enjoyable lecture from Sam, who has a wealth of knowledge in this field.
"Presenting a full day of exciting work celebrating 25 years with the ISTD"
Next came Slow with first time lecturer and long-standing member of the ISTD, Caroline Black. Caroline's beautifully choreographed slow routine was full of light and shade, rise and fall, and plenty of extension. All the teachers embraced the challenge of the advanced routine and later performed in groups of four. Danced to the equally beautiful track, At Last, by Eva Cassidy the routine was superbly demonstrated by her four lovely assistants who are a credit to her teaching.
Then Amanda Hughes was warmly welcomed for her lecture on Rock 'n' Roll. As always, Amanda's lecture was extremely polished and informative providing us with a wealth of knowledge on the compulsory Figures. Her demonstrators performed two routines with beautiful poise, foot and ankle tone. All the teachers then took to the floor to learn both routines, which as always with couple work caused lots of excitement. Some initial attempts to co-ordinate some of the intricate foot patterns caused hilarity, but soon everyone was dancing in tune.
After Amanda's presentation came the eagerly awaited Fred Realness for his lecture titled More of the Real. Fred never disappoints with his mixture of fun and incredible knowledge of where Street Dance and Hip Hop originally began in the clubs and on the streets. The teachers, as always, were enthralled with his charisma and charm and thoroughly enjoyed the variation of steps and music rhythms. Fred's lecture would not be complete without his legendary 'Soul Train'. Everyone dispersed into two lines while one couple at a time let their hair down and freestyled their way down the soul train.
Such a great climax to the first half of an already fantastic day, setting the mood for 25th Anniversary Celebrations – Part One.
Amy Lewis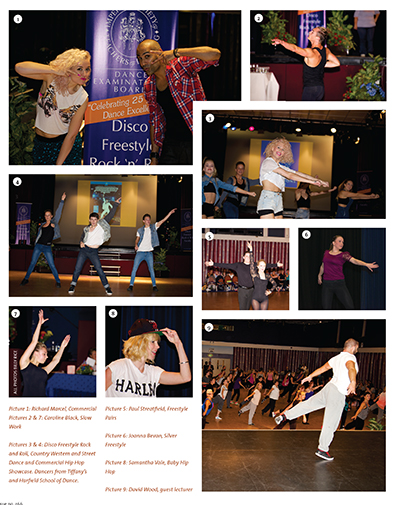 All photos by Billy Rice