Exploring Dance Technique - Part 2

12 October 2018
A day course for teachers of all genres, part two
In the first article of this series, ideas were explored for training correct posture and port de bras.
The second article focuses on:
Developing correct weight transference
Training balance and line
Developing strength
Correct placing
Use of imagery and resources to assist learning, including the DVD that accompanies the Course Below are some ideas to trial with your students.
To help develop awareness of correct weight transference
Encourage the students to flex the foot after basic movements, such as a battements tendus, ronds de jambe à terre or chassés, which begins to build a self-awareness of successful weight transference.
It can also encourage greater extension through the back of the leg in arabesque. The use of imagery can help students maintain correct posture and alignment especially if working without the aid of mirrors.
The image of a capital L can be effective when teaching movements such as transference of weight to the side. Any movement where the supporting side must maintain length with the pelvis in neutral and the hip bones level, so from shoulder socket to hip socket and hip bone to hip bone, creates an invisible capital L. It can also help to use the hands to "feel" the connection between the ribcage and pelvis, placing one hand on the supporting side of the ribcage and the other hand on the opposite hipbone. This use of imagery can be revisited in many movements such as pirouettes with the repetition of the same image reinforcing the awareness throughout training.
Pictures of adage lines can be useful to show the students, giving them an image of what they are aiming to achieve, but it is important, as with use of language, that the images are age/ standard appropriate. The DVD that accompanies this Course is a useful resource to show in class with age appropriate images of lines of legs en l'air.
Facing barre, feet in 1st position (Lyrical 3/4)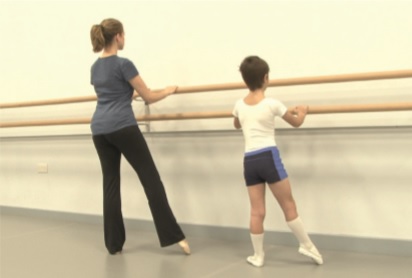 1–4 2 battements tendus à la seconde closing in 1st position
5 Dégagé right leg to 2nd
6 Flex foot
7 Stretch foot à terre
8 Close back to 1st position
9–16 Repeat with left foot
Repeat all
Essential Teaching Points:
To develop weight transference, encouraging extension through the back of the leg and avoid lifting the leg on the flexion
Use imagery, such as five toes in the sand to prevent 'rolling'
Facing barre, feet in 1st position (Ländler)
1 Dégagé right leg à la seconde
2 Lower heel into demi-plié in 2nd, bringing weight central
3 Transfer weight on to right leg, dégagé left
4 Hold position
56 Lift leg to 2nd position en l'air (start at glissé height and gradually increase)
78 Lower leg to dégagé in 2nd and close back to 1st position
1–8 Repeat on other side Repeat all
Essential Teaching Points:
Ensure weight is over supporting leg, avoiding taking leg too high until strength is developed
Repeat above exercise in the centre
With a partner or hands on waist or one hand on lowest rib of supporting side, the other on working hip, palms facing the floor (Swing 4/4)
Essential Teaching Points:
Maintain a level hip line and control of turnout

Facing barre, a leg length away, feet in 3rd position, R ft devant, bras bas (Lyrical 4/4)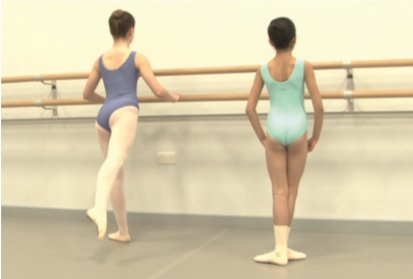 1 Dégagé right leg devant, arms to en avant
2 Demi-plié in 4th position
3 Transfer the weight en avant to dégagé derrière, placing both hands on to the barre
4 Raise the leg en l'air to 45°
5 Flex the working foot
6 Stretch the working foot
7 Step back on left to dégagé devant, arms to en avant
8 Close right foot 3rd position devant
1–8 Repeat all with same leg Pause to change legs and repeat on other side
Essential Teaching Points:
Focus on extending the back of the knee on the flexion
To develop strength in the back
Floor exercises can be included as follows:

Lying on the front, legs extended and parallel, feet relaxed, elbows bent to sides with palms down on floor, forehead resting on backs of hands (3/4 Waltz)
1&a2 Raise the upper back, keeping head in line
3&a4 Lower down
5–8 Repeat as above
12 Raise the upper back with hands on forehead
34 Lower to floor
5–8 Sit back on the heels with body forwards and forehead rested on hands on floor
Essential Teaching Points:
Be sure to engage the abdominals, avoiding lifting the body too high
Aim to only engage the muscles of the upper back
Lying as in Exercise above with elbows bent at 90° level with shoulders, palms on floor (3/4 Waltz)
Repeat exercise as above with hands and elbows lifting off floor at 90° on counts 12
Lying as in Exercise above with elbows bent at 90° level with shoulders, palms on floor (3/4 Waltz)
1–8 Repeat first 8 counts as above
12 Lift hands and upper body from floor
34 Take arms to above head
56 Arms and body return to floor
78 Sit back on heels, resting body forwards

WANT TO LEARN MORE?
The course is a valuable resource for teachers, allowing them to explore and develop ideas to train correct placing and technique. Supported by a DVD and comprehensive notes, the practical aspects of achieving technique are explored in detail. These exercises are also an excellent way of including injured students in class.
The one day course covers:
The development of correct technique
How to train correct posture and alignment of the spine
Exploration of the 4 p's: posture, proprioception, pathways, placing • How to achieve correct arm placing
How to develop strength, control, balance and mobility
How to develop use of the feet
How to train turning action and coordination
How to develop an understanding of biomechanics in relation to safe dance practice, relevant for all levels of teaching and teaching exams
The development of 'thinking dancers', promoting selfawareness, self-correction and self-motivation
Within the five chapters there are three levels of study to train from an Introductory level through to Progressions 1 and 2, starting from the age of eight years to adults, and thus supporting differentiation within your teaching. The emphasis is on the practical training of the student with age appropriate language and imagery. As these exercises are safe they can be practised outside the studio, encouraging greater physical awareness, muscle memory, proprioception and self-learning.
FOR MORE INFORMATION please contact the Education & Training Department on +44 (0)20 7377 1577.
ALL PHOTOS: JAMES HUDSON