First Malaysian Modern Theatre Awards

28 December 2013
Janet Marshall reports on a successful new competition
The first Modern Theatre Awards Competition was held at the Fonteyn Theatre, Petaling Jaya, Selangor in Kuala Lumpa on Sunday 10th November 2013.
Many months of preparation had been undertaken by Cathy Stevens and the Modern Theatre Committee and also by Malaysian teachers, Cyn Dee Too, Alicia Lim and Clara Lim, who worked hard to make this a fantastic and memorable event.
Heather Rees, Tereza Theodoulou and I arrived at the venue with more than a little apprehension, wondering how this event might compare to our own Janet Cram competition, now such an institution. However, our fears quickly dissipated as we saw the waiting queue of gracious, friendly and welcoming teachers.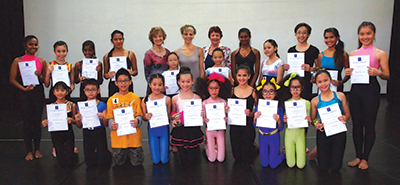 Tereza was to conduct all the classes whilst Heather and I were to adjudicate. The morning started with a class of excited Juniors, who were quick to respond and whose dancing demonstrated good variety and content.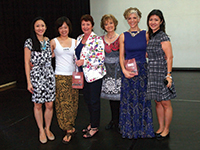 The Senior Class was well received, with the students working willingly and eager to please. We felt that the dances could have been further developed and shown with a little more variety of style and quality. We look forward to seeing this in the future.
The atmosphere in the room was really electric when it came to the Premier Section. There was such an amazing diversity of dance, which was so exciting to watch – with the cultural mix of Indian, Chinese, Malay and Thai dance, all performed with magical expressions.
The inspirational teaching of Tereza in the class enabled the students to rise to the occasion, producing such quality of performance that was truly memorable. These dances were exceptional and would be credible at any Cram Final.
We all felt privileged to be part of this special day, which brought such freshness, sincerity, talent and the promise of so much more in the years ahead.
Janet Marshall
---
ISTD Malaysian Modern Theatre Awards 2013 Results
JUNIOR DIVISION
Winner: Angelique Thum Atienza (Grace Chew)
Runners-Up: Alyssa Lee Yi Xin (Chan Pui Theng) and Naomi Teo Peak Yiin (Chan Pui Theng)
Commendations: Darren Ong Guan Wen (Evonne Chng) and Tan Xin Thung (Evonne Chng)
SENIOR DIVISION
Winner: Abigail Wong (Shirena Hamzah)
Runner-Up: Maneesha Krishna Kumar (Shirena Hamzah)
DOREEN BIRD COLLEGE SCHOLARSHIP AWARD
Yap Ving Yee (Pek Khuan Tan)
PREMIER DIVISION
Winner: Puteri Aisya Marissa Bt. Rusli (Cyn Dee Too)
Runner-Up: Kasumi Higewake (Cyn Dee Too)
Commendations: Cheng Hui Yi (Cyn Dee Too), Natasha Magad (Shirena Hamzah) and Tang Hui En (Alicia Lim)
DOREEN BIRD COLLEGE SCHOLARSHIP AWARD
Puteri Aisya Marissa Bt. Rusli (Cyn Dee Too), Kasumi Higewake (Cyn Dee Too) and Maverick Chai (Shirena Hamzah)
COMMENDATION FOR DANCE
Noor Hanna Sophia Ahmad Kamal and Trishhani Yogaretnam