Hidden Talents

27 September 2011
An inside look at Chelsea Ballet, an amateur ballet company with members from all walks of life
Chelsea Ballet is a group of amateur dancers, of varying abilities, that meets once a week in west London to rehearse for two major productions per year and a number of smaller scale shows performed at residential homes and hospitals. Competition is high to get into the company; at present they not recruiting new members as their books are full but potential applicants are encouraged to join the waiting list.
What sets Chelsea Ballet apart is that its members come in all shapes and sizes and range in age from mid 20s to over 70. There are no auditions; the company welcomes people with a passion for ballet who have reached at least an elementary standard with experience of pointe work for the women. You only have to read the varied biographies of the members on the website to find they all have full time careers in fields as diverse as accountancy, translation, medicine and fashion, but are united by their love of dance. The company's ethos has always been very inclusive, with every dancer encouraged to develop and tackle new roles and get involved in helping to run this self-supporting group. Many of the members once considered dance as a career, whether it be performing or teaching, but unfortunate external circumstances, mainly due to injury, frequently got in the way to cause them to choose another path.
Since the company was founded over 40 years ago, they have staged most of the major full-length classics, along with original productions, opening up the rare opportunity to perform classical repertoire to amateur dancers, both in the UK and abroad. Members are also given the chance to choreograph new works, which some have grabbed with open arms. Just as importantly, Chelsea Ballet also takes dance to an audience that would not normally see live performances, such as patients in hospitals and elderly care homes. The company also holds a week-long summer school for adults each August which is well attended.
Director, Louise Hudson, trained at the Rambert Lower School of Ballet and London Studio Centre, before a knee injury (later found to be a back problem) prevented her from continuing to pursue dance as a career, turning to events management and working as a secretary at PriceWaterhouseCoopers. It was Louise's late mother, Thelma Litster who founded the company back in 1967, with The Royal Ballet's Gary Avis joining as Patron in 1995. Thelma was an Associate of the ISTD having been examined in the Theory and Demonstration of Classical Ballet (Imperial Society Syllabus) in 1967. Louise tells us she has cherished her original certificate which she still has, dated from June 1967, and another one from even earlier (March 1951) when a young Thelma was admitted as a member of the ISTD Cecchetti Society Branch.
We were interested to learn there are five current members of Chelsea Ballet who have studied the ISTD syllabus to the higher grades and have since transferred their training and technique to the productions the company performs annually. We caught up with them over the summer to hear their thoughts on the ISTD training they received.
"The combination of good teachers and Imperial training has given me a solid Classical Ballet technique and foundation from which I can be musical, graceful and elegant yet strong at the same time"
Alexandra Lowe is 37 years old and is employed as a civil servant even though she trained and qualified as a professional dancer; she says "the theatrical world is very tough and carries a lot of uncertainty." Now in her fifth year with Chelsea Ballet, she achieved Honours in all her Intermediate Imperial Ballet and Advanced Modern and National exams with the ISTD, and has since become a member. When asked about her training Alexandra says, "Imperial Classical Ballet is my base; the combination of good teachers and Imperial training has given me a solid Classical Ballet technique and foundation from which I can be musical, graceful and elegant yet strong at the same time. Having a solid classical foundation gives me confidence and is one less thing to worry about when performing! Chelsea Ballet is a friendly 'family' where we all learn together and have fun, maybe too much fun at times! We have a focused Director at the helm who we all work closely with and who knows what she wants. I love how you can be having a terrible day, but as soon as you get to rehearsals and start to dance, an otherwise hectic life is calmed and all of your anxieties go."
Alice Ridley, a press officer for a charity, has been dancing with the company for three years and again has come from a vocational dance training background taking ISTD exams up until Intermediate Modern and Tap, and is currently studying for her Advanced 1 Tap. She was offered a place at the Urdang Lower School at the age of 13 but couldn't go as "at that time you had to audition for a discretionary award from the local education authority if you couldn't afford to pay the fees and I didn't get offered an award. The medical showed up I was wonky with one hip higher than the other!" When discussing the subject of exams Alice says, "For me, studying for examinations has given me the discipline needed for rehearsals and the group etiquette required for class. Ballet, especially, requires such a strong technical base and graded examinations really help you develop those skills. Taking examinations has also helped me be more confident on stage, as I find examinations way more nerve-racking than performing in front of an audience – that's a breeze by comparison! You take performing on stage for granted when you're younger, but once you're an adult the opportunities are few and far between. So to find an amateur company that regularly performs full-length Ballets is extremely rare in my experience."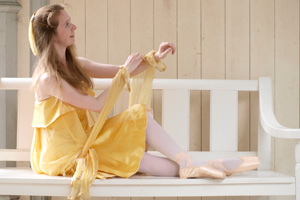 On the other hand, Sarah-Jane Emslie, 30, has followed her passion for dance through to her choice of career; she is Deloitte sponsorship manager for the Royal Opera House. She spent her teenage years studying the ISTD Modern and Tap grades at a dance school in Luxembourg. As with most of the others, Sarah-Jane did consider dance as a career, wanting to go to Ballet school at 16 but a persistent knee problem meant she couldn't pursue this and this prevented her from dancing full time. "My ISTD training gave me a real grounding in presenting myself as a performer as well as things like teaching me proper rhythm, fluidity of movement and different styles. Because I did ISTD Tap and Modern in addition to Ballet, it made me much more rounded as a dancer, not constrained to simply being a Ballet dancer. I liked that ISTD was high quality in terms of syllabus and method, but it also introduced elements of theory through the grades to help you develop sound knowledge of the dance style."
Primary school teacher, Sharon Holloway only joined Chelsea Ballet in April this year and so is yet to perform, but already likes "having the chance to take class, dance and be among people who share the same passion after so many years being out of the dancing world, raising a family and re-training as a teacher." Sharon studied ISTD Cecchetti Ballet and National Dance before starting out dancing professionally with Helvetica Show Express in France and Switzerland. Unfortunately Sharon became seriously ill while touring, ended up in Geneva hospital for three weeks and had to come home. She then taught dance classes and, as it was becoming very popular, retrained to teach aerobics and exercise to music. It was then she gave up her dream to become a professional dancer. Despite a gap of over 20 years, Sharon still has the technique and theory from her ISTD training she received all those years ago.
Stuart Lorraine has always considered dance as a serious hobby, rather than a possible career, coming from a scientific background. Stuart currently works as a Senior Analyst/Developer but says: "Dancing has been a great part of my life though, so much more satisfying as a way of exercising than other things and it is so different from the day job!" Being one of the few male dancers in the company, Stuart is often chosen to dance the pas de deux roles in their productions. "We all have to do things to help keep the group functioning, my part of which is to arrange the community events at residential homes and hospitals with fellow co-ordinator, Alexandra Lowe. These community events are immensely satisfying as the audiences are so appreciative that we have brought full performances to them." Stuart studied Classical Greek with Kay Ball, the current Faculty Chair, with whom he trained for his Elementary, Advanced 1 and Advanced 2 exams, while attending the Classical Greek summer schools in 1992 and 2002. "My early Ballet training was all ISTD and it gave me a very good basis to carry on with, and I always found it to be more 'performance' structured than other syllabus work. The Classical Greek was a good supplement to Ballet for strength and it always has themes and ideas to it that have given me a sense of performance rather than just being a series of technical exercises."
For more information about Chelsea Ballet and their work, visit http://www.chelsea-ballet.com
Lucinda Hennessy