How to Make a Miracle Happen

31 December 2017
Morgan Hemphill reports on another sparkling Blackpool Grand Finals
There is always something spine tingling and special about walking into the world famous Winter Gardens in Blackpool. And this year's ISTD Grand Finals were no exception.
Whilst preparations by dancers, teachers and dance schools across the UK and as far away as Barbados got underway, behind the scenes hard work, organisation and dedication was transforming the prestigious Empress Ballroom ready for a busy and successful weekend.
With damage to it's beautifully ornate ceiling, the ballroom had been closed for repair, so it wasn't until the last minute that the event was given the full go ahead. Huge congratulations to Nicky Miles, the ISTD and the whole team who worked endlessly to make it happen.
After lessons, practice and training, tan, hair, make-up, rhinestones, long journeys, early starts, the doors opened on Saturday morning to the buzz and excitement, with the youngest competitors ready to dance first.
It's inspiring to see dancers of all ages, backgrounds and abilities coming together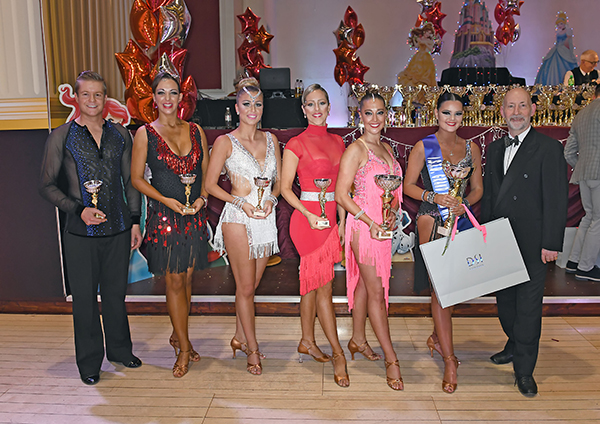 It always inspires me to see so many dancers of all ages, backgrounds and abilities coming together, cheering on friends and fellow competitors. Seeing the thrill and enjoyment of dance through the whole of Saturday's programme from the early rounds right through to the finals, makes anyone see just what dance is about.
And it didn't stop there. Saturday night brought Disney to Blackpool. A full evening of dancing, good spirits and laughs combined with a fabulous Disney parade with every character imaginable. Richard Lifshitz and Laura Robinson, the current International Professional Rising Star Champions performed a fantastic Latin show, a combination of traditional, modern and creative ideas together with great dancing held something for everyone. Everyone had a great evening and a chance to let their hair down, celebrate results and add to an already brilliant weekend.
Another early start on Sunday, for the adults this time, proved to be just as electrifying as the day before. The day started with the Sequence events followed by the Ballroom and Latin events and couples to round off the weekend. From first rounds to the finals the energy was high, with many successes and personal achievements along the way.
Packed cars, trophies galore, tired feet and plenty of new stories were taken away from another ISTD Grand Finals weekend. I'm pretty sure that all dancers, teachers and the team of organisers are already looking forward to what the next year brings... after a good rest of course!
Well done and congratulations to everyone who participated in and supported Grand Finals 2017.
Morgan Hemphill