Imperial Ballet Junior Awards

16 December 2012
Irela Strachan reports from the fifth year of the Awards
On Sunday, 28th October, I had the privilege of being involved in the Imperial Ballet Junior Awards held at the Radlett Centre. Now in its fifth year, this event is going from strength to strength. What immediately struck me on arrival was the warm, friendly atmosphere tinged with a sense of anticipation and excitement. The energy, enthusiasm and dedication of front of house and backstage helpers, parents, teachers and not least the dancers, will no doubt ensure the continued success of this event.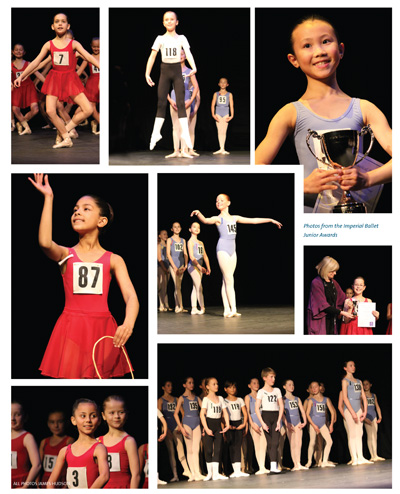 The Grade 1 and 2 classes were delivered by Joanne Evans and Sarah Wilkins. Their calm, reassuring manner immediately put the students at ease and helped bring out the very best from the young dancers. Both classes were beautifully accompanied by Debbie Parks whose playing, as always, encouraged and inspired the musicality for which the Imperial Ballet is renowned.
The standard of the work was encouraging and the young dancers were obviously relishing their moment in the spotlight. There is no doubt that such a positive experience can be for some, the catalyst for a lifelong passion and involvement in dance, whilst for others it simply encourages an active lifestyle. More importantly, it was just wonderful to see a host of young people, both girls and boys, enjoying themselves.
Irela Strachan
---
Imperial Ballet Junior Awards Results – 2012
Grade 1
1st Place
Caitlin Roi Francisco
(Angela Allport)
2nd Place
Sasha Hussain
(Angela Allport)
3rd Place
Maya Szecsenyi
(Bronwen Patching)
Musicality Cup
Georgia Shuttleworth
(Angela Allport)
Grade 2
1st Place
Kyanne Chung
(Angela Allport)
2nd Place
Bethany Harrison
(Angela Allport)
3rd Place
Maxwell Dawe
(Jill Tindale)
Yasmin Reader
(Bronwen Patching)
Musicality Cup
Karin Hayashi
(Lisa Maria Johannsen Sawamura)