Education System and Dance Debate in Parliament

12 October 2011
Post-debate press release from Dance UK
PRESS RELEASE
Released 11 October 2011
EDUCATION SYSTEM AND DANCE DEBATE IN PARLIAMENT
On Tuesday 11 October at 12.30pm, Frank Doran MP, Secretary of the All Party Parliamentary Dance Group, led an adjournment debate titled Education System and Dance responding to growing concern from dance professionals that the position of dance in education is under threat.
Frank Doran MP, Labour MP for Aberdeen North who co-founded the All Party Parliamentary Dance Group five years ago with Sir Gerald Kaufman MP to raise the profile of dance in parliament says:
"Studies have shown that dance can make a huge difference to a child's overall performance in school. Dance as a subject is unique because it contributes to both the artistic education and physical activity offers in schools, whilst helping children develop skills to help them communicate better, work as a team member, analyse further and imagine more."
This debate responds to comments by Universities Minister David Willetts MP who said that he believed that 'soft' subjects such as A-level Dance should be worth less points for students applying to attend university. However, the dance sector strongly rejects this argument and The Russell Group Universities Guide advises students making decisions about post 16 subject choices: "Generally speaking, students who take one 'soft' subject as part of a wider portfolio of subjects do not experience any problems applying to a Russell Group University."
Nick Gibb MP, the Minister for Schools and Conservative MP for Bognor Regis and Littlehampton responded on behalf of the government. He began by recognising that dance is very important to the cultural life of the country and has something to offer people of all ages. He went on to say: "The Government does believe that every child should experience a wide variety of cultural experience, including Dance…Dance does have an important place in schools, and I'm confident that it will continue to play an important role in schools." He said that the government recognises the benefits of studying subjects such as dance alongside the core English Baccalaureate.
The Minister also praised the Music and Dance Scheme and the Dance and Drama Awards which help the most exceptionally talented students study for professional careers in dance. He praised the Royal Ballet School, which he had previously visited and highlighted the outstanding dancers it produced, including Darcey Bussell and Lauren Cuthbertson, who was in the audience at the debate.
Mr Doran further questioned the Minister about the Minsters' comments about the status of Dance A-Level. The Minister said it depended on what the young person wanted to study at university and he blamed mistakes in the combination of subjects studied by able young people from poorer backgrounds, which are narrowing the students' range of options for university or beyond. The Minister said Dance A-level might be right for a student who wants to study an arts subject at university, but it may not be right for a student seeking to study a science degree.
Other MPs who spoke during the debate on behalf of dance included Gordon Banks MP, (Labour, Ochil and Perthshire), Nicholas Dakin MP, (Labour, Scunthorpe), Pat Glass MP (Labour, North West Durham, and Sir Gerald Kaufman MP, (Labour, Manchester Gorton) Chair of the All Party Parliamentary Dance Group was also in attendance.
Arlene Phillips, choreographer and television presenter says: "I was shocked and outraged that a government minister should say that Dance should have lower UCAS points than other subjects. I'm so pleased that there is going to be a serious debate in Westminster so politicians can discuss the many benefits of including dance in the education system. By building dance into school life we can get kids physically active, drive up educational achievement and capture the attention of many students who are on the margins at school and suffer from low self-esteem."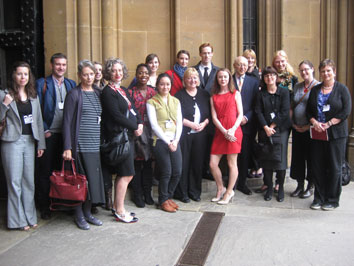 Edward Watson and Lauren Cuthbertson, two of the leading British stars of the Royal Ballet attended the debate in Westminster to lend their support. Edward Watson was born in Bromley and brought up in Dartford and attended the Royal Ballet School.
He says: "I'm attending the debate today because I believe that all young people should get the opportunity to take part in dance at school. I benefitted from the best training and I'm so grateful. I want all those children who have a talent for dance to get the chance to receive high quality dance training, no matter what their financial background. I'm here to support the future generations of great British dancers."
Caroline Miller, Director of Dance UK which supports dance professionals says:
"The whole dance industry is seriously worried that dance is being overlooked in the Department for Education's curriculum review. This is about ensuring that young people get a fair deal at school and have the chance to study dance because it brings positive outcomes at multiple levels.
If the curriculum review prioritises competitive sport, where does dance fit in considering it is the second most popular physical activity after football and the most popular physical activity for girls? And if we don't give all children, no matter what their economic circumstances the chance to study dance at school how are we going to spot the most talented dancers of the next generation? They will be tomorrow's stars of London's West End and top dance companies. This is a serious workforce development issue – the professional performing arts contribute £3.4bn to the national economy and £1.8bn to the London economy annually."
Just 58 pence per school aged child is currently spent on dance activity, compared to £38.21 per child invested in music, and £79.47 per child invested in sport.
For further press information please contact Caroline Miller, Director of Dance UK on 020 7713 0730 or 07980 675137, email caroline@danceuk.org / www.danceuk.org