My Theatre Matters!

13 June 2013
Nationwide campaign gives audiences a chance to speak up in support of their local theatre
As many of you may already be aware, My Theatre Matters! is a nationwide campaign galvanising support for theatres across the UK. The campaign was launched by The Stage, in partnership with the Theatrical Management Association and Equity. In the face of major funding cuts in the arts, the campaign is rallying as many people as possible to support their local theatres.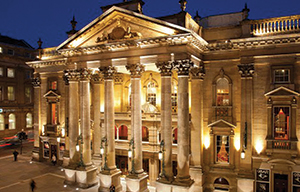 Many theatres are facing huge cuts, with some facing 100% cuts, as councils find themselves under budgetary pressure from the government. Equity has claimed that the government is enforcing bigger cuts for Labour-run councils in order to 'punish political opponents'. The campaign aims to make the government aware of the importance of the arts to UK citizens, by enlisting the support of theatre-enthusiasts, from audience members to celebrities and highlighting the arts' economic, social and educational impact. Campaigners have also stated that elected council members are likely to lose votes by cutting funding to theatres.
Mark Rubinstein, President of Society of London Theatre, said that the theatre industry can make the economic case to the government: "100 times over, in so many ways. Whether it be the £88million in VAT generated on West End tickets alone, the magnet for tourism that drives business to our hotels and restaurants, or the massive growth in employment that the arts create, investment in the arts generates a huge return." Furthermore, the Arts Council's report on 'The contribution of the arts and culture to the national economy' showed that arts and culture generate more per pound invested than the health, wholesale and retail, and professional and business services sectors. (Read more at www.artscouncil.org.uk)
"Arts and culture generate more per pound invested than the health, wholesale and retail, and professional and business sectors"
The website www.mytheatrematters.com has been created for campaigners to download information about how to lobby politicians in order to persuade them to continue funding theatres in their area. Campaigners are encouraged to send a postcard to their council, saying how much they value its investment in their local theatre. My Theatre Matters! is also being publicised in theatres across the UK as actors give curtain call speeches to encourage theatregoers to join the campaign. Thanks to John Good – the design and print specialist for theatres – adverts for My Theatre Matters! featuring in a large number of theatre programmes, have helped raised awareness of the campaign.
The campaign has already got backing from a large number of celebrities, including Victoria Wood, Julie Walters, Alan Rickman and David Tennant amongst others. Other organisations supporting the campaign include the Independent Theatre Council, Writer's Guild of Great Britain, Dance UK and the Society of London Theatre. To join the campaign, please visit www.mytheatrematters.com.