The Art of Displacement

14 March 2014
Jane Cuppage talks to dance photographer Simon Tomkinson
In 1878 English photographer Eadweard Muybridge developed a technique to capture a moving horse. His photographs were a technical and conceptual breakthrough; to have a clear image of movement. Dance photographers have been trying to capture movement ever since. Lois Greenfield in the 1980s was able to capture dancers as they had never been seen before, capturing a moment, an unusual position and unpredictable movement unseen to the naked eye. For many dance photographers she changed the idea of how to photograph dancers.
It seems now that photographers are once again pushing the boundaries of dance photography, trying to create their own style and groundbreaking images. To show a moment or the unique movement of dancers is no longer enough and photographers are now creating pieces of art through their photographs.
"The photographs show not only the control the dancers have over their bodies but also the energy that they exude while performing"
New York City Ballet's second Annual Art Series combines both photography and dance. French street artist, JR, photographed 80 dancers posing on giant sheets of paper, which formed a giant eye when viewed from above. He then pasted a 6,500ft vinyl photograph of the eye onto the floor of the David H Koch Theatre for all visitors to enjoy. This piece of art showcases the dancers as well as JR's creativity, and helps fans to interact with New York City Ballet in an original way. Hundreds of audience members posted photos on social media site Instagram, creating their own piece of art from the installation.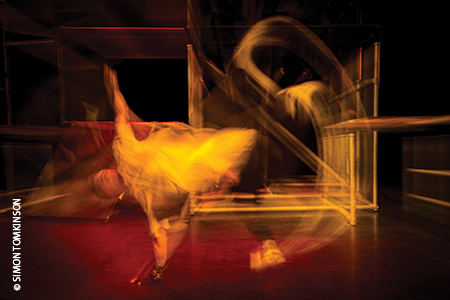 Other dance photographers are experimenting and discovering their own style of dance photography. Former professional Ballet dancer, Jesus Chapa-Malacara, describes himself as both a multi-media artist and photographer. He has taken posed and motion photographs of dancers, but is now experimenting with his technique and what he can create. Another photographer who is also experimenting with the boundaries of the medium is Simon Tomkinson. Simon specialises in dance and has been commissioned by a broad range of companies from the Birmingham Royal Ballet to the New Movement Collective. The ISTD team were invited to Simon's exhibition 'The Art of Displacement' at the Silverprint Gallery in London in December and spoke to him about his work. The photographs on this and the previous page are from this exhibition.
While on tour as a soldier with the British Army, Simon took a photograph of an Israeli soldier standing against the Wailing Wall and realised he could have a serious career in photography. He took a year long course at the London College of Communications and then started his photography professionally. With an interest in the way dancers move and control their movements, Simon took a course with dance photographer Chris Nash.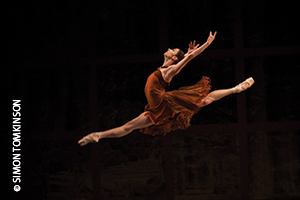 Simon regularly attends photo calls with many leading dance companies. 'The Art of Displacement' came about from a year of experimenting with a new creative idea after the allotted photo-call time with the dancers. Simon had included his experimental photographs in his portfolio when he met with Artistic Producer of Pavilion Dance South West, Ian Abbott. Ian liked Simon's new style and suggested he work with Urban Playground Team who were rehearsing their "performance parkour" for their UK premier of Run This Town at Pavilion Dance South West. Urban Playground Team blend parkour with urban and contemporary dance into what they call "performance parkour". The photographs Simon took were made even more striking with the help of the team's lighting designer, Chris Umney.
Simon's photographs aim to focus on the emotion and movement of the dancers he is shooting and with this particular project he wanted to show the motion of movement as well, rather than a captured or frozen dancer. He wanted to add an extra layer to the movement in his photographs. The photographs in his exhibition show not only the control the dancers have over their bodies but also the energy that they exude while moving and performing. All the photographs were created entirely in camera with no post production techniques. The photographs were taken over two days and Simon was able to show the shots to the dancers and discuss the images in between and after taking them.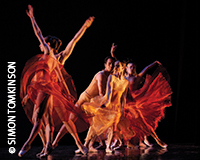 Simon is pleased with how far his technique has progressed after spending a year experimenting with his camera and lighting to produce work he was happy to exhibit and find a style he can call his own; a unique style that shows the dynamic nature of movement without manipulation The photographs that Simon takes are the result of what the dancers give on the day, how they perform and how they interpret their art form for the camera. He now plans to experiment with showing the audience a different view of dancers, as if the audience is part of the dance.
To find out more about Simon's photography you can visit his website: www.simontomkinson.com.
Jane Cuppage
---
All photography by © Simon Tomkinson