Interview with Jonny Labey

19 September 2018
Meet the leading man of the West End smash hit Strictly Ballroom the Musical

You're currently playing Scott Hastings in the West End triumph Strictly Ballroom the Musical, how are you enjoying the role?
It's an absolute 'pinch yourself' situation. I've been training all my life and coming from Jersey, I probably saw a West End Show no more than twice growing up. So I never had any lead roles in mind and Strictly Ballroom came to me as a surprise. The role is far better than any other role I thought I would play. It's perfect, he is such a complex character, an anti-hero. For the first three quarters of the show the audience are loving and hating him. It's really funny, and when his relationship with Fran evolves and develops we start to see his more sensitive, genuine, and lovable side. Obviously, the dancing and working with Drew McOnie, who's just got such a momentum behind him at the moment, is really exciting too.
So let's go back, you mentioned you were born and raised in Jersey, how did you become involved with dancing?
I first became involved in dancing when I was about five. My older sister Rachel was doing Tap classes and I was in the changing room bobbing along to the music so my mum thought I'd better start lessons. I kept dancing but my sister is now a midwife. I then started Modern, and then Street Dance, and eventually I looked into colleges. It just sort of grew from there. I always knew I wanted to be a performer. My parents were very supportive of it, and it just sort of happened organically.

And from there you moved to England to study at Bird College?
Yes, I moved to England at 18, to Bird College, and studied the degree course.
I'm sure people reading this will have first become aware of you for your time spent in EastEnders. However, I first became aware of your dancing talents during the EastEnders Top Hat section of the 2015 Children in Need feature. It must have been nice to showcase your other talents to the nation?
That was such a small rehearsal and they click tracked it as well. I said to them: "I am actually a Tap dancer." But they said it would be easier for TV if we just kept it click tracked. It was great fun. Also Bonnie Langford and I did a Strictly segment in the tube station that year, and now I'm working with her niece.
Your transition from being known mainly as an actor to that of a dancer was pretty quick. In less than six months from leaving EastEnders you, along with your now fiancé Chrissy Brooke, were being crowned the winners of ITV's Dance, Dance, Dance. Tell us more about that transition.
Dance has been such a big part of my life. Growing up I was always sporty. I always had to be busy and do everything, having trained at college for three years, doing 8:30 ballet classes right the way through to doing my DDI Tap exam when I was in my first year. I really threw myself into it, it was dance, dance, and more dance.
Then I made a film called Soft Lad (Director Leon Lopez, 2015), which was a life changing experience and I found myself really interested in acting. The transition from that into EastEnders really changed things for me and I thought: "Is this the way things are going to go for me now?" I'd just been training at Dance College for so long and now it seemed that the acting was taking over. It was fine, but it was a strange shift. I did a very serious play about Rupert Brooke, a First World War poet at the end of the Edinburg Fringe Festival after that and then did another u-turn, straight back onto the dancing track.
I think I've learnt from that whole circle of experience never to let go of anything, and try to broaden your horizons without shutting any corridors to other parts of your life. In the UK schools are not as encouraging as in America, and combining musical theatre performance and acting is a bit taboo. I often felt I had to quieten down my musical theatre life and interests in order to do better in the acting side. Where I've actually ended up is in a role where I am acting and dancing together, so it's perfect.
What was it like to be involved in Dance, Dance, Dance, learning new and varying styles of choreography each week then having to perform under pressurised conditions?
Dance, Dance, Dance was mad, it was crazy, and we loved every second of it. Obviously living, working and rehearsing every single minute was very full-on. Not necessarily in the early stages, because there were more couples and we actually learned the first three weeks of routines before we started filming, so that seemed pretty relaxed, but then when it started, and people started getting eliminated and we started learning a new number each week, the pressure started climbing. Anyway, it was fantastic, and dancing with Chrissy was such an amazing eye opener as we had not really seen each other dance, as I was doing EastEnders when we met.
The show was full of varying styles of dance. A personal favourite was your recreation of Michael and Janet Jackson's Scream video, but your series-winning routine, Try by P!nk, was your stand-out performance. What was your own personal highlight?
My personal favourite was probably Try. I am not really a Michael Jackson fan. Growing up I was more into my bands, The Offspring or Café Empire, but I learnt a lot on that job about Jackson, his style and his music, and just that routine and that setting, it was very special and iconic. Every routine was different. They were special each week, and they would change it up and challenge us, and out of all the couples we were the ones that got the biggest variety. It was great to be working with Galen Hooks, Shaun Niles, Josh Wharmby, Tina Landon, and the backing dancers were unbelievable. They did every single dance of all the contestants, every single week. It was a lot of material, and they absolutely smashed it. It was a good team of people and everyone really got on well. It's lovely when a job doesn't feel like a job.
You quickly became poacher turned game keeper and within months of winning a dance based television competition you became a judge on one, BBC's Taking the Next Step. That must have been slightly surreal to start with, being on the other side of the judging table?
I was approached by the team at the BBC, and it was a very interesting and exciting opportunity to see the next generation. Since Dance, Dance, Dance I have been running workshops and doing classes all over the country. To see a lot of those students taking those classes come to audition for Taking the Next Step, and likewise, since Taking the Next Step and hosting a workshop where those kids are turning up, means that I get to check in with them and see their progress. It's really inspiring where kids are these days. Any kids that I judge are far better than I was at that age. They are often mind blowing, and I feel the future of dance is really exciting and the acceptance of dance and art as a medium is much more open and encouraged. Sometimes I sit in that seat and have to remind myself: "You're how old?" They are doing dances that professionals graduating from college wouldn't dare to dream of and some of these kids are 10 or 11 years old. So it's all very exciting. I think it's amazing that the show is giving these auditioning kids time on stage and screen, and I've got really excited for their futures and what's going to come for them. I don't know how I feel about them performing at a younger age though. I was always told to go and do my exams before going off to college.
I was fortunate enough to be at some of the recording days for the show and unlike some other television shows, it was abundantly clear how positive the experience was for all the young dancers who took part. Did you consciously approach your role as a judge to nurture the contestants?
I'd never judged before. I was quite worried. Sometimes you can offer your opinion if it's constructive, like you need to improve your technique or work on your performance and on telling the story. I think there's no point in giving your opinion if it's not constructive. Otherwise it can get a bit Simon Cowell and game showy, which this show isn't, and which is really nice. We also had the production team saying to us, "two stars and a wish" to say, "you're amazing at this, but you need to work on that, keep going". If the show gets re-commissioned a lot of kids will return and it will be interesting to see if they have listened, where they are at, and how they do.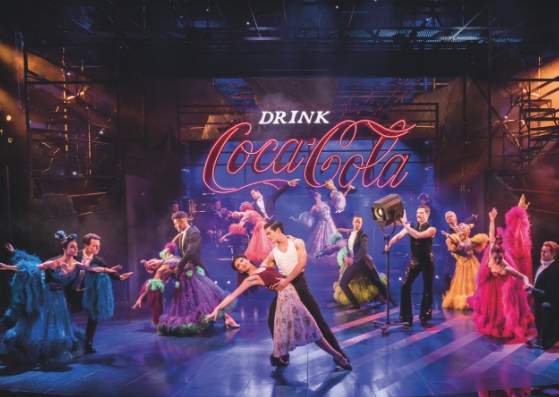 So, back to Strictly Ballroom the Musical, I've heard it's a demanding show. How are you managing the eight performances a week?
I've never done a show running as long as this. Matt Cardle (who recently took over from Will Young) sings all the songs and for us it's acting and dancing all the way through. It's probably the most challenging and demanding show I have ever done. It's good, I lap it up every night, and the audiences are getting better.
The show features routines set to 30 classic hits, what isyour favourite routine and why?
My favourite routine is Perhaps Perhaps. It's very stripped back and kicks in with a Rumba. The choreography is excellent.
Do you think your versatility has helped with the fusion of styles of choreography?
The choreography is a unique mix of styles (with elements of Quick Step, Tango, Contemporary, Hip Hop as well as rigid argumentative choreographic styles, plus lots of lifts and physical theatre). It covers everything, and set pieces for dancers are all different. Time After Time is beautifully staged, where the ballroom dancers are always present, and it always gets a strong cheer and applause.
Were you a fan of the Strictly Ballroom film?
I didn't know the film. I watched it on Netflix and I remember thinking that this is an incredible part. Then Chrissy auditioned and got it, and luckily, five months later I was offered the role.
The critical reaction to the show has been "totally glorious" to quote The Independent, but were you nervous recreating something so well known and loved by so many dance fans?
Transitioning film to theatre is always a worry, like with Les Misérables. I was thinking I hope they don't ruin it, and then the film opened with this amazing sea bounded backdrop, which you can't do in theatre. Luckily with Strictly Ballroom the truth is within the story, which can be transitioned and played just as effectively on stage. The characters and situations are very real, so whether they are done on film or in the theatre I don't think really matters.
What was the best piece of advice you received as a young dancer?
The best advice I received was that even if you go wrong, go wrong with commitment, and make it look like everyone else is wrong.
What one piece of advice would you give to a young dancer?
Do everything and all of it, all at the same time! I always found my passion for dance very much grew over time. It's sometimes less about your ability or what you can do to impress someone and more about your attitude and your approach; always be professional and nice to work with – people don't realise just how far that can get them.
Interview by James Scanlan
Strictly Ballroom the Musical is showing at the Piccadilly Theatre until 27 October 2018. For ticket and performance details, visit strictlyballroomthemusical.com