Ballet has brought a new joy to everything I do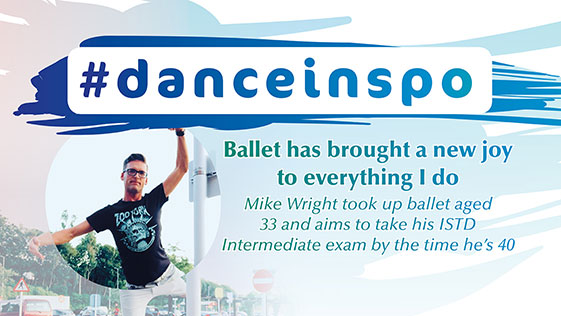 Mike Wright tells his story of his ballet journey and how ballet dancing permeates his everyday with fun, excitement and joy
It was nearly 18 years ago when I fell in love with ballet. I was 18 and living away from home in London and had decided to go and see Northern Ballet perform Romeo and Juliet. I can't say what it was about it, the beauty, the music, maybe knowing that behind all the grace on stage was years of hard work – whatever it was about that ballet, it held me in awe.
Fast forward 15 years and I'm 33, married with four children. Life was great but I wasn't doing anything just for me and so I tentatively decided to try ballet.
"I wanted to put everything I could into it and work my way through a graded syllabus."
This was easier said than done. I knew if I was going to dance then I wanted to put everything I could into it and work my way through a graded syllabus for the sense of progression and achievement. Finding a dance school was hard, I must have spoken to nearly 20 schools and none would consider putting an adult in for exams. There were plenty of open classes I could join and I tried one for a few weeks but it wasn't what I was looking for.
Back to the internet and the phone and eventually a dance school near me recommended someone to speak to. A week later I walked into my first class, a private lesson with Strictly Ballet in Crowborough. I remember walking nervously in to meet Carla and Kellie, two ex Royal Ballet School students who made me feel instantly at ease. It took a long time before awkward moves started to feel a little more natural and began to resemble ballet. I was by this time hooked.
I started with two classes a week, joining an adult beginners class on top of my private lesson. In my private lesson we started working on the ISTD Imperial Classical Ballet Grade 3 syllabus and I thoroughly enjoyed having the structure of a set syllabus and the discipline involved. At times I felt overwhelmed as we had to learn everything from the previous grades and some days even the simplest of things would seem a million miles away.
Two years later I'm 35 and after lots of hard work, laughter, tears, and aching muscles I nervously walked into the studio on the ring of the bell ready to take my Grade 3 exam. The feeling when I walked out of the studio at the end of the exam was amazing as I had just danced with everything I had and done things that I had once thought I'd never be able to do. Six weeks later and results come in… I got a Merit!
As we now start on Grade 4 we have a target to take my Intermediate exam by the time I'm 40.
Today a normal week includes four ballet classes including a beginners' class, which reminds me every week that ballet is never perfected only improved. Ballet days are the best days of the week.
Ballet days are about leaving all my worries outside of the studio door and putting my all into something I love. Ballet days are about learning new steps, and variations, and going back to the basics to eek out every bit of improvement from every correction that I can physically and mentally muster.
Ballet is fun and exciting, learning something new and using your body in ways most of us haven't before, getting lost in the music and letting yourself be free with all the hustle and constraints of everyday life locked outside the studio door.
As adult ballet dancers we'll probably never take to the professional stage but that's not really why we dance. We dance because when the music starts, if only for a moment, you get to be centre stage with a corp of swans as you plié, chassé, jeté to your final bow.
Ballet has brought a new joy to everything I do that permeates my everyday, even if I do get a few strange looks when I dance along the underground platform to the tune of the busker as I'm on my way to work.
I couldn't have done any of it though without the hard work and dedication of Carla, a great ballet teacher who never once said I was too old, never once let me take the easy way out, and through every correction and every frustration has worked effortlessly to make me a better dancer. PS Tights not mandatory.
Mike Wright