#BoysCanDance teen hero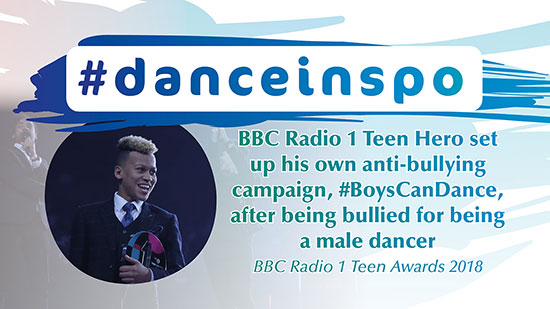 BBC Radio 1 named Junior, a 14 year-old male dancer who campaigns against bullying as one of their three Teen Heroes of 2018.
The outstanding young winners have all proven their dedication to helping others through selfless, brave and exceptional achievements. Junior was presented with his Teen Hero Award at Radio 1's Teen Awards on Sunday 21st October 2018 at London's SSE Arena, Wembley.
Junior is a UK Freestyle Street Dance Champion. He was bullied for being a male dancer from the age of six, forcing him to move school and house. This led him to set up his own anti-bullying social media campaign using the hashtag #BoysCanDance, which he has since spoken about in Parliament and at Downing Street. Junior has also used his dancing skills to help raise over £300,000 for charities by performing at a number of different events and was a Youth Board Member on the Diana Award National Anti-Bullying Youth Board, where he helped to empower other young people to stand up to bullies and be themselves.