Dance School of the Year Awards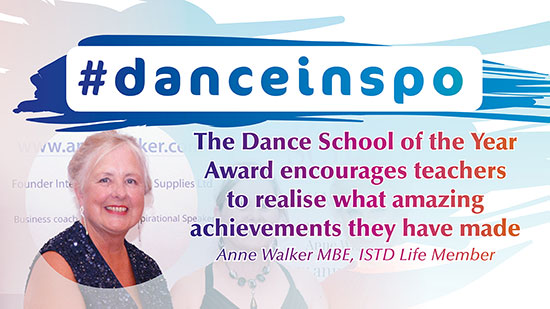 Anne Walker tells the story of the 'Dance School of the Year Awards', from its small beginnings to the worldwide celebration of achievements made by dance teachers with their schools
I founded the Dance School of the Year Awards in 2013 in order to celebrate the achievements of dance teachers everywhere. This annual Award is open to theatre dance teachers wherever they teach and is designed to encourage teachers to realise what amazing achievements they have made within their school during the last 12 months, in particular, and in many cases during many years of running their business.
"The Award encourages teachers to realise what amazing achievements they have made."
The Awards have grown from small beginnings to receiving entries from right across the UK as well as Europe. Dance School of the Year encourages theatre dance teachers to realise what a hugely positive impact they have on society and the many young people they teach. There are different categories based on the size of the schools, which are judged by independent dance and business professionals and the winners are awarded fabulous glass trophies as well as a host of prizes and vouchers. This year we were thrilled to be joined at the finals by our two judges Terry Etheridge and Brenda Last OBE as well as our special guest and long-term supporter Angela Rippon CBE.
The latest Awards saw a very high standard of entries and 32 schools were shortlisted across four categories. The Awards were held on 27th July at a black-tie ceremony at Woodbury Park Hotel in the glorious Devon countryside. The overall winner was Reigate School of Ballet and Commercial dance whose principal is ISTD ballet examiner, Joanne Evans. Joanne trained at the Royal Ballet School and has performed in the West End. She has run the school since 1998 and has grown it to almost 100 classes per week with nearly 1100 students. When the ISTD asked Jo how she felt, she replied: "I was absolutely thrilled with the result and it was great to have such an award for everyone's hard work and commitment at the school".
Entries for the next Dance School of the Year Award opened on 1st August. When entering the competition, the school must consider all aspects of their business from what policies and procedures they have in place to the work that they do in their local community as well as sharing information about exams, shows and their own CPD. Teachers often say this is even more beneficial than actually winning, as the process of entering has made them realise just how much their school achieves every year. The next awards ceremony will be held on 25th October 2019. For more information visit danceschooloftheyear.com.
Anne Walker MBE, ISTD Life Member