Keep dancing into your nineties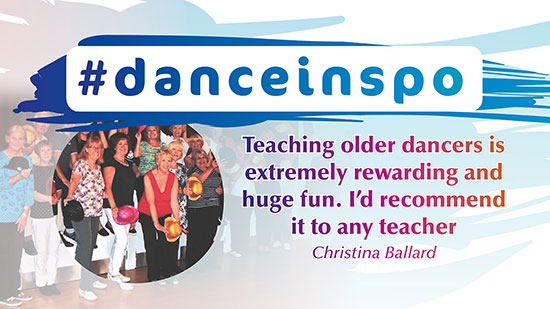 Christina Ballard tells about the rewards and fun of teaching dance to older age groups
I have the pleasure of teaching two dance classes to older, active adults. The age group ranges from late 50s to 96 years old and every class is like a party. The music is varied and uplifting with an easy rhythm and the steps are simple to learn.
We currently have about 12 different styles in our repertoire, including Cabaret jazzy style with sparkly hats and canes (we love bling), Lyrical style with floaty scarves, Tango, Cha Cha Cha, Bollywood, Charleston, Oriental, and stately Court dance using partner work and floor patterns. Recently I have added a basic Ballet barre and to follow, a simple Lyrical sequence of easy steps with the emphasis on quality of movement. This has been a huge success with my ladies who always wanted to learn Ballet but never had the opportunity. They love moving gracefully and sedately with an imaginary crown on their heads (and a diamond in their navels). The focus and attention to the movements is a joy to behold and sometimes I feel quite emotional when they try so hard to channel their inner ballerina. We pretend we're going to audition for a ballet company.
The classes are not aerobic given the age range but they do gently increase the heart rate, we get quite warm, a little out of breath, laugh a lot, and enjoy a wonderful feeling of wellbeing and lightness of spirit by the end. I include a short sequence of chair exercises, which work well at the end of the class when energy levels have dropped. They help to improve posture and body awareness and include stretching and core strengthening. I also include a few challenging brain exercises, for instance, a movement pattern for the feet whilst clapping a different rhythm at the same time.
Recently there have been a number of television programmes about how to stay fit in your later years and it has been proved that dancing is an excellent pastime and uses more muscles than going to the gym. It exercises the whole body, develops rhythm and coordination and helps to stimulate the brain by developing new neural pathways. Many ladies who come to class are now living solo lives, and they really look forward to meeting up with their dancing colleagues and having a chat. Their expertise on the dance floor is only surpassed by their ability to use their tongues! It is important that the steps are easy to follow and do not include quick changes of weight or direction. Learning to dance develops core stability and balance, which is extremely helpful to them as they get older, when the possibility of falling can become a problem.
Teaching this older age group is extremely rewarding and huge fun and I would recommend it to any teacher interested in introducing it into their school timetable.
I am sure we, as dance teachers are all so grateful for the privilege of being in the dancing world and so, in the words of the late and great Bruce Forsyth: "Keeeeeep Dancing!"
Christina Ballard