ISTD Grand Finals Weekend, Blackpool 2013

18 December 2013
Malcolm Hill and Lynn Miller report from the 14th Finals!
Saturday 2nd and Sunday 3rd November saw the return of the 14th ISTD Grand Finals weekend, held at the Empress Ballroom in the Winter Gardens, Blackpool. And what a weekend it was! The weekend welcomed an accumulation of almost 600 children and 700 adults competing for the title of Medalist of the Year. Each year more schools around the country get involved as well as international entrants from Barbados – and some of us think we travel far to get to Blackpool!
As always, the event was exceptional in the way it had been organised by Nicky Miles and his team. The standard of the competitors in each of the three dance genres, Ballroom, Latin American and Classical Sequence, seems to get higher and higher each year, making the adjudicators' job very difficult indeed.
The evening dance on the Saturday night saw one of the best cabarets that I have seen in a few years by the new Mr and Mrs Jones. Neil and Katya amazed children and adults alike with their precision, speed and entertaining choreography.
As a teacher who attends this event every year I feel a rush of excitement stepping onto the floor to help enable my pupils shine and, for my school, this weekend is always a highlight, as I am sure it is for many others. Some of my pupils have already booked their hotel for next year's event already!
Phyllis, this weekend was dedicated to you, we all missed you and hope we did you proud and the way that you wanted us to.
Malcolm Hill
---
This was our second year at Blackpool – we attended in 2012 with just a small group and had great success, and so we decided to bring a coach party this year.
There was a real buzz at the studio before the weekend as people prepared themselves to give the best performance possible. Hours of lessons, practice and grooming were all going to be judged over the weekend and everybody wanted to exceed their expectations.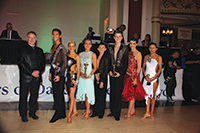 Many of our competitors had never danced in a competition before, let alone Blackpool. So we had meetings before we arrived in Blackpool to make sure costumes, hair and make-up were all ready and that everybody was prepared. It is great that the timetable is prepared in advance so we were able to tell everyone their first round times and heat numbers in advance.
The day arrived and emotions were high, everyone was busy making sure their costumes, make-up, hair spray and tan were packed and then making their way to the ballroom. For the new competitors the splendour of the Winter Gardens Ballroom took their breath away and the excitement really started to mount. We found that everybody in the school wanted to be involved, even if they were not competing themselves and everybody supported everyone else, even making a special effort to come into the ballroom when they were not competing to cheer on their fellow school members. This helped to build companionships that have continued since our return home.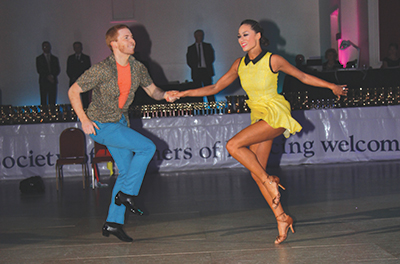 We did, of course, have a few hiccups with things as you would expect when people are new to something, but thanks to the help of friends around us all issues were solved and as a school we had a very successful weekend. Many of our pupils managed to exceed their expectations and everybody wants to come back next year! This is, I believe, mainly due to the grading of competitions and age groups available. From a personal point of view, it was great to have a special needs event and the only addition I would have liked was an over 65 category, but can appreciate there are only so many hours in the day.
As the weekend drew to a close everybody talked about next year and even people that came as spectators this year talked about competing next. We had numerous winners who are very proud of their achievements and some have had newspaper articles in our local paper, which is great for encouraging new business.
As a whole, the weekend was a great success and I wish all competitions were timetabled and run in the same way. Since arriving home the students who attended have started to work towards qualifiers next year and are having regular lessons and practice. Some have also spoken to friends and encouraged them to come next year.
We would like to thank the organisers for a great weekend and for offering a platform from which we can expand our business. Here's to the Blackpool Grand Finals 2014!
Lynn Miller