ISTD Masterclasses

11 April 2019
More than 100 students and teachers participated in over 300 hours of professional masterclasses and CPD, delivered by five top industry professionals

On a cold winter's morning the temperature soon started to rise as West End performers Belinda Basu and Sarah Keeton kicked off the day with jazz and modern classes, while Louise Bennett and Jenny Hayes treated students and teachers to ballet and contemporary workshops.
The Education & Training Department, with the aid of various helpers, kept the day running smoothly, with everyone knowing where they should be and when. After lunch it was time to do it all over again in the afternoon sessions, with West End leading man, Ashley Day, who was appearing in 42nd Street at the time, joining the teaching faculty to deliver some brilliant tap masterclasses.
Our thanks go to everyone who attended and contributed to making the workshops both insightful and fun learning experiences for all of those involved.
Reports from the Masterclasses
By Sadie Van Der Spuy
Bright and early on a Sunday morning, I arrived at The Place, with two excited young dancers in tow, ready for a day of dance workshops and masterclasses with some fabulous teachers.
My two students were only nine years old and never before had they faced the prospect of such a lot of dance in one day. I was looking forward to observing the workshops, hoping to gain ideas and inspiration to utilise in my own classes.
It was so lovely to see the group confidence grow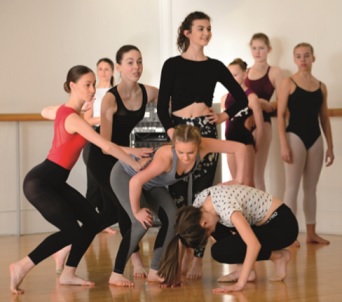 And what a fantastic day we had, starting with a ballet workshop with Louise Bennett from the National Youth Ballet (NYB). The girls, although nervous at first, soon flourished and the class set to work devising their own piece of choreography based on Louise's piece Ada, which she choreographed for NYB. It was so lovely to see the group confidence grow as they expressed their ideas and how deftly Louise moulded these into a lovely duet section, about which all the dancers felt real connection and ownership.
After a quick break, Modern was next. High energy, fast paced and upbeat, the girls had an amazing session with Belinda Basu. I found it a great class to watch and couldn't believe the improvement in the girls timing, rhythm, and weight transference as they travelled across the room, having great fun. They learnt a short routine that they loved, and which they have since taught to their friends back in their own modern class.
Lunch offered an opportunity for me to connect with other teachers and it was clear that they had all had a great morning watching the various other age groups in action too.
The last class of the day for my young dancers was a Contemporary workshop with Jennifer Hayes from the Richard Alston Company. They were particularly looking forward to this, as it was a genre completely new to them. This was such an interesting class to watch as Jennifer explored contrasting themes and the emotion of movement. They learned an uplifting piece of repertoire from Alston's Gypsy Mixture and then using a different part of the story developed their own ideas using guided improvisation with a much darker, contained feeling. I found it so encouraging watching the developing creativity and sense of storytelling within the class.
I truly found the day such a wonderful opportunity for not only my students but for myself as a teacher. Observing these very different classes gave me insight into different teaching ideas and strategies, and more surprisingly, I learnt so much from watching my own students in this environment, as it highlighted my own teaching and where I can implement change moving forwards. The opportunity to meet other teachers was great. I feel as dance teachers, we can feel quite isolated in many ways and so it felt important to me to be able to connect and communicate with others and remember we are not islands in this industry.
Most encouraging about the day was the focus on dance quality and developing expression and creativity, there was no emphasis on tricks and over tilts, but a genuine sense of dance and movement and performance. The day concluded with the Bursary Awards ensuring two very tired, happy and inspired girls returned home on the train to Tunbridge Wells. As one of my dancers said about the day: "I thought it was a really good experience and I loved learning new skills. I can't wait for the next master class. You should try it!" Imogen, aged 9.
By Michelle Walkhouse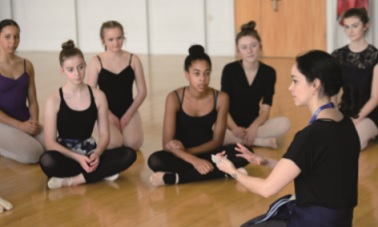 I brought two students from my dance school in West Sussex, and also took the opportunity to observe the 11–13 year age group lessons for myself. My students had a wonderful day, experiencing fantastic classes and choreography but also the sense of occasion that goes along with these events, making new friends, trying new styles and improving their technique, with smiles on their faces and rosy cheeks.
The students got to experience everything that I try to deliver and expand upon on top of their syllabus training in their free work. Style, improvisation, choreography, working with different time signatures and musical styles, picking up free work at pace, challenging their pattern and direction and pushing their own performance levels.
The students started the day with a Jazz class from Belinda Basu (part of the Modern Theatre creative team), who was exuberant and inspiring. From a teaching perspective her ability to inject technical critiques along with imagery, style and challenging rhythms was joyful and one that I wish more of my DDE students could have observed.
The students were carried along without fear or hesitation
As a DDE tutor I often discuss with my students the importance of nurturing improvisation, choreography and rhythmical interpretation in a safe environment to the younger dancers and that was what the next two classes delivered. Taught by Jennifer Hayes and Louise Bennett, the students choreographed and improvised to challenging music but because of the delivery and expert teaching the students were carried along without fear or hesitation to create interesting pieces that can be further developed back in their own classes.
This is definitely an event that has both inspired my own personal teaching and gave my students a wonderful day of dance.