A Passion for Performing

1 January 2011
Alex Murdoch, who recently appeared on stage with band FYD during the X Factor live finals, talks about his influences and his ISTD dance training.
When did you first start dancing?
I first started dancing quite late when I was 13 years old. My sisters attended a part-time dance course at Italia Conti Arts Centre, near Guildford and I would wait for them after football practice. One day I decided to give it a go for myself and the rest as they say is history. I enjoyed it so much that by the time I got to 15 years old I had joined the 'pro' or professional course which involved 15 hours of training per week in addition to school. I knew by this time that I wanted a career in performing arts so I went on to join the three year full-time Diploma Course in Performing Arts.
Who has inspired you as a performer?
I have been inspired by many performers across different genres. In dance it was Carlos Acosta for Ballet, Gene Kelly for Modern and Fred Astaire for Tap. In music I was inspired by Michael Jackson and Justin Timberlake but I also developed a love of theatre and musical theatre and attend as many shows as I can.
What is your favourite style of dance and is there any other style you would like to try?
I have trained in all styles of dance from Ballet, Modern and Tap to Hip Hop and I enjoy pretty much every type of dance. There is not a lot that I haven't tried so I try to keep my finger on the pulse and keep up to date by trying new and emerging dance styles. I have been fortunate to spend some time in LA which helped me to keep up to date and appreciate the subtleties of modern Street Dance.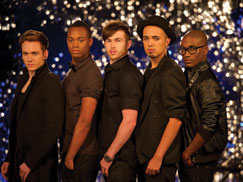 How long have FYD been together as a group and how did you all meet?
FYD have been together for around nine months. We are all trained performers, dancers as well as singers, and we met because we had a common interest. One day after a dance class we decided to form a group which emerged as FYD.
What made FYD apply for X Factor?
We formed the group with the intention of auditioning for X Factor. JLS had done well although they didn't win and we thought it might be time for another group to have a go.
The mentoring aspect of X Factor is a very important part of the show – how have your own dance teachers influenced your career?
Throughout my training I've had such inspirational teachers as Alexandra Barnes, Frank Freeman and Christine O'Brian. They not only helped me achieve ISTD qualifications in all genres but went that bit further to give me a greater understanding of focus, drive and determination. In 2008 I took part in Dirty Dancing, The Time of Your Life which was filmed in the USA. I was fortunate to work with a number of internationally renowned directors and choreographers including Marty Kudelka, Mandy Moore, Doriana Sanchez and Alex Magno who had worked with all the major 'stars'. They took my understanding of dance to a higher level and inspired me to work on my own choreographic ideas. At X Factor Brian Friedman knew that FYD were trained dancers and I was allowed to produce my own choreography for the FYD performances on the show.
What was it like performing in front of the live studio audience?
It gave us such a buzz. As anybody in showbiz will tell you – there is no better feeling than the feedback from an appreciative live studio audience. It drives you on to perform more and more. This was the reason we had entered the show and knowing that we were also performing to 15 million people watching at home was the most amazing feeling.

How do you think dance training has helped FYD's overall ability to stand out and make your mark as performers?
Dance training has given us focus, dedication, professionalism and discipline. That's what it takes in this business and it is expected by all the professionals. Whilst we did not get the result we anticipated, the feedback from the other contestants and production crew suggested we had all the necessary qualities by the bucket load. We just weren't given the time to demonstrate this. But we won't stop, we will continue with FYD until we make it.
What advice would you give to young performers wanting to follow in your footsteps?
Always be honest and true to yourself. Stay professional in work and attitude, be positive, work hard and never give up until you reach your goal. If you want it badly enough you can achieve it.
What's next for FYD?
We are currently travelling around the UK doing gigs and we're also in the studio working on our own music which is really exciting. We've also had interest from record labels so we're in the process of getting our demo together and sending that out. Hopefully you'll be seeing much more of FYD in the near future.