Advanced 1 Modern

22 March 2013
Kerrie Bruce offers a teacher's view and Alys Musset gives a student's perspective
The Teacher's View
The dance world changes at a very fast pace and we must do our best to equip ourselves with the tools to keep up. Learning the revised Advanced 1 Modern syllabus has certainly broadened my horizons and has most definitely pushed my pupils artistically and technically, exposing them to a whole host of styles and movements and they are wholly relishing the challenge. The use of such a diverse playlist is so refreshing and the students really respond to all the styles, which are linked to the Grades, now that we are permitted to use free music for so much of the Graded set work.
I was fortunate enough to learn the revised Advanced 1 Modern at Chichester in 2011 as it launched, on the three-day course, where we were lectured by the creators of the syllabus. Getting such a chance to learn new work this way is a fabulous experience as you are hearing firsthand the thought process behind every piece of choreography. It was also hugely beneficial to have three full-time students from Bird College demonstrating for us; to see the end result was so helpful and the images stay with you as you start to teach it for the first time and wonder how you are going to arrive there (or hope to at least!).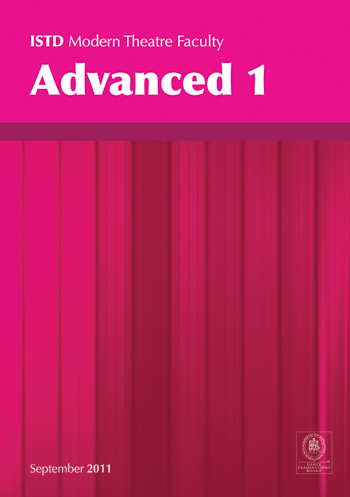 Teaching the syllabus old work, I'm sure many teachers as well as myself feel complacent, you know that if you do A plus B it will result in C, sometimes you have to add D and E, but the end product will be the same. It feels so comfortable, perhaps because it's the same syllabus we did as students ourselves. When something new comes along it shakes up everything and removes that nice comfortable feeling and replaces it with doubt. I felt the same with the new Tap Grades. However, now the children are running into class showing me how small they can Tap and how fast they can paddle, much faster than me! The older students who have not had the benefit of the new Tap work are seeing what the younger children are capable of and are 'upping their game' for sure. The same will happen in reverse with the new Modern work, the younger children see what the seniors are doing, and who doesn't remember wanting to look like the 'big girls'?
We were fortunate enough to also have a regional course on the new revised Advanced 1 Modern, again with one of the creators. This was a brilliant opportunity to refresh what we had learned in Chichester and to get even more detail to help us on our way. Having done the second three-day course I was much more confident in my objectives with the syllabus, and teaching it became somewhat easier. My doubts were becoming less and less. This second course allowed me to start analysing exactly what I was trying to achieve, then I realised how evident the link is from the Grades through to the new revised Advanced 1 and beyond to Advanced 2, it all started to make sense. I could also see just how current and cutting edge this work was, in fact my students pointed out to me that the styles reflected are what they are seeing on television on various dance programmes and what they are watching on You Tube.
Having just entered my first Advanced 1 Modern candidate on the new revised syllabus, I know that it is very teachable. My student, Alys, had missed her Advanced 1 Modern on the old syllabus due to injury and is now attending dance college since September. When I returned home after Chichester 2011, I decided that I would now only teach the new revised syllabus. The students absolutely adore the work. It is challenging but very diverse and gives each of them a chance to shine in their particular areas of strength while pushing them to achieve in their weaker areas. There really is something for everyone in this syllabus. Thinking how it was such a shame that Alys had missed her last exam, we discussed the possibility of her doing the new examination and she agreed that she would love to have a chance at completing the syllabus and to take the exam. I wrote to the Chair of the Modern Faculty explaining the situation and asked for permission to enter since the official start date of the exams was September 2012 and our examination session was June 2012. Permission was granted and I have to admit I was a little fearful of the task I had set myself. I quickly booked myself on another three-day course to make sure I was teaching everything correctly and with the right intent, and I felt everything happening much easier. It really did cement things into my body and brain and again I felt much more confident delivering the syllabus.
Now we had a deadline the students seemed somehow charged and ready to take on this challenge. In other classes, whether they were Ballet or Tap, if I was busy with a student I would see out of the corner of my eye lots of Advanced 1 practice happening; it seemed that everyone was determined to get it right. As the exam date drew closer so did everyone's confidence, and core strength! My fear of completing the syllabus slowly left and as we progressed I was very happy to have my fears alleviated that it really is accessible and can be done. I will be more than happy to continue entering the new syllabus and I would hope that the rest of my students would be ready to take the exam in the very near future, before they leave for dance college or university.
I would like to thank the creators of the new revised Advanced 1 Modern for pushing the boundaries and making us teachers grow, learn and ultimately evolve. I have truly enjoyed this experience with my students and I hope I am a better teacher for it.
Kerrie Bruce
---
A Student's Perspective
I began training for the new Advanced 1 Modern exam in August 2011. Since then I have maintained a full-time job whilst attending weekly classes at my local dance school (North Aberdeenshire Dance Academy) training both as a teacher and student.
I have really enjoyed this syllabus as it incorporates such a diverse range of styles, so that each exercise is unique, which I find refreshing. The choreography itself is so inspiring and showcases so many great qualities such as artistry, strength, elegance, high-energy and, most importantly to me, passion! I am fascinated by the intelligence and the thought process that has gone into creating this innovative choreography.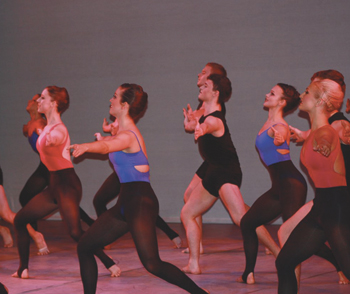 It has encouraged me to step outside my comfort zone within dance and also to think outside the box when faced with choreographing my own material. It has also taught me to see dance from a new perspective, to appreciate that even the tiny details, such as the slight inclination of the head or curve of the spine etc., are often the most important in creating the bigger picture. As a dancer, throughout the duration of this course I have noticed a number of improvements in myself both physically and mentally. I have noticed increases in my flexibility, strength, fitness and core strength which have all contributed to my increasing confidence and motivation. For example, the 'Contraction and Abdominal Exercise' has been particularly useful in improving my core strength as it has taught me how to really engage the correct muscles. I have then been able to apply this in other areas, such as my balance in exercises such as the 'Lyrical Arms' and 'Jazz Adage', and it has also helped to improve my turns. The 'Leg and Hip' exercise has been another useful exercise in helping to improve my flexibility. I feel that I have developed as a performer due to the diverse nature of the course and because the exercises are so expressive. I also feel that the use of a free playlist is a great idea as it makes the pieces more personal and encourages students to let go and perform more.
I cannot deny that it has been a challenge and has taken determination and hard work on my part. But it is achievable if you are prepared to put in the time and are lucky enough, like me, to have such encouraging and enthusiastic teachers!
Alys Musset, formerly a pupil of Kerrie Bruce who is now studying at Bird College