Blackpool Grand Finals 2016

19 December 2016
Reports from another successful Dancesport competition
An Adjudicator's Perspective
Set in the most beautiful ballroom in the world, the Grand Finals weekend brings together medallist dancers from all over the UK and the world. Whether you are an adjudicator, competitor, professional, supporter or spectator the event is one of a kind. The standard of dancing this year was exceptional and an improvement on the previous competitions, showing the real progression of the quality of Dancesport throughout the ISTD.
The two-day event is set at a fast pace and is brought together by an experienced team of competition organisers who have gone through several months of preparation prior. This culminates in a slick, superbly run event, which is enjoyed by thousands. As an adjudicator I was kept on my toes to make sure that my fellow adjudicators and I were ready and on the floor when required, just like being a competitor again. Adjudicating is a difficult task that is mentally but also physically demanding being on your feet for up to 12 hours in a day. It's so important to be mentally focussed for every dance to make sure you are offering the fairest competition for all of the dancers, parents and teachers that have invested so much to be at this stage.
The competition throughout the weekend was danced with a tremendous atmosphere, a competitive but friendly environment and all who took part should be proud of their achievements. My thanks go out to Nicky Miles and all of the team for inviting me to such a brilliant event and I look forward to seeing everyone out there dancing and promoting our superb sport very soon.
Amy Pedder
This was another breathtaking event that makes me proud to be part of the ISTD
A Teacher's Perspective
It has come to the end of another fantastic weekend at the Grand Finals in Blackpool and I never cease to be amazed by how the standard improves year on year. The atmosphere when you walk into the ballroom is palpable. You can practically feel the hours, days, weeks and months of hard work from teachers and students culminating in the most incredible performances from all ages and all grades.
Every dancer who steps onto the floor shows an unrivalled determination to create the best performance in their moments in the spotlight. The music starts, the audience roar with encour­agement and the dancers spin, spiral and weave their way around the floor under the watchful eyes of the judges. The teachers swell with pride at that moment in time where they realise the results of their hours of work.
The event runs so smoothly and efficiently that is it hard to imagine the hard work, the months of preparation and the as­tounding levels of organisation that go into making the event on the weekend the success that it always is. Of course, we must also recognise another vital component of this spectacular event; the partners who enable the dancers to meet their full potential and without whom, this event would not be possible. This was another breathtaking event that makes me proud to be part of the ISTD.
Kären Byron-Short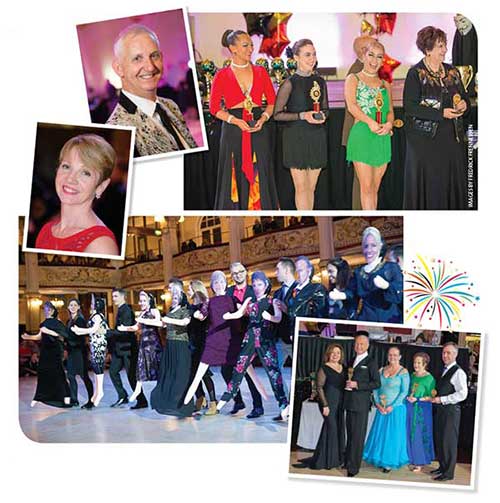 A Winner's Perspective
Do dreams come true? Yes, they do! It has been an emotional weekend full of excitement and tears of happiness. My two children and I took part in the Grand Finals in Blackpool. We were all eager to do our best. However, the results greatly exceeded our expectations. I was extremely happy when my son, Jakub, came second in Modern Ballroom and seventh in Latin American. And I was over the moon when my daughter, Zonia, came first twice, in sdt Modern Ballroom and pre-bronze Latin American. She won her two first places on Saturday. I could not hold back my tears.
Zonia could not stay and watch me on Sunday due to the long drive home and school on Monday. Knowing that being in the final was my dream she asked me to promise that I would do my best to get to the final in Ballroom. I made a promise, hoping to perform well in my beloved Tango. To my surprise I won both Ballroom and Latin just like my daughter. On the top of that I also won both up to bronze couples events in Modern Ballroom and Latin American. I was overwhelmed with my family wins and simply could not believe it.
Competing in the Empress Ballroom in Blackpool Winter Gardens has been the best experience of my life. I felt like a princess stunned by gorgeous surroundings, amazing organisers like Nicky Miles, fabulous dresses and beautiful dance tunes. I have also been greatly supported by my lovely dance friends from DanceMatic and amazing teachers: Jade Main, Alex Shindila, Ben Milan-Vega, Sonata Petruskiene, who enabled me to achieve more than I have dreamt of.
I am privileged to be trained by my DanceMatic teachers, the World Champions Jade Main and Alexander Shindila. They are the best of the best with regards to both their achievements and teaching skills. Alex can be perceived as strict and firm but he really is not that scary if one gets to know him better. Trained in Russia "with the stick" as he says, he has high expectations of his students but his attention to detail is exceptional. He also clearly knows how to best present his partner on the dance floor during competitions. Vibrant Jade creates incredible routines blending her crazy ideas with students' strengths in order to achieve unbe­lievable outcomes. While on the dance floor the powerful routines are easily spotted and selected as the best one.
Ben – the master of Latin American possesses a unique quality of transferring his dance knowledge. There is no student he will not find the method for. He is loved by both adults and children and well known for his impeccable manners. Ben's incredible teaching skills may lie in his successful teaching background. Sonata as the newest member of the DanceMatic team has not been known to me for that long. However, observing her at two competitions I have to say that she beautifully supports her students and is like a rock they can rely on and turn for advice to. To sum up, thanks to above described people, well run event, fabulous surroundings and most of all the results, my whole family was over the moon in Blackpool last weekend!
Ania, Zonia and Jakub Wilk
An Attendee's Perspective
A few weeks back, I was joking with my dancing companions that I had discovered a new dance called 'The Blackpool Flap' formed from nervous energy and spinning about, last minute painting of nails, stoning of dresses and repetitive 'topping up' of fake tan, a grand finale of an epic journey North bound laden down with sparkly dresses, hair pins and false eyelashes! All this 'flapping' for the Big grand finals competition in Blackpool, all this for the love of dance. And I guess that's the point, isn't it? We all do it because we love to dance and we want our chance to step onto the floor in the magnificent Blackpool ballrooms year after year, we have done for 17 years to be exact.
This was my 4th year attending the ISTD Grand finals weekend at Blackpool and I was lucky enough to have some good friends of mine make the long journey to come and support me for the weekend. Many years ago, when they were both little girls, they too used to compete in ballroom dancing, spending their weekends swathed in chiffon and diamantes. They were as excited as the rest of us if not more so.
The whole weekend is an experience for me, not just the Sunday competition day. A trip to Blackpool is not complete without a visit to the Blackpool tower ballroom so my dance partner and I indulged ourselves in the traditional afternoon tea and a gentle waltz around the floor. I felt strangely emotional sipping my tea and watching dozens of couples, young and old, whirling and spinning in each other arms, it was like stepping back in time. How fantastic it must have been in those early competitions at the tower. I hoped that a little of that old-school Blackpool tower ballroom magic might just rub off on my shoes.
Soon Saturday evening was upon us, we all sat huddled together chatting, reminiscing, drinking in the opulent atmosphere of the stunning Empress ballroom, watching the pop and fizz and sparkle of the fireworks display and being swept away by the story unfolding in front of us as the amazing professional couples wowed us with their every step and turn.
What an inspiration to watch such clean and elegant execution and technique of the classic Ballroom by Andrey Sirbu and Alexandra Hixson and the raw energy and feisty passion of the Latin by Ryan Mcshane and Ksenia Zsikhotska. Every performance as captivating as the next, the music calling us, inviting us to join with them in that moment.
It was clear to me that magic was at work again... the magic made our feet itch and before I could reach down for my own dance shoes, my friends were out there on the floor blowing the cobwebs off their childhood memories putting the rest of us to shame! The steps flooding back to them, the music carrying them away to a place all but forgotten. The perfect Saturday night preparation, full of little surprises, smiles on everyone's faces and no doubt, heads full of sequins and trophies.
The morning of the competition arrives and after an early start for the obligatory two hours of hair and makeup, we approach the Winter Gardens once more. That same ballroom somehow transformed from the night before, brimming with colourful dresses and bright lights, buzzing with nervous chatter and determined competitors getting organised and focused for the day ahead.
I remember the first time I ever stepped onto that dancefloor four years ago, it intimidated and scared me to the point I was actually shaking, but this year it was like meeting an old friend that I hadn't seen for a while, exciting yet comfortable and familiar and I loved every single second of it. Skipping and bounding my way through the quickstep hoping desperately for the judges to notice me so I could dance again. I would have been overjoyed with a trophy but sadly this time it was not to be. For every year the competition gets tougher and tougher, the standard of dance more impressive. As my dance teachers often reminds us, you can only be in control of your own performance on the day not anyone else's. Semifinals and quarter finals reached in Ballroom, I gathered myself and my nerves up ready to change gear (and dresses) for an evening of latin.
An impromptu photo shoot with my fellow dance pals posing and pouting in our new 'lucky' dresses helped us boost our dwindling energy and fine tune our sassy latin personas. The couple's latin was probably my favourite category in the end, full of cheekiness and giggling and lots of flirtatious adrenaline fueled fun. My dress shimmered and sparkled under the lights like a mermaid's tail, another quarter finals and semifinals reached but again no trophies for my efforts.
As the day began to draw to a close, I reflected how very lucky I was to be part of such a supportive and encouraging dance school, how we all cheer for one another and offer compliments or commiserations and that my life would be a lot less sparkly without them and our shared passion for dancing.
I would like to think that Peggy Spencer would be pleased to know that her legacy and belief in 'dancing for all' lives on, with the help of a little Blackpool magic.
Emma Davies