Cecchetti Classical Ballet Awards 2012

22 March 2013
Mabel Ryan and Children's Awards on 24th & 25th November

The Cecchetti Classical Ballet Awards took place at the Lilian Baylis Studio, Sadler's Wells on Saturday 24th and Sunday 25th November. It was a great pleasure to return to this iconic venue and be greeted by the welcoming theatre staff. The weekend was excellently organised and run by members of the Cecchetti Group under the leadership of their Chair, Judith Wilson.
On Saturday afternoon, the Children's Awards A and B and the Junior Mabel Ryan Awards gave many of the young competitors their first opportunity to compete and perform on a professional London stage. The adjudicator was Tania Fairbairn, whose experience both as a professional dancer and now as a highly regarded teacher, informed her empathetic judgment. Esperanza Carmona adjudicated the Performance and Joy of Dance Awards, designed to encourage many children who have an expressive quality but who are still working to improve their technique.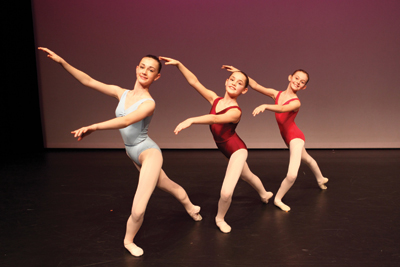 Linda Young presented the work on stage and her calm and encouraging manner combined with the expert piano by Liz Hewson, helped to relax the competitors. With some 125 children participating and a generally excellent standard, the adjudicators' task was always going to be difficult, but the winners selected were most deserving and showed great promise for the future.
On Sunday, the events continued with the competitions for the Middle and Senior Mabel Ryan Awards. Fiona Chadwick whose outstanding performance career as a Principal of the Royal Ballet and her subsequent teaching experience, have helped to make her an insightful and encouraging adjudicator. She was joined by Mary Stassinopoulos to adjudicate the Vacani Award.
There were more than 40 participants who displayed an excellent level of presentation and performance as well as some outstanding emerging talent. Penny Kay, presenting the work, skilfully drew the best from the young dancers and once again the adjudicators had a genuinely difficult task. The final choice of award winners all performed with a mature assurance and expressive style that was a pleasure to see in pre-vocational young dancers.
Gaynor Minden provided a generous new award of shoes and dancewear for the senior winner. Gaynor Minden, along with the other generous sponsors, Oberon Books and International Dance Supplies, ensured all the young dancers went away with a small memento of their day of dance. Elisabeth Swan, Chairman of the Cecchetti Society, paid tribute to all the young dancers who participated and to the hard work and dedication of the teachers and families who support them. A full list of all awards results can be found at www.cecchetti.co.uk/competitionsawards
Catherine Hutchon
---
Cecchetti Vocational Awards
The annual Cecchetti Classical Ballet Vocational Awards, held this time on 25th November at the Lilian Baylis Studio, are important both as a source of much-needed scholarship funding for hard-pressed students and as a genuine recognition of some striking individual achievements. lnterestingly, this year's 32 entrants were equally divided among students from Tring Park School for the Performing Arts and those from KS Dance Ltd, with just one from The English National Ballet School.
The students are invited to compete for two different major awards: the Barbara Geoghegan Award, judged on a combination of classwork and the performance of a Classical Ballet solo; and the Fewster Cecchetti Scholarship, assessed entirely on an unset Classical Ballet class. lt was when Barbara Fewster was the Ballet Principal at The Royal Ballet School that the Cecchetti work played such an important role in the training there, helping to produce, among others, such remarkable artists as Bryony Brind, Darcey Bussell and Fiona Chadwick, this year's excellent adjudicator. She was able to bring to this difficult task her wide experience, both as a distinguished former principal dancer and as a teacher steeped in the Cecchetti tradition.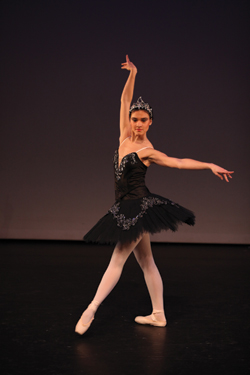 The winner of the Fewster Cecchetti Scholarship, Natalia Butragueno, and the runner-up, Nathan Hunt, received £2,000 and £600 respectively, comprising a personal cheque plus a contribution to the furtherance of their Cecchetti training. The Barbara Fewster Boys' Award for a promising male student was won by Philip Tunstall. Ashleigh McKimmie's polished performance of the Tarantella from Raymonda, secured her the £2,000 prize for the Barbara Geoghegan Award.
There were two runners-up in this section, Anastasia Rose Sabisky and Pascal Johnson. Thanks to further generous sponsorship, two additional prizes were awarded this year: £600 for a promising young dancer, Jenny Hackwell, plus a special award of £600 together with a beautiful statue by Antonia Young, presented in commemoration of the late Jennifer Morgan. This was deservedly won by Lloyd Petchey for his outstanding musicality and strong sense of performance, both in the unset class and in his splendid solo from The Talisman.
One should never underestimate the value of having as experienced a teacher as Ursula Hageli and as fine a pianist as David Smith to underpin the performance of these young dancers. Nor can one begin to understand the extraordinary amount of hard work involved in successfully staging such a prestigious competition. So, very special thanks are due to Judith Wilson and her wonderful team of helpers. Whilst acknowledging that the value students can derive from studying difficult solos from the classical repertoire in class is a very different matter from performing them in public, l would urge the organisers of these awards to be much more selective in the choice of solos the competitors are allowed to perform. However, on a personal note, l would like to commend Joshua Hutchings for his remarkable rendition of Siegfried's first act solo from Swan Lake as he inhabited this complex role with real style and integrity.
Richard Glasstone
---
CECCHETTI CLASSICAL BALLET AWARDS RESULTS 2012
Children's Award A
Winner: Lily Hope (Rachel Hayward)
Runners-up: Susie Simpson (Linda Isaacs); Grace Haworth (Vanessa Gardner)
Cecchetti Associates Performance Award
Winner: Ruby McNamara (Julie Cronshaw)
Runners-up: Claudia Wheelhouse (Karen Speers); Hannah Hughes (Rachel Hayward)
Commendations: Mia Jones (Julie Cronshaw); Matthew Saunders (Susan Handy/Melanie Bull); Sadie Keane (Karen Speers); Jessica Petherbridge (Karen Speers); Louisa Waine (Julie Cronshaw)
Children's Award B
Winner: Charlie Mellor (Lisa Hunter)
Runner-up: Megan Finn (Rachel Hayward)
Cecchetti Associates Performance Award
Winner: Isobel Glen (Diana Thwaites/Linda Pilkington)
Runner-up: Selena Thompson (Angelina Spurrier)
Commendations: Jessica Lally (Susan Handy/Melanie Bull); Naduni Mapatuna (Simone Clarke); Hannah Platt (Rachel Hayward); Anna Jordan (Linda Isaacs); Jasmine Iley (Jackie Langman); Javan Thornton (Linda Isaacs)
Junior Award
Winner: Jasmyne Taylor (Kate Simmons/Tracey Moss)
Runners-up: Amy Payne (Carole Goode); Harriet Royal (Kate Simmons/Tracey Moss)
Vacani Award
Winner: Olivia Chang-Clarke (Simone Clarke)
Runners-up: Priya Roberts (Lisa Hunter); Darcey Regan (Jane Worsley)
Commendations: Georgina Pettit (Simone Clarke); Sophie Sykes (Kate Simmons/Tracey Moss); Sorcha Kahn (Alison dos Santos); Oliver Summerell (Kate Simmons/Tracey Moss); Hannah Gerrard (Kate Simmons/Tracey Moss); Elodie Harbourne (Judith Wilson); Phoebe Alabaster Calderbank (Alison dos Santos)
Middle Award
Winner: Molly Hall (Carolyn Parker)
Runner-up: Alex Regan (Jane Worsley)
Vacani Award
Winner: Jessica Bailey (Elisabeth Swan)
Runner-up: Jasmine Coomber (Judith Wilson)
Commendations: Abigayle Holt (Susan Handy/Karen Robinson); Polly Smith (Carolyn Parker); Maria Kypreos (Jane Worsley); Alice Smith (Susan Handy); Georgia Williams (Alison Jenner/Gillian Toogood); Lauren Basra (Susan Handy/Karen Robinson); Esme Calcutt (Joanna Cox); Michael Preston (Elisabeth Swan)
Senior Award
Winner: Natasha McCabe (Julie Cronshaw)
Runner-up: Jasmine Bailey (Elisabeth Swan)
Vacani Award
Winner: Emelia East (Alison Jenner/Gillian Toogood)
Commendations: Jade Rozario (Jane Worsley); Sophie Clark (Carolyn Parker); Anna Pick (Alison dos Santos)
Fewster Cecchetti Scholarship
Winner: Natalia Butragueno (Tring Park School for the Performing Arts)
Runner-up: Nathan Hunt (Kate Simmons Dance)
Boys award: Philip Tunstall (Tring Park School for the Performing Arts)
Barbara Geoghegan Award
Winner: Ashleigh McKimmie (English National Ballet School)
Runners-up: Anastasia Sabisky (Self entered – taught by Bryony Brind); Pascal Johnson (Tring Park School for the Performing Arts)
Promising Young Dancer
Winner: Jenny Hackwell (Kate Simmons Dance)
Jennifer Morgan Award for Musicality
Winner: Lloyd Petchey (Tring Park School for the Performing Arts)
Overall: Tessa Peterson (Kate Simmons Dance)
Commendations: Charlotte Collinson (Tring Park School for the Performing Arts); Isabelle Ayres (Kate Simmons Dance); Joshua Hutchings (Tring Park School for the Performing Arts); Benjamin Radford (Tring Park School for the Performing Arts); Joe Seaton (Tring Park School for the Performing Arts)