Cecchetti Summer Schools 2012

16 December 2012
Molly Frederikse and Paris Helen Brownlie Notley report from Tring Park
Cecchetti Summer School for Vocational Students
The course for Vocational students, although very centred on Classical Ballet, was interspersed with such varied subjects as Musical Theatre, Spanish and Contemporary. The range of teachers gave us a glimpse of many different teaching styles and backgrounds, each with something fresh but equally valuable to offer. I was struck by how clearly each seemingly dissimilar dance form supported strong training in Classical Ballet at the same time. One of the most beneficial classes was Pilates with Conchita del Campo. As well as showing us how to avoid injury by proper recovery after class, she bestowed on us several memorable gems of information such as eating pineapple as help for one's joints, and grapefruit as a natural antihistamine!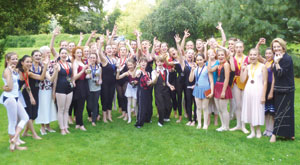 The aim of the week was to put together a showcase as a final performance for parents, students and the staff which consisted of a port de bras developed in the evenings with Sarah Wells, a piece of choreography by Alison Jenner based on the seven movements of dance and the Spanish routine we had learnt with Conchita. After the Musical Theatre lesson we couldn't resist including our Razzle Dazzle routine too!
"Throughout the week, we were extremely privileged to be taught by so many distinguished teachers"
Throughout the week, we were extremely privileged to be taught by so many distinguished teachers. We enjoyed Repertoire with Sandra Madgwick, in which we learnt Lise's Variation from La Fille Mal Gardée and Dance of the Mirlitons from The Nutcracker, and we had great fun in a Pas de Deux lesson with Errol Pickford. Classes with Errol, Jeremy Kerridge, Gillian Toogood and Elisabeth Swan were highlights of the course.

When we were taken to see the wonderful Espinosa Dance Project in Berkhamsted, as well as the opportunity to see up-and-coming dancers performing iconic pieces, we were also treated to appearances by Artistic Director and ex-ENB Principal, Yat-Sen Chang and First Artist of the Royal Ballet, Fernando Montaño. As the Seniors' course ran alongside the Juniors' course this year, we were also invited to join their Olympics themed party, at which everyone dressed up and played games (we even managed to win a prize!) and we were also able to watch their choreographic competition at the end of the week which was fantastic.
This year was, as always, a memorable seven days of hard work, fun, learning and new friends from all over the world. We are all so very grateful to everyone involved in organising it, including all our teachers, pianists and especially Sarah Wells, who was there for us throughout.
Molly Frederikse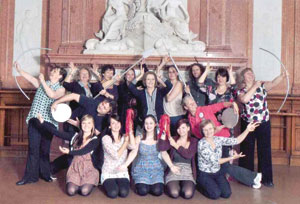 Cecchetti Summer School for Young Dancers
The beautiful mansion and grounds of Tring Park was again the setting for the 2012 Cecchetti Summer School for Young Dancers. I cannot praise the staff there highly enough, from the boarding facilities and the dance studios to the dependable catering department, they never failed to give us everything and more than we could ask for.
Since it was 2012 and based just outside of London, the Olympics seemed to be the best choice of theme for our midweek party. And what could be more 'Olympic' than Classical Greek Dance? I nearly always incorporate this into the week's schedule because if the weather is kind to us, the students get to dance outside on the lawn. For many students this is a new and exciting experience, and I love to see them really 'go for it'. So this year I invited Lucy Pohl to teach her wonderfully inspiring Classical Greek Dance class on Tuesday and then on Wednesday to choreograph, teach and rehearse for an Olympic Opening Ceremony styled performance that included all of the students.
The teachers I had also invited to join me at Tring this year were: Alison Jenner: Choreographic Skills, Character; Gillian Toogood: Ballet, Conditioning; Kasper Cornish: Ballet, Repertoire; Sarah Wells: Ballet; Penny Kay: Ballet; Lucy Pohl: Classical Greek; Conchita del Campo: Pilates, Conditioning; Katharine Ledger: Contemporary; Fenella Barker: Spanish; and Cris Penfold: Jazz.
They were supported by our wonderful pianists: Pam Peters, who was playing in her 30th year with Summer School; Stuart Marsden, who started a Summer School Choir (which resulted in a flash mob/sing-a-long in the dining room) and who led our Olympics themed fancy dress party in his usual role of irrepressible Master of Ceremonies; and Jill Barnes, who even gave up hours of her free time to help one of the student's violin practice.
I also took advantage of such an auspicious year to inaugurate the Paris Helen Classical Ballet Cup, to be awarded to the student who most impressed the teachers of the Ballet and Repertoire classes throughout the week of Summer School which in its first year, was awarded to Emelia East.
The other 2012 Summer School awards were:
Nesta Brooking Memorial Cup, awarded to the student(s) who most captures the spirit of Summer School: Carla Smethurst and Katie-Louise Buxton
Haidée Laye Musicality Cup, awarded to the student who has most impressed the judges of the Choreographic Competition: Zoe Pitt-Bailey
Barbara Geoghegan Cup, awarded to the most helpful student: Thalia Tulkens
Abigail Kessell Cup, awarded by the Associate Committee: Amy Baker
Full Scholarship for 2013: Angelica Wolanska
Half-Scholarships for 2013: Hannah Petley, Lara-Jai Lewis
My final thank you this year must go to Linda Davies who kindly accepted my invitation to adjudicate our Choreographic Competition, and who gave the most wonderfully encouraging comments and criticism to all the students.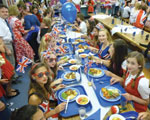 Cecchetti Summer Schools 2013 will be from Saturday 27th July to Friday 2nd August 2013. Contact Paris Brownlie Notley on 07518 818620 or email for her attention to
cssyd@cecchetti.co.uk
Paris Helen Brownlie Notley, Organiser, CSSYD