Focus on Youth - Shaping the Future of Dance

27 September 2011
Spotlight on...Dance for Life
Sunday 17th July 2pm: hundreds of excitable young dancers are waiting backstage for their chance to shine in front of a sold-out audience of 1,700 family and friends, expectantly poised with cameras underneath a rainbow of waving glow sticks. This was the national final of Dance for Life which took place at the Indig02 at the O2 arena in London and which is now in its sixth successful year.
Dance for Life was launched by the British Red Cross in 2006 and is now one of the biggest youth dance events in the UK with over 15,000 young performers helping the charity raise vital funds to support its work. The project brings together primary, secondary and special schools, colleges, dance groups and youth groups in a celebration of youth dance. Groups of all abilities are invited to choreograph a dance routine that reflects an aspect of the Red Cross' work, whether it be child soldiers, climate change or finding missing family. The groups then come together to perform at Dance for Life events across the country. Above all it's about taking part but there are also area finals and the national final to strive towards. Dance for Life opens dance up to all young people as a way of overcoming cultural, social and physical barriers, and engages them in the humanitarian issues facing the world today. Since 2009, Britain's Got Talent winners Diversity have supported the project, encouraging young people to dance and make a difference at the same time.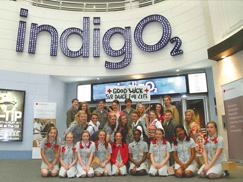 Over 5,000 dancers participated in this year's event, with 440 of them going on to appear in the national final at the O2. Six groups of under 11s and six groups of 12 – 18 year olds were selected to go through after battling it out at the regional heats which took place across the UK over the summer. The vast majority were between the ages of 4 and 18 with a few older dancers appearing in the four invited guest groups, each chosen for what they could bring to the show.
The winning group in the Junior category was Heatherton House School and the Senior winner was Sir William Ramsay School, both very deserving groups whose dances reflected the plight of children forced to go to war. One of the finalists, The Company, has also been selected to appear in Dance Proms – a very strong group who here came a close second in the Senior category and who we look forward to seeing perform again on 13th November at the Royal Albert Hall.
One of the teachers who took part, Rebecca Smedley explains why she got involved and what her students got out of the experience: "The students got a lot out of it. Participating in a competition is always good for them and it's also really important for them to be in an environment where we can share more than compete. A lot of these competitions are often through things like acting…but Contemporary dance often uses current affairs as the stimulus for a piece, so for me it was a great opportunity to take part and choreograph a piece like that."
"Dance for Life opens dance up to all young people as a way of overcoming cultural, social and physical barriers"
The judging panel on the day consisted of Mark Astarita, Director of Fundraising at the British Red Cross, Sue Brown, one of their trustees who trained in Ballet, and Cris Simpson who is an accomplished Modern, Ballroom and Latin American dancer who has been involved in competing and teaching on a national and international level. They were judging the twelve groups on the concept of the piece, as well as the choreography, costume and entertainment value. Kirsten Skinner, the leader of Bodyrox (one of the guest groups and who has been involved in the project since its beginning), was the MC for the performance.
Oliver Morgan, Project Manager, was thrilled with the turnout and the end result: "Huge congratulations to both schools on their win. I have been so impressed by the hard work and creativity our young participants have shown, and the fundraising has been superb – this year Dance for Life is on track to raise over £100,000."
The young dancers' dedication, enthusiasm and enjoyment at taking part clearly showed through and the creative and imaginative choreography was inspirational to watch. Dance for Life aims to inspire confidence in young people and will hopefully encourage some of the participants to continue their dancing after the competition has ended.
Next year's event will be known as Dance: Make Your Move 2012 and organizers have already started the planning process. To register your interest for the 2012 competition, just visit www.redcross.org.uk/dance and get involved.
Lucinda Hennessy