From Engineering to a Lifetime of Sequence Dance

27 December 2013
Profile of Jack Briggs, dancer, teacher and adjudicator
Professional Sequence Champion, Jack Briggs, adjudicator and teacher, casts a distinguished figure with pen and board when judging the competitions. You will have seen him at the ISTD Blackpool Grand Finals and Inventive competitions.
Jack, a life-long member of the ISTD, remembers the days when the ladies wore hats and long white gloves and men wore short white gloves and tails. The ISTD Sequence Medallist Competitions took place at the Dorchester Hotel after the Second World War.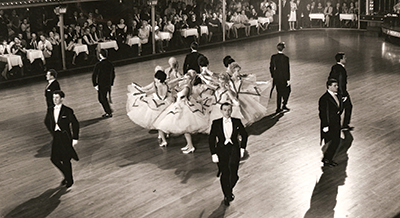 At the Royal Albert Hall 100 to 160 couples participated in the famous Veleta competition promoted by Butlins; the finalists were honoured with a line-up of Redcoats to guide them onto the floor.
How did a hard working engineer find himself in the chandelier-lit halls of elegant but intense competition dance?
Brought up in Queensbury near Bradford, Yorkshire, Jack Briggs went to the local dances, "to meet the girls", as everyone did in those days. In fact when war broke out his father, who was in the rescue service, also organised 'Old Time' dances to raise money for the troops.
Then, in 1943, "across a crowded room", Jack spotted a girl walking across the floor and he said to himself, "That's the girl I'm going to marry." But it was not all plain sailing, as young Joyce, a good Ballet-trained Ballroom dancer, told him bluntly, "If we are going out you'll have to learn to dance properly". Jack, of course obliged, and soon after they concentrated their efforts in Ballroom competitions as the rules prohibited participation in Sequence competitions for the under-30s.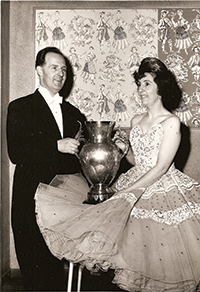 After the war ended, whilst persuing his studies in Aeronautical Engineering at Imperial College London, Jack took lessons at the Phyllis Haylor School (at the Normandy Hotel, Knightsbridge) particularly with a teacher named Peggy Mason. He took his ISTD medals at that time. Jack also took lessons with Pat Enderby in Sheffield and later studied for his ISTD Professional qualifications with Maurice Fletcher and Fay Burrows in Long Eaton.
Meanwhile Joyce was working as a knitwear designer in Halifax with Paton & Baldwin. Jack and Joyce entered Sequence Competitions as amateurs when the age limit was lifted and enjoyed instant success. They married in 1950 and the dancing that had brought them together was acknowledged even on honeymoon in Llandudno when they travelled up to Morecombe and then on to Blackpool to participate in competitions.
Eventually they turned professional, danced Ballroom, gave exhibitions and travelled widely to competitions, set up their school and brought up a family. They never ceased training with, amongst others, Harold Hulley, Constance Grant and Doreen Edwards.
They finished competing in 1961. As amateurs they had been British Sequence Champions and later British Professional Sequence Champions. They then concentrated on teaching and running the school where they taught solos, coached amateur and professional couples and trained formation teams. Jack and Joyce had great success with their Adult Formation Teams, particularly in the earlier BBC TV Come Dancing series (in black and white), winning the overall series on several occasions. Jack also acted as an adjudicator during the series. The adult team were also winners of the British Sequence Formation Championship five times between 1963 and 1970.
If you feel that getting to and from competitions is difficult nowadays, it was hectic back then. After a long competition, one took a taxi from Blackpool to Manchester, boarded the 2am train to Halifax, changed at Rosegrove station and arrived at the home station at 5.30am, followed by a bus home, and then off to work for 9am! Jack continued to work as an engineer throughout his dancing career, finishing as second in command in the engineering division of the Metropolitan District Council in 1980.
Jack and Joyce were awarded their first Carl Alan Award in 1961 for an outstanding Classical Sequence dancing partnership; presented at the Lyceum Ballroom London. On the occasion they presented a demonstration as well. Their second award, the Formation Teachers' Award, was presented in 1970, by HRH Charles, Prince of Wales at the Lyceum Ballroom.
"He always loved and still loves the total elegance and charm of Classical Sequence"
In 1993 they received the Carl Alan Award for outstanding Sequence teachers at Butlins Holiday Camp, Bognor Regis. Their last award to date came in 2008. This time Jack was on his own to receive the Lifetime Achievement Award covering all branches as Joyce passed away in 2004. On that evening Jack says he felt very much alone, as you might imagine as they had been a team for some 60 years. However, daughter Jackalyn was with him at the Royal Lancaster Hotel in London and helped him get through it in one piece.
It has been a full and happy life with so much achieved and with Joyce by his side. Sadly, she has passed away but Jack is still very much involved in the Classical Sequence world. He is warm and good humoured. He always loved and still loves the total elegance and charm of Classical Sequence.
Diana Wykes