ISTD Dinner Dance 2013

17 June 2013
Paul Streatfield reports on a sparkling evening

After a wonderful day of Spring Congress lectures, the Marriott Grosvenor Square Hotel prepared itself for the ISTD's annual Dinner Dance. This is an evening to celebrate achievements, wine and dine, be entertained by world-class performances and dance to the rhythmic sounds of Ross Mitchell, his band and singers.
On arrival at the pre-dinner drinks reception, we were greeted by ISTD Chairman, Christopher Bannerman, ISTD Artistic Director, Paddy Hurlings and Chairman of The Dancesport Faculties Board, Richard Hunt.
The foyer was buzzing with atmosphere, giving us all an opportunity to meet friends old and new and to greet invited guests from other organisations. It wasn't long before the toastmaster called everyone to dinner and we entered the beautifully set room with candelabras.
Once we were all seated, Christopher Bannerman gave an opening address and wished everyone continued success in their businesses during these difficult financial times and to enjoy what was going to be a most enjoyable evening.
A sumptuous four-course meal was then served by the staff of the Marriott, London.
During the courses several announcements and presentations were made. Honorary Fellowships were given to: Peter Kyle OBE, CCMI, retiring ISTD Chairman and Robert Grover, retiring Dancesport Faculties Board Chairman. Paddy Hurlings spoke highly of these two gentlemen and expressed sincere thanks for their leadership and guidance during their long terms as chairmen.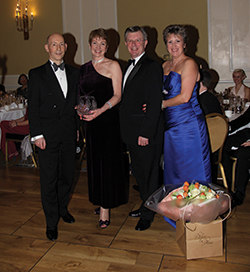 Then came a wonderful surprise, a special presentation, in the shape of a beautifully crafted figurine presented by Yvonne Taylor-Hill, Vice-Chairman of the Dancesport Faculties Board to Robert and Barbara Grover whilst Vernon Kemp, Member of ISTD Council, announced to us all that they would both be made Members of Grand Council. Mr Grover, somewhat taken back by this announcement and presentation, spoke a few words of their thanks and appreciation and that the figurine of a ballroom couple would take pride of place in their home.
"Both recipients of this year's Imperial Award were honoured for the endless achievements and exceptional work and commitment for which they have both striven in the name of the ISTD"
Continuing on and in keeping with these announcements came the presentation of this year's 2013 Imperial Award. The winner of the Imperial Theatre Award was Diana Clifford, who accepted her award from Paddy Hurlings. Vernon Kemp then announced the winner of the Imperial Dancesport Award, which this year went to Jill Bush, Chair of the Sequence Faculty who received her award from Richard Hunt. Both recipients of this year's Imperial Award were honoured for the endless achievements and exceptional work and commitment for which they have both striven in the name of the ISTD.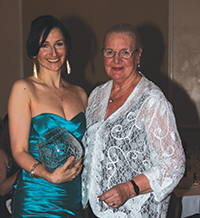 Whilst coffee was served and photographs were taken, Ross Mitchell brought his band and singers onto the stage to start the evening of dance. After a short spell, the busy dance floor was cleared and everyone settled and positioned themselves for this year's cabaret, Warren and Kristi Boyce, four times British National and UK Closed Professional Ballroom Champions. Vernon Kemp introduced their amazing programme of dances, during which Jonathan Reed, a member of the DFR Faculty, announced the raffle which was in aid of the ISTD Benevolent Fund. It was a great success this year and our thanks go to all the sponsors who kindly donated prizes.
Marking a change in rhythm and style, we were then entertained by a wonderful performance by Isabella Rossi and James Field, who presented a choreographed piece entitled 'Just Me' by Justine Murray of Rochester Dance Junction.
It wasn't long before we were all back on the dance floor enjoying the music until the early hours. Congratulations and thanks to Dawn James and all concerned for yet another wonderful evening of dance, celebration and friendship!
Paul Streatfield