ISTD Graduation Ceremony 2019

9 April 2019
The 2019 ISTD Graduation Ceremony was held on Thursday 21st February at Milton Court in London
This special annual event allows the Society to come together and reflect upon and celebrate the successes of all our recently qualified teachers. We celebrated all 501 of our teachers who gained new qualifications in 2018, with 125 of them joining us with their families, friends and teachers, on what was an inspirational day.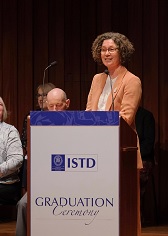 Our CEO, Ginny Brown, started proceedings by welcoming the graduates and their guests, some of whom had travelled from Hong Kong, Mauritius and Singapore as well as all over Europe and the UK. Then guest speaker Dr Peter Lovatt, AKA television's 'Doctor Dance', addressed the audience, explaining in his own unique way how the graduates, when working as dance teachers, have a massive influence on their students' lives, and that the people they teach will remember them forever. We then had the opportunity to celebrate the dedication of five people who have loyally served the ISTD, with the presentation of the prestigious Imperial Awards as follows: Imperial Dancesport Award, Patsy Graham; International Imperial Dancesport Award, Betty and Livingstone Alleyne; Imperial Theatre Award, Cynthia Pease; International Imperial Theatre Award, Christina Fotinaki.
We extend a huge thank you to everyone who attended the ceremony this year and to all those who were responsible for its success. Congratulations once again to all those 501 teachers who gained new qualifications last year.
The ISTD is committed to supporting our members in building sustainable and rewarding careers within dance education. Please turn to the DANCE Extra section of this issue for more information about opportunities for Continuing Professional Development (CPD) and see istd.org/ courses-and-training/teacher-training-bursaries for information about applying for funds to further your training.
We celebrated all 501 of our teachers who gained new qualifications in 2018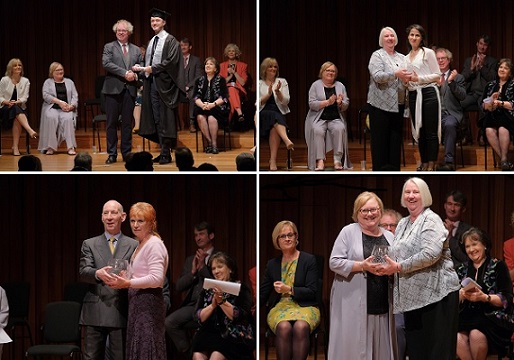 Top left: Warren Boyce (right), Modern Ballroom Faculty Vice Chair, attained his Licentiate Latin American teaching qualification in 2018, with Dr. Peter Lovatt
Top right: International Theatre Award recipient Christina Fotinakei with Kay Ball
Bottom left: Vernon Kemp presenting Patsy Graham with the Imperial Dancesport Award
Bottom right: Cynthia Pease being presented the Imperial Theatre Award by Kay Ball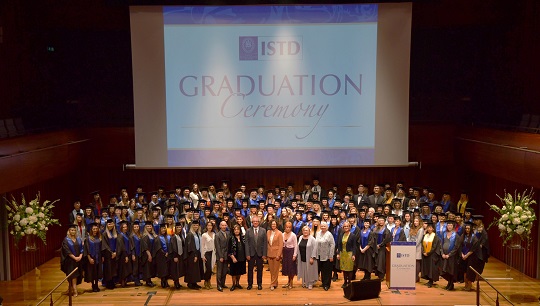 Group photo of Graduates, staff, speakers and award winners