National Dance Examinations in Asia

25 June 2012
A return to Hong Kong.
It is always welcome news to hear that a visit to Hong Kong is imminent. Hong Kong is one of the strongholds of National Dance and the genre has been flourishing there for many years under the expert tutelage of local teachers, many of whom specialise in this particular dance form. During my visit I examined candidates from T. K. and Mai Lau, from Joan Campbell and Fred Yeung, and from Johnny Tsang. There was a wide range of levels, from grades and medals through to all the Vocational examinations and Associates. The revised syllabus was covered in detail and the standard produced by these experienced teachers was, as always, excellent. The Hong Kong teachers have, for many years, made regular specialist studies of various countries at Folk Dance camps. Many of these countries are included in the ISTD National Dance syllabus and so the result is a convincing and accurate rendering of our syllabus dances.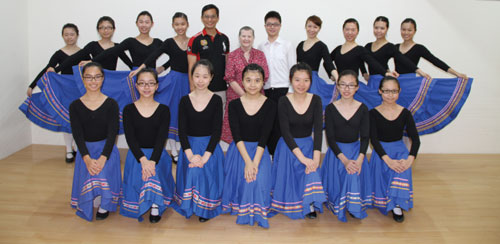 In the early days, Mrs Campbell was responsible for introducing the teachers to the ISTD syllabus, training them and encouraging them to take the National Dance qualifications. She is still teaching and still encouraging those around her in the continuation of the work.
A most interesting and illuminating evening was spent watching a final performance of winning items from the schools' competitions. Dance is included on the curriculum of all Primary to Secondary education and the standard was extremely high with most genres covered, including National. The National Dance items were particularly impressive, including pure Chinese, Indian, Italian and Serbian inter alia. The highlight of the evening was a brilliant Croatian Dance group, whose style was completely convincing. The patterns were immaculate and the pace and presentation were exuberant. Oh that our own country could include such a high standard of dance on its school curriculum.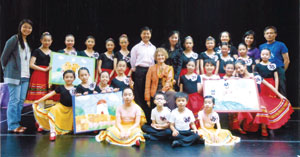 Many thanks are extended to Mrs Joan Campbell, T. K. and Mai Lau, Fred Yeung, Johnny Tsang and Selena Tsie for their hospitality. There was also a welcome opportunity to meet up with Lo Liu Yiu-Chee, Virginia, the Executive Director of Hong Kong Dance Federation and who does such sterling work promoting dance, and Mandy Petty,
one of our own Modern and Tap examiners.
Heather Rees