Pop-Up Dance

17 June 2013
We take a look at why pop-up dance has become so popular
As dancers are constantly looking for new and innovative choreographic ideas, location now has a large part to play in achieving this innovation. Whether it's dancing at iconic landmarks, on public transport or hanging off JCB diggers, pop-up dance knows no boundaries. It is spontaneous in nature and may be marketed in similarly creative ways. For example, IJAD Dance Company put up white sheets and a sign saying 'Shhh' in Brick Lane for their In-Finite project, which got many members of the public asking, "What is all this shhh'ing about?" Site-specific dance is all the more important as the arts continue to face uncertainty and funding cuts, forcing dancers to think and perform outside the box!
| | |
| --- | --- |
| | |
So what is site-specific dance? Whilst it appears to just be the latest craze with flashmobs taking the world by storm, site-specific dance can be said to date back to the 1960s and 1970s, when Anna Halprin and Trisha Brown experimented with outdoor dance. As Debra Lowen stated: "A work is site-specific when everything, including your inspiration, comes from the location, so that the material couldn't be done somewhere else. It's not about choreographing something in the studio, then trimming the edges to make it fit someplace else." Site-specific dance explores the relationship between the body and the setting as well as the history of that site. It may also explore the memories and feelings a place can evoke and the choreographer often wants to share this relationship with the audience by moving them throughout the site to view different sections of the dance from various perspectives. The choice of movement may change with each new setting.
"Placing performance in an unexpected location somehow challenges how people behave or react to it"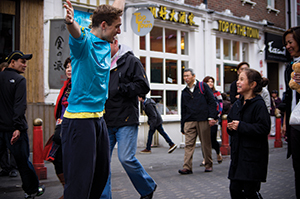 Last year The Dance WE Made invited 152 members of the general public to choreograph dances for professional dancer, Tim Casson. The project took place as part of London 2012 Cultural Olympiad's Big Dance programme, popping up in 20 locations around London over 20 days and culminating in a final performance at Rich Mix on 20th July 2012. The project set a new world record for 'The most choreographers to a single dance piece' verified by Guinness World Records. Each video was filmed in a different place, allowing the general public to gain a new perspective on each of these locations, which in turn helped to promote the city. Members of the public discussed their ideas with Tim, whether it was dance-related or simply an object, feeling or memory that inspired the movements he performed.
The aim of The Dance WE Made was to gain an appreciation of Contemporary Dance by involving people in the process of creating it. Contemporary Dance has often alienated audiences, perhaps owing to its perceived obscurity. By connecting people and places to this dance piece, it allowed audiences to have a brand new perspective on the art form as well as the use of landmarks and public spaces. Tim believes that: "Placing performance in an unexpected location somehow challenges how people behave or react to it. We're so used to sitting in theatres so it's great to surprise people by popping up somewhere unexpected and allowing them to be involved in a fun and unintimidating way." The Dance WE Made was supported by Sadler's Wells, Arts Council England and the Mayor of London, amongst others.
Tim Casson used to perform with critically acclaimed Sadler's Wells Associate Jasmin Vardimon Company and is currently running their Professional Development Certificate. He also teaches, performs and choreographs within the fields of both Contemporary and Commercial Dance. Tim Casson will be performing The Dance WE Made at Glastonbury Festival and taking the piece overseas to the US. He also performed another site-specific project called 'Selling Secrets' at the Wessex Hotel, Bournemouth at the start of June, commissioned by Pavilion Dance South West. (To find out more about Tim Casson's work, visit thedancwemade.co.uk or view his new The Dance WE Made YouTube channel: youtube.com/thedancewemade.)
---
In March of this year, Popin' Pete from Electric Boogaloos provided a week-long dance, music and art installation in a shop called Popin' Pete's Pop Shop. Inspired by the Chris Brown video 'Yeah, Yeah, Yeah', which featured Popin' Pete in his own shop. Scanner's Inc (www.scannersinc.org) set about creating a real popping shop, but relocating it to Hackney. The project was funded by Arts Council England and presented in association with East London Dance and Rich Mix amongst others. This is a pop up with a difference as it also included dance workshops, battles, social dance parties, live artwork, talks about Popin' Pete's career and the history of Popping, as well as daily pop up performances by Popin' Pete and invited guests.
Popin' Pete watched his older brother, Boogaloo Sam, create the dance form, Popping, in the mid 1970s. By 1978 he had joined his brother's group Electric Boogaloos and is still a member today, performing, choreographing and teaching across the world. Electric Boogaloos have performed on a number of television shows including Soul Train and went on to work with Michael Jackson for almost 20 years. The creative company that brought this pop shop to life, Scanner's Inc (www.scannersinc.org), was created by Kate Scanlan to connect ideas, people and places through the creative arts. Popin' Pete stated: "I'm really happy to be a part of this, I like to be at the cutting edge and this has never been done before. Kate has breathed life into the video I did with Chris Brown. I love it." For those of you who missed the chance to visit Popin' Pete's Pop Shop, he will be performing with Electric Boogaloos at Sadler's Wells' Breakin' Convention 2013, an international festival of Hip Hop dance theatre.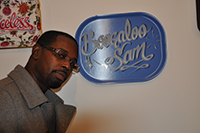 Last summer, The Place coordinated a series of dance activities during the London Festival of Architecture, King's Cross weekend, to celebrate architecture and architectural talent in London. Three groups of young dancers between 12 and 15 years old, along with professional dance artists, created site-specific dances to the theme of 'A Playful City.' The theme of the 2012 Festival was in response to the presence in London of the Olympic and Paralympic Games. In total, 50 young performers were involved in this project, which was performed at St Chad's Place. Familiar places were reinterpreted through new installations and animations, redesigning public spaces to encourage physical fitness. Festival participants were encouraged to play in and play with the city around them.
---
In 2011, Rosie Kay Dance Company created a large-scale outdoor dance event for families called The Great Train Dance, on The Severn Valley Railway for the Cultural Olympiad. Local dancers, performers and students of all ages were invited to transform the Severn Valley Railway into a chase love story with a mystery to solve. The performance drew people into the world of the absurd and enticed them to search for clues both on the train and through the surrounding landscape, including platforms, stations, fields and reservoirs. The project was led by professional dancers from Rosie Kay Dance Company, with 13 dance leaders joining the company and over 200 participants from the local area.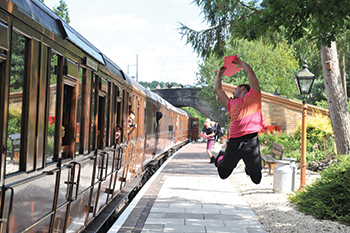 Rosie Kay Dance Company also brought us Ballet on the Buses in 2007, which consisted of five professional ballet dancers on a single old Routemaster double-decker bus touring throughout Birmingham. This was created as a commission from Birmingham Royal Ballet and Fierce! Festival 2007 to bring dance to schools, local communities and shopping centres. Since the project was aimed at children, the dancers played circus characters including a ringmaster, a strong man, a dancing girl and two mischievous clowns. The show ended with an innovative outdoor dance in wellies to a Shostakovich waltz – and anyone who has attempted to dance in wellies knows that it is no mean feat! Since then Rosie Kay has also choreographed HOME and Mailbox Steps in Birmingham city centre and an installation work at the Pitt Rivers Museum, Oxford. Her next outdoor work is The Haining Dreaming in Selkirk, The Scottish Borders in September this year.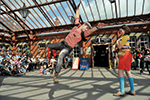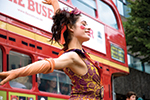 Big Dance 2012 was the UK's biggest ever celebration of dance. 3,500 events took place in numerous different locations, such as shopping centres, parks, palaces, schools, high streets and squares, as part of the London 2012 Festival. There were opportunities to perform, watch other spectacular performances and take part in workshops. One such example was the Shall We Dance? evening in the beautiful Duke of York Square. The English National Ballet brought the glamour and glitz of Hollywood's golden era back to life, with an evening of dance and film dedicated to Fred Astaire and Ginger Rogers and the music of George Gershwin. The American youth group, Tabor, Benny Maslov and his partner Clare Craze and five dancers from the English National Ballet all gave stunning performances, whilst Theatre Workout TM provided a workshop in which members of the public could learn Fred and Ginger's steps. The evening ended on a high with an outdoor screening of the 1937 film Shall We Dance? that kept the audience captivated despite the rain.
"It inspires dancers to create more unique choreography, which grabs the audience's attention by doing something that breaks the norm"
With outdoor dance productions, weather is a variable that you can't predict. However, indoor dance comes with its own set of variables, including people, who can be even more erratic than the weather. Years go into planning the creation of site-specific work, including obtaining permits, insurance and permissions as well as researching and exploring the site, before you even begin choreographing and rehearsing the piece. Without this planning, site-specific dance can go very wrong with injury or even arrests! In July 2011, an aerial dancer called Seanna Sharpe dangled from silks attached to Williamsburg Bridge. This daredevil stunt was then followed by a police chase and an arrest for trespassing, reckless endangerment and obstructing governmental administration. So, a word of advice to anyone thinking of doing site-specific dance; get permission first! Even with permits granted, there are sometimes a few close calls. Noémie Lafrance stated that during an on-site rehearsal of Descent on the winding staircase of the City Court Building clock tower in Manhattan, police intervened, thinking that this was a suicide jump.
Funding cuts to the arts are affecting the dance sector most, with 36% of dance organisations stating that they are closing due to the cuts, in a survey conducted by The Stage. Pop-up dance in outdoor locations may present a more financially viable option for some dance companies in financial difficulty. Furthermore, it inspires dancers to create more unique choreography, which grabs the audience's attention by doing something that breaks the norm. Some companies have found this particularly effective when making a bold statement as part of their dance campaign. Whatever the reason behind it, site-specific dance is becoming increasingly popular and you never know where it's going to pop up next!
Frances Leak