Revised Advanced 1 Modern: Is it 'really' new?

25 June 2012
An insight into the roots of the Modern Theatre syllabi by Tereza Theodoulou
Since the launch of the revised Advanced 1 syllabus in October 2011, the teaching team has been busily travelling around the UK delivering courses to eager teachers. There have also been courses in the north and south of Italy as well as Athens, Greece, with more courses scheduled for the rest of Europe and around the globe.
Many teachers have expressed their enthusiasm and are relishing the diversity of styles and the freedom of using unset music.1 There have also been pangs of panic from some teachers who find themselves almost swamped by what is seemingly a new way of working and moving. Some even feel the demands are just too overwhelming.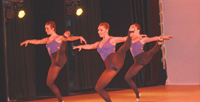 Firstly, let me say that this has always been the case when learning new work and no doubt, always will be. I remember when the Intermediate Foundation (originally Pre-Elementary) first came out – there was an audible intake of breath at its revolutionary way of movement style and artistic demands. Many said "it's far too difficult; my students will never be able to do it…" But over time and with the strength of the revised grades, the Intermediate Foundation sits beautifully in the whole framework of the Modern syllabi.
I admit as a young teacher, I was bowled over by the freshness of the work (I can humbly say this as it was one of the syllabi I was not involved in creating). It was innovative, forward thinking and ultra modern. It was exciting and I wanted to get to the depths of the work with all its nuances and diverse use of body weight and line. I loved the obvious connections to some of the modern Contemporary, Jazz and Musical Theatre choreographers and I was hungry to learn it. I must have attended at least seven or eight individual courses before I felt confident to teach it, but relished each course as my knowledge deepened and my appreciation grew.
The framework of the Modern syllabi is constantly being revised, after all we are the 'Modern' Theatre Faculty and as such, need to be moving at a pace that not only keeps up with the demands of current trends, but also pre-empts these trends so that our vocational level students might be prepared for the demands of the dancing profession. Even if our students do not intend to follow a career in dance, they still want to be exposed to the styles and quality of work that they can recognise on the television and in the theatres as embodying the 'dance of today'.
If we look back through the years to the development of the early syllabi, great teachers like Zelia Raye travelled the world for inspiration. The ISTD Modern work had always had its roots in Graham, Cunningham, Horton and Alvin Ailey. These masters influenced Robert North and Richard Alston (to name but a few), whose choreography can be seen in theatres around the world for us all to enjoy and be influenced by today. Therefore, the concepts of the graded work and now the vocational syllabi have been exposed to the effects of these exceptional choreographers, just as Zelia Raye, then Daphne Peterson and Doreen Bird were in their time.
"Practice or build-up exercises have always been an integral part of teaching"
This is not a monopoly – in this 'electronic' age, the click of a button can transport any one of us to an encyclopaedia of information, articles and performances. The influence of these productions, the choreographers and their methods of teaching can be seen in various basic threads that link the grades through to the vocational syllabi. In the next issue of Dance, I hope to analyse a few 'threads' of technical development or 'build-ups' that any teacher who has studied DDI, DDE or Licentiate, will have already analysed. The only addition will be the revised Advanced 1 which still has its basis very firmly rooted in the original Advanced 1 syllabus.
It is the 'newness' of the Advanced 1 syllabus that frightens us, not the work itself. In this article, I would like to share my experiences to help dispel any fears some of us may be having when approaching the teaching of this work.
As a young teacher working for Doreen Bird, I learnt an invaluable lesson which has stood me in good stead for over 25 years. Her ethos was clear, "we teach our students to dance, then we teach them the choreography." The term 'choreography' in this instance, relates to the settings and creative structure of the set syllabus exercises, sequences and on a larger scale, the amalgamations. Teaching them to dance, first involves months of preparatory training exercises, sequences and amalgamations that develop the students' standards physically, musically and artistically. Practice or build-up exercises have always been an integral part of teaching. We set up the technique, quality and artistic understanding first, so that learning the setting is a natural progression of applying physical and artistic knowledge – it completes the circle and brings months of preparation to fruition.
At this point in the article, hundreds of readers will be crying out "yes, it's all well and good you saying months of preparation, but I don't have the time!" and I can understand your resistance. But we must not forget that this is the second to highest vocational level exam, not a vocational graded exam. As such, the calibre is completely different and so the preparation will naturally require more time. It is not only a question of how much time we have to teach our students the work in order to prepare them for a deadline on our school calendar which culminates in an exam, it is sometimes a question of how we use that time.
Please indulge me for a moment as I try to explain. My husband is an artist and is in fact a wonderful teacher. When asked how he approaches creating a painting his response was simple and measured. "You have a blank canvas and in your mind you have a strong idea of what you want to create. You start with broad strokes that give you the outline, the basis of the shape. This covers your canvas and then you define the lines, the shapes, to distinguish them from one another while finding connections and relationships with each other. Finally, you add shading and colour to create depth, form and highlight to bring the work to life. What you don't do is start in one random spot on the canvas, draw one segment in full detail, shade it and add all the colours and highlights, before moving onto the next segment. You would end up with an isolated, very possibly beautiful, section which has no meaning because there is nothing else on the canvas – it has nothing to relate to. It is not part of a whole; it is just a part on its own."
When we created the Advanced 1 syllabus, we saw it as part of a whole which encompassed its relationship to the Advanced 2 and more importantly, a natural progression from all the graded syllabi leading up to that point. It does have connections from shapes that have been set up with broad brush strokes much earlier on.
In the next article, I will try to highlight some of those links so that we might even look at the grades in a new light
in order to make sense of the whole canvas.
Tereza Theodoulou